Curate Your Own Meal with Golden Peony's Discovery Set Menu
CONTENT: Seraphina Tang
IMAGE: Luxe Multimedia

Set menus can often be tricky things – while value-for-money, you may sometimes find yourself having to settle for dishes that you don't quite like. That won't be the problem with Golden Peony's new Discovery Set Menu! At an affordable S$48++ for a 5 course lunch and S$68++ for a 6 course dinner, you'll be able to choose your favourites from a selection from Head Chef Ku's signature dishes, as well as new offerings. Curate your meal according to your preferences, with no dish being any less delicious than the other! You can also top-up for more premium ingredients such as abalone and lobster, if you're feeling a little more indulgent.


We enjoyed the Chili Crab Meat Swan Pastry, available as an appetiser for both lunch and dinner menus. An aesthetically-pleasing bite that looks much like a yam pastry, the light and crispy texture combined with its sweet-savoury-spicy filling was extremely addictive!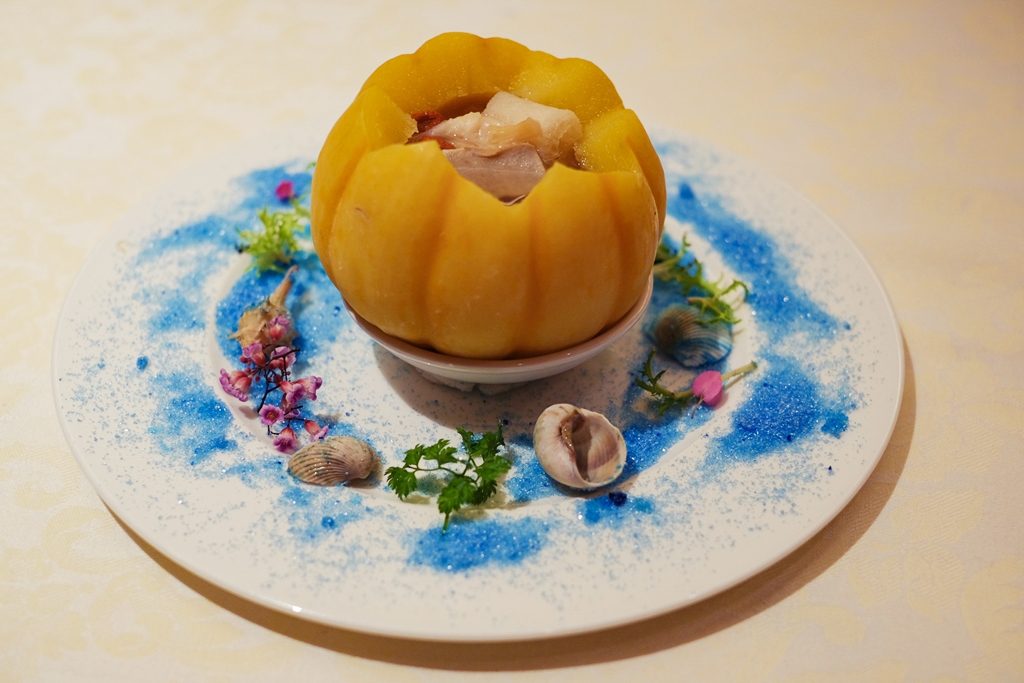 Don't miss out on the Double-boiled Baby Abalone Soup, filled with other goodies such as sea whelk, conpoy and bamboo pith, and served in a mini golden pumpkin. While the presentation seemed out of place with garish blue sugar scattered around the pumpkin (to represent the sea, perhaps?) the taste of the soup more than made up for it, brimming with umami flavour from the ingredients, along with the natural sweetness of the pumpkin. A comforting, warming soup to be had, especially with all the rainy days this month!


In the mood for seafood? We enjoyed the buttery Steamed Sea Perch (additional S$8) topped with a tangy, moresome preserved capsicum chili sauce. The Stewed River Prawn with Crispy Egg Noodle Ball in Ginger, Spring Onion & Egg Gravy is a luxe version of the tze char dish, with a tasty gravy and juicy prawns. Top-up for lobster if you're feeling luxurious, or go for the Steamed Bamboo Clam with Minced Garlic & Glass Noodles if you want something simple but just as delicious!

For the meat course, the Baked Kurobuta Pork with Bacon & Homemade Signature X.O. Sauce was wonderfully smoky and succulent. Or, go for the classic Seared Angus Tenderloin Cubes or the 'Bi Feng Tang' Crispy Chicken with Spiced Almond Flakes.

End off your meal on a sweet note with the surprisingly refreshing Chilled Cream of Avocado, served with vanilla ice-cream, and cubes of red bean and coconut pudding. While the scoop of ice-cream was a tad too much, considering how the avocado cream was sweet and creamy enough on its own, we were taken by how light and moreish the dessert was.


For reservations or more information, call 6432 7482/88, email SINCI.GoldenPeony@conradhotels.com or visit website 

Golden Peony
Conrad Centennial Singapore, Golden Peony, Level 3, 2 Temasek Boulevard S038982

Opening Hours
Tuesday – Sunday (Closed on Mondays)
Lunch: 11:30 – 14:30
Dinner: 18:30 – 22:30