Desaru Coast Gourmet Series: A Gastronomic Event that brought Malaysian Food to the next level
Chef Emmanuel Stroobant brought about mouth-watering fusion food at a one-night only event at Desaru Coast, Malaysia's new destination resort.
CONTENT: Yiew Kai Jie
IMAGE: Desaru Coast
A mere two hour drive away from Singapore, Desaru Coast seeks to be the next hottest short-getaway destination for Singaporeans who simply want to unwind and get away from the ruckus of city life. Apart from being home to world class resorts and Malaysia's largest water park, no getaway is ever complete without digging into sumptuous food of the highest quality to ensure that guest's needs will be fully taken of during their stay at Desaru Coast.
In an exclusive collaboration with SAVOUR, Singapore's culinary event organiser, the resort recently played host to the very first edition of Desaru Coast Gourmet Series, an exclusive 6-course dining programme specially prepared by Michelin-starred Chef Emmanuel Stroobant. The prestigious event invites renowned chefs from around the world to showcase their culinary expertise to visitors in Desaru Coast.
We had the exclusive opportunity to be invited to the said event at The Els Club Desaru Coast at Johor Bahru. The first edition was themed "A Malaysian Journey", where Chef Emmanuel Stroobant put forth his spin of Malaysian cuisine that elevated classic dishes like nasi kerabu to the next level while retaining its core flavours. His rendition of scallops with laksa infusion and braised short ribs were a perfect example of his union of flavours, with the proteins being served with a Malaysian twist which will make even the strictest of traditional home cooking makciks give their slight smile and grunt of approval.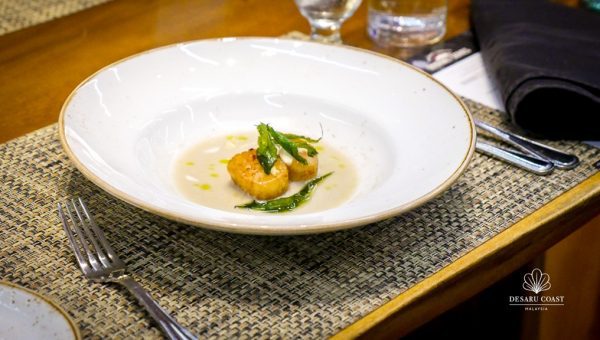 As with every menu, the journey came to its end with desserts. Chef Emmanuel ensured that his sweet treats would leave a lasting impression on the dinner guests while presenting them with familiar flavours to work with. His ice cream popsicle dipped in white chocolate encrusted with pop rocks and garnished with kaffir lime leaves left us with a tinge of Tom Yum flavour in our mouths along with a major brain freeze as we absent-mindedly decided to consume the whole ball in one mouthful! His final dessert course, simply called "coconut" had a multitude of flavours that featured western pastries with fruits such as pineapple and mango that can be commonly found in Malaysia. The fusion of flavours of the entire menu paid homage to Chef Emmanuel's amazing palate and his ability to bring about different ingredients not conventionally used together to produce a meal that left us in shock and awe of the untapped potential behind Malaysian cuisine.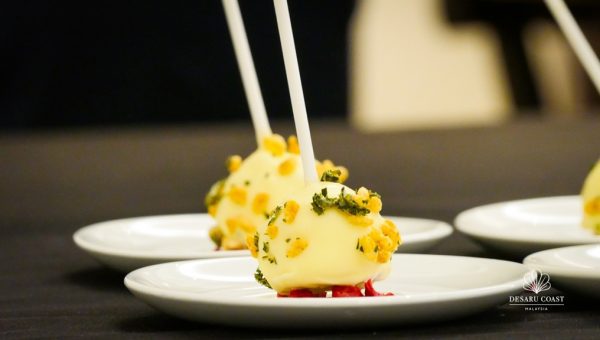 Desaru Development One Sdn Bhd (DH1)'s Chief Executive Officer Roslina Arbak said, "Malaysia is well-known for our traditional food and diverse culture. The Desaru Coast Gourmet Series was purposefully designed and curated to promote the beauty of Malaysian diversity through our cuisine".
For any guests or foodies itching for such a chance to taste the harmonious flavours of the Desaru Coast Gourmet Series, keep an eye out as you will be able to the second edition which will take place sometime in February 2019. The second edition is said to be held at a different restaurant with a different chef at the helm at the resort- to ensure that the event does not become stale with monotonous food and guests will have a reason to return for each edition of the event.
Executive Director of SAVOUR Events Darren Chen said, "Desaru Coast is a destination full of potential and it resonates well with our portfolio and the gourmet experience we are known for organising. We look forward to penetrating the Malaysian market and showcase Emmanuel Stroobant's take on Malaysian cuisine".
To ensure that there is something for everyone at Desaru Coast (apart from the nourishing fare), the resort is home to a multitude of facilities and hotels. Ranging from The Hard Rock Hotel Desaru Coast for music fanatics (or if you want to complete your collection of Hard Rock Tees) to premiere luxury at the upcoming One&Only Desaru Coast* for guests who want to live in the lap of luxury during their getaway at the resort.
The 365-room Hard Rock hotel offers a wide array of cuisine, from homegrown Malaysian foodfare to be shared with friends and family to the exotic Mexican taco. If you know your way around a guitar or wish to charm or serenade your loved ones with a song, the hotel stands ready to fulfill your "Say Anything" movie fantasy. High quality Fender electric guitars, amplifiers and headphones are available for loan and there will be a live band playing your favourite classic rock hits at the hotel lobby.
You can't finish your experience without visiting the nearby Desaru Coast Adventure waterpark- a literal stone throw away from the Hard Rock Hotel. Walk over and gain entry to the waterpark with a wave of your hotel card to experience the largest waterpark in Malaysia, the largest wave pool in Southeast Asia and the first water coaster that will definitely test the grit of your self-proclaimed adrenaline junkie friends. Although we did not get the chance to try out the 20 different rides, the sheer screams of terror that we heard from the guests trying out the hair-rising rides told us all we needed to know. To ensure that the waterpark has something for everyone, there are family or children friendly rides that will not induce a panic or heart attack for the young or elderly.
Apart from the hotels and waterpark, the multi-phase development includes a stunning 23-acre water-front landscaped retail and lifestyle village called Desaru Coast Riverside, the Desaru Coast Conference Centre and two golf courses under The Els Club Malaysia umbrella; the Els Club Desaru Coast – Ocean Course and Valley Course.
Do not miss out on the golden opportunity to 'Be the First' to experience Desaru Coast through various promotional packages available from now until 1 January 2019. The package includes transport to Desaru Coast, admission to the Desaru Coast Adventure Waterpark, shuttle transfers to respective terminals and meal vouchers for selected packages.
*Resort Components due to open in 2019 include world-renowned hotels like The Westin Desaru Coast Resort, Anantara Desaru Coast Resort & Villa, and One & Only Desaru Coast.
To find out more about the resort or the next Gourmet Series, visit https://desarucoast.com.