East meets West at Art at Curate's Four Hands Menu featuring Thai signatures of Chef Bee Satongun from One Michelin starred Paste Bangkok
Resorts World Sentosa (RWS) rediscovers intriguing long lost Thai recipes this November with the twelfth installation of the Art at Curate dining series. With the spotlight still on top female chefs, CURATE at RWS welcomes Best Female Chef in Asia, Bongkoch 'Bee' Satongun, head chef and co-owner of one Michelin-starred Paste Bangkok Thai Restaurant for its next collaboration act.
Known for her emotive layering of flavours, textures and modern presentation, Chef Bee is deeply grounded in the ingredients, techniques and authentic flavours of heirloom Thai cuisine. An advocate of traditional Thai cuisine, Chef Bee will present the flavours of long-forgotten Thai classics in exclusive 'four hands' lunch and dinner menus with Chef Benjamin Halat of CURATE at RWS from 2 to 8 November 2018.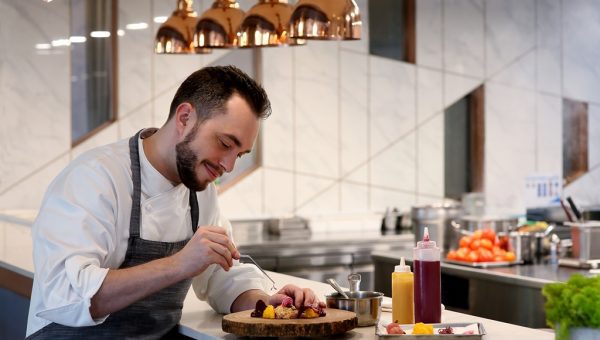 Growing up in her family's curry restaurant in central Bangkok, Chef Bee first started helping her mother out at the young age of five, and her formative years were spent in the restaurant preparing curry pastes using a mortar and pestle, and squeezing coconut milk by hand. These experiences in the kitchen ignited her passion and lifelong commitment in rediscovering and elevating historical Thai cuisine with flavours from her childhood memories.
"The smells and tastes of Thai food I grew up with are very different from the Thai flavours of today. I find this taste of my childhood through the use of rare ingredients and going back to the basics of Thai cooking. It is only after knowing what traditional Thai cuisine is like can we innovate it. The dishes I am presenting at Art at Curate 12 are popular dishes at Paste Bangkok that best represent what the restaurant is all about. I am excited to work with Chef Benjamin Halat. It will be an exchange of cultures and knowledge across the different cuisine styles," says Chef Bee whose heritage hails from neighbouring Laos.
Chef Bee keeps her focus on historical research and scours through old cookbooks to discover ingredients and techniques long forgotten. An example would be Wild Seabass with turmeric, fennel and 'lon' sauce, mildly seasoned with finely sliced lemongrass, lime leaf and red onions and inspired by the Sai Yaowapa royal palace cook book written in 1935. Served in Thai households for over hundreds of years, 'lon' is a coconut based herb infused relish that is typically served with raw vegetables like white turmeric, eggplant and wing beans and is considered the heart of Thai cuisine. Another dish guests can look forward to is Panang Beef Curry with toasted peanuts and sweet Thai basil, a well-known Thai curry that exemplifies the rare art of achieving a delicate balance of seasoning and herbs and Chef Bee's pitch perfect palate for flavour and textural contrast.
Matching the robustness of her creations, Chef Benjamin Halat, CURATE's Chef de Cuisine, brings to the table his version of modern German gastronomy that has been reinterpreted to complement the elegant flavours of Chef Bee's heirloom Thai signatures. Highlights by Chef Halat includes Breton Lobster with Camomile, Buckwheat and Mandarin; Pork Knuckle with Sauerkraut and dark beer; Sanddorn, a palate cleanser of Seabuckthorn sherbet and German Gin from his hometown in Germany; and 'Bombe Alaska' infused with exotic coconut and kaffir lime flavours.
The 'four hands' menus are paired with exquisite wines selected by world renowned wine reviewers Stephen Reinhart, William Kelley and Monica Larner. Each of the handpicked wines is highly rated above 90 points – including 2009 Peay Vineyard Syrah Les Titans, a wine of textural elegance that explodes with generous and radiant red fruit (93 Robert Parker points) and 2010 La Valle Franciacorta Millesimato Naturalis Extra Brut (92 Robert Parker points) that begins citrusy and tart, leading to the flavours of apricot, exotic fruit, toasted nut and fragrant saffron.
Art at Curate 12 will be held at CURATE located at Resorts World Sentosa (The Forum, Level 1) from 2 to 8 November 2018.
The four-course lunch is available at $108++ or $158++ with wine pairing, and the eight-course dinner is available at $188++ or $308++ with wine pairing.
For reservations, please call (65) 6577 7288 or email curate@rwsentosa.com. Reservations are strictly required.