Eat, Drink and Savour Fresh Sashimi at Tenkei, Hong Kong's newest Izakaya Restaurant
CONTENT: Andrew Kho
IMAGE: Luxe Multimedia
Opened last July 2018, Tenkei is a 7,500 square foot Japanese Izakaya restaurant, bar and lounge located at On Hing Terrace in the heart of Hong Kong's Lan Kwai Fong.
The restaurant has three areas namely, the main dining room, the alfresco area and the private room for those who want some privacy. The main dining room takes its inspirations from contemporary industrial aesthetics and authentic Japanese touches that take you right to Tokyo while the alfresco area which is separated into the Bamboo Garden and Sakura Garden is inviting guests to enjoy Shisha by Aces Co. along with their handcrafted cocktails.
Helming the kitchen and overseeing the delectable Japanese menu at Tenkei is Chef Mike Li, who has almost two decades of experience from all over the globe and this ensures that the restaurant brings out the best Japanese dining experience to each and every guests.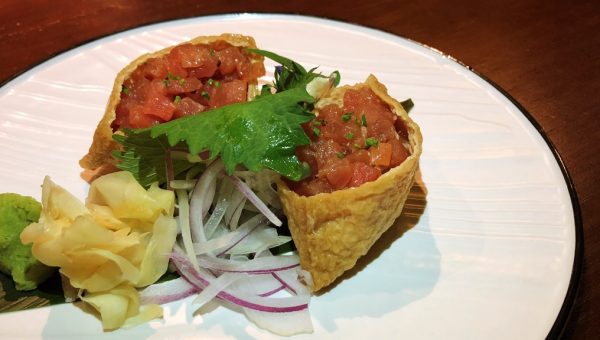 We started our meal with some starters from their Cold Appetizers section, we ordered the Tenkei Sashimi Pockets, this delicious beancurd skin is stuffed with Tuna, crabmeat, natto, Bonito jam and green onions. and it was gone in less than 60 seconds. We also got the Scallop Crudo which is sliced scallops topped with Avocado puree, Togarashi Lime Mayo, yuzu-apple sauce, Lime-Soy Vinaigrette and Jalapenos. The scallops are totally fresh and bursting with flavours, it was so delicious that we can't help and ordered another item from their menu which is the Tenkei Sashimi a combination of Hamachi, Seasonal Sashimi and Fresh Shelfish on a bed of cold ice.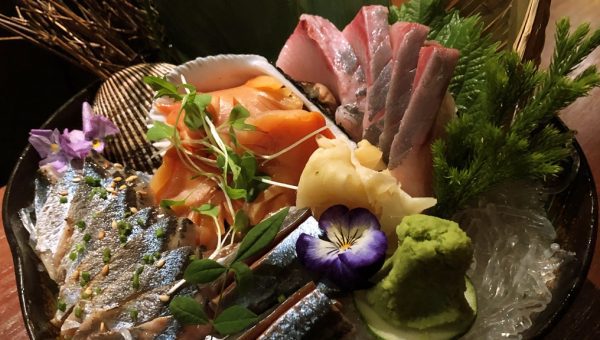 Tenkei's Sashimi are air-flown direct from Japan and this ensures diners the freshness of what they are ordering to their table.
Moving on to the mains, we started off with the Crab Shell Miso, served on a real grilled crab shell with crab miso, queen crab meat, salmon roe, sea urchin and green onions. one bite and you can taste the freshness of the crab meat, and the sea urchin balances perfectly with the crab miso.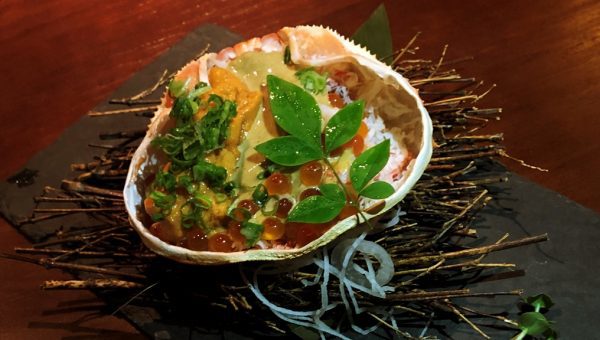 For beef lovers, Japan is well known for their Miyazaki Beef and we had the Miyazaki Wagyu Chuck which is sliced A4 Pan-Fried Wagyu Beef steak with fried garlic, green onions and radish served with sour soy sauce. Much to our excitement is the disappointment that the taste of the beef is too oily and is a bit tough although it is not overcooked. The beef would be better if it were grilled as grill doesn't need oil as compared to being pan-fried.
We also had the Unagi Omurice which was served to us piping hot and they even sliced the scrambled eggs in-front of us. Do remember to ask for their specials available during your visit. The Unagi tasted just the way we like it but the friend rice was once again a disappointment.
Overall, even though there are some misses with the mains, there's a lot more reasons to visit Tenkei, first, they serve fabulous fresh sashimi air flown from Japan, the vibrant vibe of their alfresco area is a great place to hangout with your friends after work or during weekend while enjoying your shisha, and lastly, they do have a wide selection of bespoke handcrafted cocktails and beverage menu for diners to enjoy.
Tenkei is located at: 3/F 1 On Hing Terrace, Central, Hong Kong.
For reservations please call: +852 2789 3812