Embark On A Afternoon Tea Journey To Discover Singapore's Food Heritage at InterContinental Singapore
CONTENT: Yiew Kai Jie
IMAGE: Luxe Multimedia | InterContinental Singapore

Inspired by it's location in the rich cultural precinct in Bugis, and in celebration of Singapore's 55th birthday, The Lobby Lounge at InterContinental Singapore has curated a new Peranakan Afternoon Tea experience alongside a new line of Heritage Cocktails crafted in honour of the journey of Sang Nila Utama, The Prince of Palembang, who is well known as the founder of the Kingdom of Singapura in 1299.

The sweets and savoury items are showcased on a multi-tiered stand that represents a heritage food journey that transcends through time. The new afternoon tea set supports local enterprises in Singapore by incorporating locally-farmed ingredients such as strawberries, kale and arugula, in iconic delights that were inspired by Straits-Chinese cuisine. For this tea set, instead of traditionally enjoying the items from top to bottom, diners are highly advised to start off with the hot food then slowly make their way to the desserts or cold items to fully enjoy the harmonic blend of flavours presented on the table!

For the savoury treats, diners can indulge in a Chinese-Malay fusion mantou stuffed with chicken rendang filling, a more modern take on the traditional ngoh hiang that is made with kurobuta pork stuffing and finished with a sweet and spicy mango topping. Another notable highlight is the Kale pesto crab sandwich which features homegrown kale and pesto stuffed with crab meat.

Diners can expect contemporary renditions of traditional Peranakan desserts including Ondeh Ondeh Cake, a kaya sponge cake filled with coconut mousse and a sweet caramel gula melaka core; Banana Genoa Cake, topped with caramel whipped cream and jelly cubes; and Milo and Lemon Scones, served alongside a homemade gula melaka coconut jam, strawberry jam and clotted cream.

The Heritage afternoon tea set comes with two choices of TWG loose-leaf tea or coffee for two diners at S$88++. Should diners want to make their afternoon soiree a little fancier, they can top up for two flutes of Taittinger Brut Champagne and a choice of TWG loose-leaf tea or coffee at S$118++.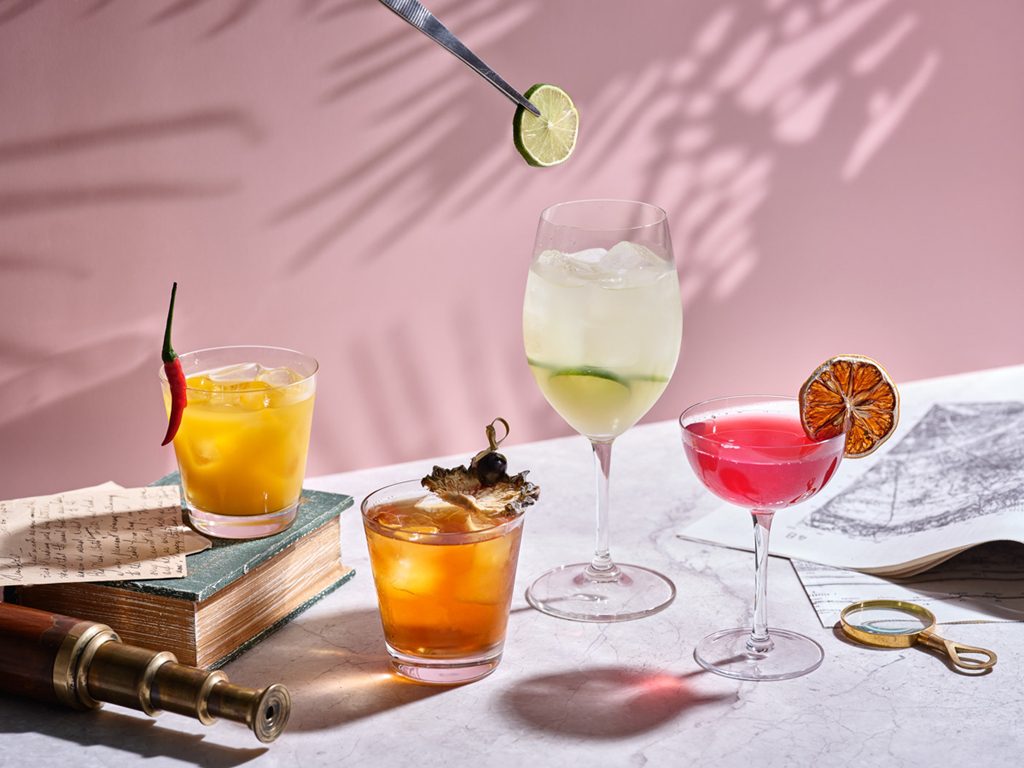 The heritage cocktails pay homage to Sang Nila Utama's journey in discovering and eventually being involved in founding Singapore, each cocktail in this series represents a prominent part of his journey.

The Crown Into The Sea, is a light cocktail made up of Havana 3 rum, Apricot Brandy, Peach Schnapps and Ginger Beer served with slices of lime, the drink's name reflects the famous story of the Prince encountering a great storm halfway through his journey which led him to offer his crown as a gift to the sea to calm the storm, allowing him and his crew to reach Temasek safely.

Another notable cocktail in the heritage cocktail series is The King of The Jungle. The ruby red cocktail comprises a mixed flavour profile of indigenous herbs like kaffir lime, star anise and cinnamon, which gives the cocktail a distinct flavour and has a strong kick- which is certain to help any diner to unwind after a busy day at the office. This concoction was inspired by the mysterious animal that Sang Nila Utama spotted upon landing which prompted him to name the island "Lion city".

The Peranakan Afternoon Tea set is available daily from 1pm to 5:30pm until 31th October 2020, while the Heritage Cocktails will remain as part of The Lobby Lounge's daily offerings.


The Lobby Lounge
Level 1, InterContinental Singapore, 80 Middle Road, Singapore 188966
Website