Experience Scrumptuous Mediterranean Cuisine at Sofitel Kuala Lumpur's Nizza
Inspired by the French Riviera region, Nizza is a newfangled, laid-back restaurant that celebrates innovative French-Mediterranean haute cuisine.
CONTENT: Yiew Kai Jie
IMAGE: Luxe Multimedia / Nicholas Lau
Situated in the luxurious enclave of Sofitel Kuala Lumpur Damansara hotel, Nizza is an architectural marvel, with light colours bouncing off in its interiors and a blue-and-white flooring that resembles the sea and skies that brings about a sense of comfort and tranquility. The outdoor pool deck ambiance is reminiscent of the coastline of Cote d'Azur with a modern glass parasol pool bar and comfy beach cabanas.
Taking pride of place in the 135-seater restaurant is the open-show kitchen where their chefs stand at the ready to whip up a variety of specialty dishes upon request. Scattered with different dining tables and seating arrangements at varied sections in the restaurant, guests are treated to an energized ambiance with highly-detailed art deco that involves an artistic representation of the Mediterranean region and a wine cellar that contains hundreds of wine bottles primarily from the Italy and France that would be ideal for a intimate wine tasting session.
Being a Mediterranean restaurant, Nizza offers a wide variety of western specialties. While waiting for the first appetizers to arrive, help yourself to some freshly in-house made Focaccia Bread that helps to wet your appetite before the first soup or appetizer arrives. Consume the bread with the artichoke dip provided or save some of it to pair with a soup dish!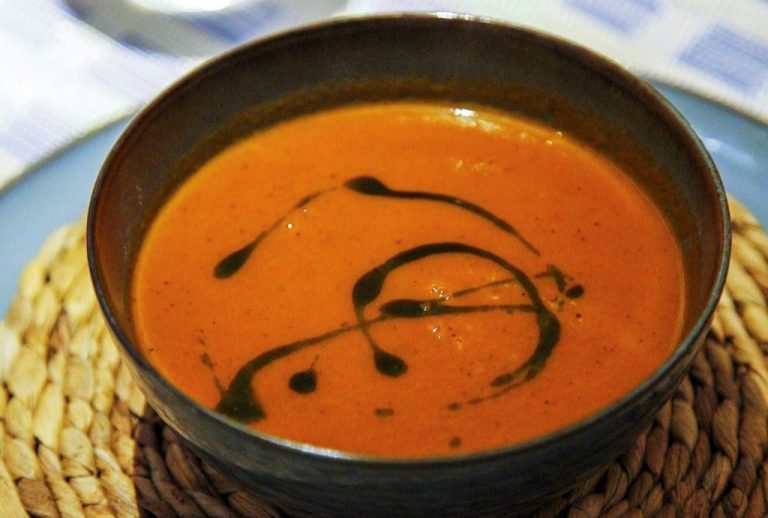 The Roasted tomato soup with Bocconcini and Basil Oil is a rich heartwarming soup that will endure on any occasion- especially when it's raining or one is looking for a simple meal to soothe the stomach. The small amount of bocconcini cheese in the soup is better left alone to slowly melt in the soup as it adds more flavour to the soup. If there is still a little amount of cheese that is left unmelted, either grind or mash it up with a spoon to diffuse it into the soup. Give the soup a little extra heat with just a touch of pepper!
The Garlic Prawns with Olive Oil is another hearty appetizer that will get your stomach ready for the main courses, but the portion of prawns leaves much to be desired. Nevertheless, the prawns tasted fresh and were nicely marinated! However, if the prawns are too oily, grab some garlic bread to absorb some of the sauce to prevent your mouth from being coated in a copious amount of grease.
If you're eating with a large group of friends or co-workers, it would be advisable to order their critically sharing platters or larger appetizers such as a Charcuterie Board, Cheese Board or Nizza's Garden Salad for a more fulfilling course before the main course hits the table- as always, sharing is caring!
Whilst on the subject of sharing, the Forestiere Pizza is a definite must order dish to share with your family and friends! Not only does the pizza look good for your instagram feed, the thin-crusted pizza is packed full of flavour and has huge portions of smoked turkey, mushrooms, boiled eggs and gruyere cheese that is sure to leave you fulfilled without making you feel too bloated for your own main course!
Another enticing main course is their Seafood Tagliatelle! The dish itself had a very generous portion of pasta and seafood that was more than enough to share between three people! The prawns and mussels were nicely cooked and seasoned to perfection, but the sauce was lacking in terms of its seasoning- the taste of the seafood was obvious in the dish but the sauce failed to make an impression to harmonize the dish as a whole.
If you still have space for dessert, choose from a variety of dessert dishes such as their Caramelised Apple Crepes served with Butterscotch, Almond Frangipane and Vanilla Gelato or a Trio Chocolate Tart with Valrhona Chocolate Pate Sablee to end off your experience at Nizza on a sweet and tantalising note!
Nizza is located at Sofitel Kuala Lumpur Damansara, 6, Jalan Damanlela, Bukit Damansara, 50490 Kuala Lumpur, Wilayah Persekutuan Kuala Lumpur, Malaysia
Nizza is open every Wednesday to Monday from 4:30pm to 12:00 midnight. (Closed on Tuesdays)
For enquiries and reservations, please email: HA123-FB4@SOFITEL.COM or call (+03) 2720 6688.