Glendronach Launches Two New Majestic Whiskies for the Southeast Asia Market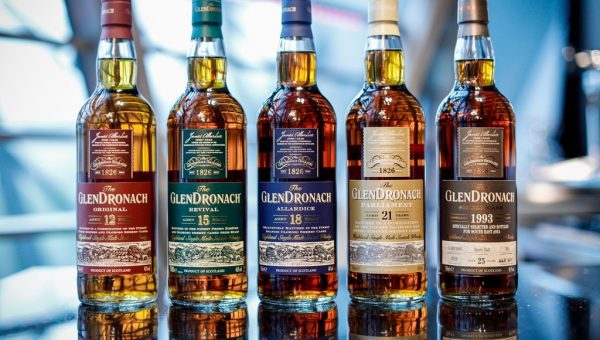 CONTENT: Yiew Kai Jie
Nestled in the famed Scottish haven for whiskies, Glendronach has launched two single malts that have stirred up much excitement amongst whisky enthusiasts in Singapore. The distillery is well known for its heavy use of sherry casks and a swan-neck like stills to distill and age their whisky that gives the drink its rich and robust flavour. Within the vast range of Spanish oak sherry casks made available, Glendronach focuses on the marriage of Oloroso and intensely, rich Pedro Ximénez Sherry casks. Oloroso casks give Glendronach whiskies its signature depth of colour while Pedro Ximénez casks provide the richness and depth of Glendronach whiskies.
Master Distiller Rachel Barrie recently presented the two new whiskies at The Grande Whisky Collection at ION Orchard, named The Revival Aged 15 Years Single Malt and Special Cask #393 (1993 Vintage).
After ceasing production back in 2015, we were among the first few to taste the resurgence of The Glendronach Revival Aged 15 years! The whisky has made a return to the core range of the distillery's line-up back in early 2018. The expression embodies The Glendronach's signature style of Spanish Sherry Cask maturation in fine Pedro Ximénez and Oloroso sherry casks, quietly maturing in quality and taste for 15 years. The vintage offers sumptuous notes of maraschino cherries, manuka honey and rich chocolate with an enveloping, memorable finish worthy of this vintage's exceptional history. This luxurious Single Malt Scotch Whisky is bottled at 46% ABV, non-chill filtered, natural in colour and scored the highest possible accolade of Double Gold at the 2018 San Francisco World Spirits Competition!
Tasting notes: An intoxicating burst of maraschino cherry, ripe bramble and dark chocolate mint with hints of orange bitters and walnut liqueur. Honey-glazed apricot and ripe fig with a crescendo of black cherry, angelica and muscovado. Long and enveloping with dark manuka honey, herbal bitters and dark chocolate. Being one of the lucky few to be able to taste it in Singapore, the sweetness of the whisky coupled with the clean, smooth finish makes this whisky highly versatile and adaptable- to suit various taste buds and compliment a wide diversity of food.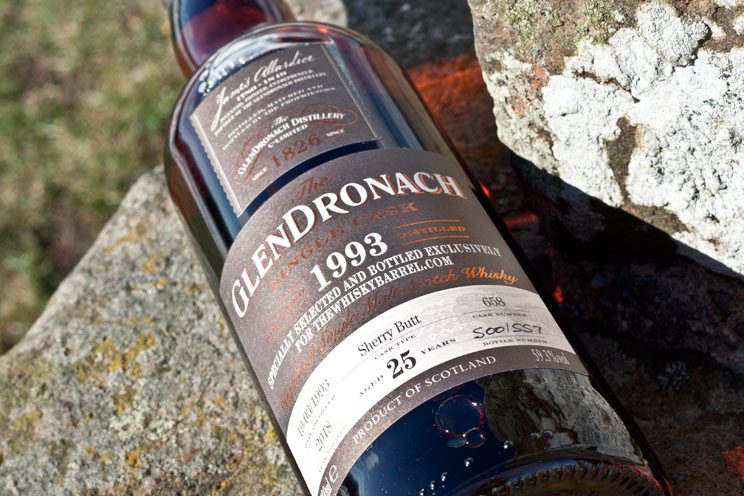 Glendronach's first female master blender, Rachel Barrie specially selected a special cask from Glendronach's warehouses to be bottled in their entirety. Exclusively bottled for South East Asia, Rachel selected the Special Cask #393 1993 Vintage that has been aged for almost 25 years!
Each of these cask bottling's leaves their own fingerprint on the Glendronach new make spirit, delivering unique insights into the award winning whisky. This single cask was selected and exclusively bottled for South East Asia. Bottled at 40%, some of the whisky's potency was lost due to time and the aging process, but it manages to keeps its signature robust flavour. Once the whisky goes down the gullet, it is rather sharp, straight to the point and leaves a lasting impression that does not burn once the alcohol goes down. However, it can be a tad dry once it lingers, so do keep a glass of water at the ready. A bottle of this extremely rare whisky would be the perfect gift for a whisky aficionado to indulge in or for a whisky collector to keep and add on to (what I can assume) his vast collection of top-notch whiskies.
Tasting notes: Vanilla, egg custard, apricot danish, cherry compote, sultanas, wax and milk chocolate Dry, apricot, blood orange, sour raspberries, dark chocolate and soot.
For all the budding whisky collectors out there, there are rumors circulating that there will be another special cask series specially made just for Singapore next year, so do keep a lookout for next year's special cask series!
The Glendronach Revival Aged 15 Years is priced at $299, while The Glendronach 1993 Cask #393 Aged 25 Years is priced at $1099.
The Glendronach single malts are distributed by Malt Wine Asia and available for retail at The Grande Whisky Collection located at 2 Orchard Turn, #05-01 ION Orchard, Singapore 238801.
For further inquiries or tastings, please contact them at +65 8809 0038.