Goldleaf Celebrates its 47th Anniversary with Old Classics and New A La Carte Buffet
CONTENT: Yiew Kai Jie
To celebrate its 47th anniversary, Goldleaf has revitalized long-lost classic dishes, unveiled brand-new dishes and came up with a new à la carte buffet! Get ready to enjoy a wide variety of timeless Taiwanese dishes and porridge under one roof!
The restaurant has also launched its first-ever à la carte buffet, available during lunchtime (S$19.80 for adults, S$12.80 for kids) and dinnertime (S$25.80 for adults, S$18.80 for kids), all week long except on Friday evenings, weekends and public holidays. The buffet is a showcase of eight delicious mainstays that includes Ah Ma's Tri-platter; Meicai Kourou; Kaohsiung Chilli Chicken; Chye Poh Omelette; Steamed Pork Patty with Salted Fish; Tainan Olive Taiwanese Lettuce; Double Beancurd Platter; and Seafood Beancurd!
Bringing Back Decade Old Dishes
Ah Ma's Tri-Platter (S$10.80) contains simple but gratifying favourites that are bound to evoke nostalgic memories for both the older generation and the young adults. Both the beancurd sticks and peanuts are soaked in a traditional homemade bean marinade. The process takes about five to six hours, until the marinade has permeated every inch of the beancurd sticks and soft peanuts. Rounding out the platter is the Fried Minced Pork with Olives, with the minced meat that contains a perfect lean meat to fat ratio — providing juicy bites and the olives adding a salty punch to the meat. This starter proves to be a good combination with the porridge, especially the pork, it's good enough to consume on its own! Just don't forget to eat it with the porridge else it could get too salty after a few bites!
The Meicai Kourou (Braised Pork Belly with Preserved Vegetables, S$18.80) follows a decades-old recipe inherited from a Taiwanese chef. The sauce is made with a special blend of herbal ingredients that are imported from Taiwan. The meicai is treated and stewed in-house with an artisanal marinade.
The Kaohsiung Chilli Chicken (S$15.80) is one for the spicy food lovers. Chunks of succulent chicken are tossed with a blend of eight secret spices — when served, its aroma wafts through the air even before it is served on the table. The chicken itself was not overly spicy, even with eaten with the dried chill pieces, therefore making it an ideal item to share among varying tastebuds who have very different spice tolerance.
Another unforgettable dish is the Omelette with Chye Por (S$10.80), whose recipe has been perfected over the years. The chye por is soaked in a house marinade made with secret ingredients, and adds a wonderful crunch to the fluffy omelette. A classic dish on Goldleaf's menu, this is a definite must order as the egg wasn't as oily as it looked and it the balance of turnip and egg was just right that they complemented each other without overwhelming each other.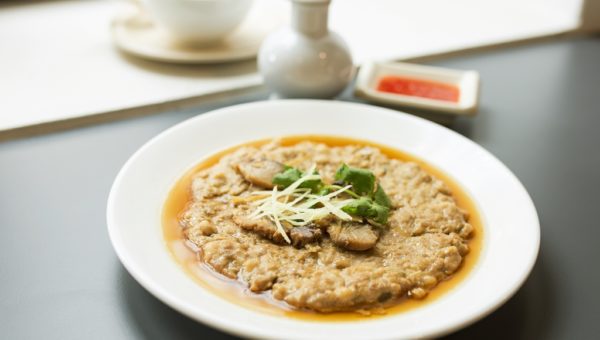 Available in limited quantities everyday, Goldleaf's Steamed Pork Patty with Salted Fish (S$12.80) has stood against the test of time. Its recipe was passed down over 40 years ago, and what makes this dish unique is the treatment of its pork patties — the chefs does not use a tenderiser but painstakingly 'throw" the patties by hand to keep them springy and juicy! For this dish, only the best-quality salted fish (mui heong) is used.
A staple dish that has endured for 30 years, the refreshing Tainan Olive Taiwanese Lettuce (S$13.80) dish features green leaves and crispy stalks that are blanched. They are also imbued with an olive fragrance and topped off with goji berries that enliven with their sweet-sour note.
For the Goldleaf Double Beancurd Platter (S$10.80), silky smooth Japanese beancurd marinade is preserved in a chef's specially prepared soy sauce (豆油膏). At the centre sits a century egg specially imported from Taiwan. The beancurd is then topped with a combination of Taiwanese-style bonito flakes and Singapore-style pork floss that lends a savoury lift.
Sink your teeth into the Seafood Beancurd (S$9.80), made with squid paste, abalone sauce and generous servings of fresh prawns! The Japanese beancurd is chosen for its smooth texture and is first steamed then deep-fried. The beancurd is complemented with Goldleaf's homemade chilli sauce for a slight spicy kick to the soft and slightly salty finish of the beancurd.
Apart from the à la carte buffet, there are a few other dishes that are must order dishes that would go along well with the buffet dishes!
A popular Taiwanese dish, the Oyster Vermicelli (S$8.80) follows a new and improved recipe and is freshly made every day. The vermicelli is soused in a velvety and piquant soup, then topped with fresh oysters. The vermicelli isn't overly thick or starchy and boasts an extremely fragrant smell before the noodles hit the palate, wetting one's appetite and making it a good alternative if one does not want to consume porridge for their meal.
The Deep-fried White Pomfret with Black Bean Sauce (seasonal price) is another must-try dish — the fish is deep-fried to a golden-brown colour and drenched with a blend of Taiwanese beans. The crispy texture coupled with the sweetness of the sauce will make customers going back for second servings! Their Fresh Cockles (S$11.80) covered with their secret unique chilli sauce has been a popular and top dish over the past 47 years at Goldleaf!
End off the meal with their Miaoli Black-and-White Muah Chee (S$3.80)! Miaoli County is a Taiwanese region well known for its muah chee. Get the best of both worlds with two types of muah chee, topped with brown sugar as well as a dichotomous mix of house-ground black and white sesame powder.
An advocate of healthy eating, Goldleaf does not use any added MSG in its dishes. Also, the assortment of sauces that accompanies all of the dishes are all made in-house. Following a secret recipe, the sambal sauce is a marriage of chillies, unique spices, herbs and aromatics all fried with shrimp. The original chilli sauce is made with chilli and minced garlic — it is fragrant and boasts a not-too-spicy note, and hence is suitable for everyone.
Goldleaf Restaurant is located at 86 East Coast Road, #01-02 Katong Square, Singapore 428788
*Free parking is available from 12pm to 2pm at Indigo and Holiday Inn on weekdays
Goldleaf Restaurant is open from Mon – Sun: 11am – 2.30pm, 6pm – 10pm.
For reservations, please contact them at ++65 6344 1735 or visit their website at http://goldleaf.com.sg