Guenpin Launches 9-Course Shoka Omakase Menu
CONTENT: Andrew Kho
IMAGES: Luxe Multimedia
Located in Maxwell Chambers within the Tanjong Pagar district, Guenpin is Japan's largest fugu restaurant chain and is their first overseas outlet here in Singapore.
Upon entering the 32-seater restaurant, you will instantly feel welcomed by their cozy Japanese interior, choose to seat at their bar counter as you witness the Chef prepare your sushi or sashimi in front of you or seat in the privacy of your own private room without being bothered by the noise and the crowd or choose to seat at the common area, it's all up to your decision on how you would want to have your dining experience here.
A household name when it comes to delicious torafugu (Tiger Puffer Fish) cuisines, the Guenpin has over 30 years of history and boasts 96 outlets in Japan that see patronage from over 810,000 guests a year and for this Shoka Omakase Menu, diners will be able to try their signature pufferfish, King Crab, Wagyu Beef across nine exquisite courses.
Shoka in Japanese means beginning of Summer and for this omakase menu, Guenpin's head chef Tomita has specially curated select ingredients for this menu, air-flown twice a week from the Tsukiji market in Japan.
Here are our thoughts on the Nine- Course Shoka Omakase Menu:
Appetizer Platter: Boiled Pufferfish Skin is popular for its beneficial effects on skin complexion containing a high level of collagen. very chewy and tasty, The Puffer & Salmon Spring Roll combined with lettuce, cucumber, tomato and wrapped in a soft rice roll is so tastingly unique while the Ikura-Mizore-ae is very refreshing and paired with grated daikon radish, the salmon roe is air-flown every week from Hokkaido to ensure its freshness.
Assorted Sashimi: Three piece fresh slabs of tune belly, 2 piece of Hirame and the main highlight of this dish, the pufferfish served on top of a crispy cabbage, the crunchy bite that goes along with the pufferfish is simply so good that you would want to have more.
Grilled Pufferfish & Ankimo: Having the Pufferfish grilled made the meat too dry and a bit tough, but should it be cooked perfectly the monkish liver complements the pufferfish when eaten together having the rare offering known for being the foie gras of the seas.
Sunomono: This dish is commonly referred to vinegar-based dishes and here they the pufferfish are sliced, deep-fried and soused in a sweet vinegar in pickled in Nanban sauce, we feel this dish is just normal and nothing to shout about.
Wagyu Mini Steak: Imported from Kagoshima and generously portioned enough for 2 person sharing, the steak is tasty and grilled perfectly to lock in the juiciness of the meat. tender, soft and delicious, and all meat lovers will surely love this dish.
Deep Fried King Crab: the Chef tries to innovate by playing with the cooking method of the King Crab, but sadly, we feel that King Crab should still be enjoyed fresh, if not it should not be over-fried and must be served immediately to ensure the freshness and crispness, as for the tempura sauce dip, we believe a special sauce would uplift the taste of the fried King Crab, of the above reasons this dish failed to impress us.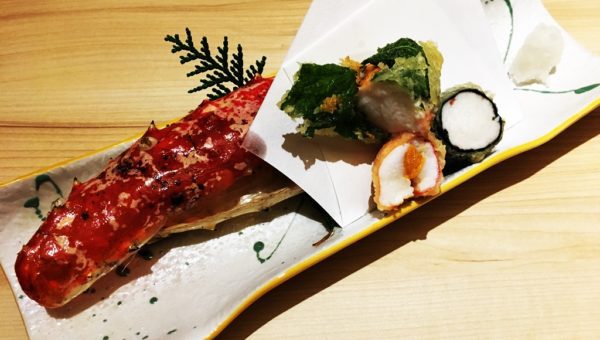 Una-tama– Rejoice all chawanmushi lovers as this is silky smooth chawanmushi boasts generous eel on the top and centre and king crab at the bottom which blends a good combination of seafood's inside a small cup. a delight in every bite
Assorted Sushi: A combination of Pufferfish, Flounder, Salmon and Tuna Belly, this is undoubtedly a good dish as they are all very fresh and juicy.
Lastly, Cap your meal with an assortment of juicy cut fruits
Overall, we highly recommend the diners to try this Shoka Omakase Menu considering this is only available in limited period of time and the portions are generously portioned compared to the other Japanese restaurants we have in Singapore, above everything is the quality of their dishes served here is above quality. Remember to make a reservation in advance as they are quite frequently full house.
If you are not an Omakase person, we still highly recommend you to visit this restaurant and try their ala-carte menu selections which are reasonably priced.
Guenpin is located at: 32 Maxwell Road, #01-06 Maxwell Chambers, Singapore 069115
For reservations/ enquiries please call: +65 6634 2916 or visit: www.facebook.com/guenpinsg