Here's where to eat in Singapore in September 2023
CONTENT: Yiew Kai Jie

Unearth the one-of-a-kind gastronomic adventures awaiting you this September.

Whether you're a daring epicurean eager to tantalize your taste buds with novel experiences or simply seeking a fresh culinary adventure, our guide offers something to satisfy every palate. Prepare to indulge in these extraordinary culinary treasures!


Bacatá
The first restaurant on our list also happens to be the newest one, as Head Chef-Owner Fernando Arévalo has poured his heart and soul into his newest restaurant, Bacatá. Since first touching down on our shores in 2012, he has always envisioned a safe space where he would be able to share the magical, vibrant elements of his native Colombian culture. Thus Bacatá was born where robust Colombian cuisine meets a bold interior design filled with indigenous artworks that is traditionally made with hand-weaved corn husks. The end result? An immersive dining experience that provides diners with a small glimpse of what Colombian food is all about.

The seven-course Chef's Tasting Menu (S$158++) aims to recreate a small Colombian enclave in the busy CBD district of Singapore by creatively incorporating traditional colombian ingredients with modern techniques. Here are the highlights:

To kick things off, Chef Fernando introduces an appetizer known as the Tiradito. It's a fusion dish that combines the rich heritage of a traditional kueh pie tee with the vibrant flavors of a classic ceviche. This innovative dish expertly marries Spanish Mackerel with a luscious smoked cod liver cream, elevated by the delicate infusion of lime vinegar pearls and Aji Verde. To add an extra layer of zest, it's all brought together with a dollop of whipped Leche De Tigre – a zesty and spicy marinade traditionally used to cure fish for ceviche that reduces acidity and has mild use as an aphrodisiac! When you take your first bite into this appetizer, you'll be greeted with an explosion of savory yet mildly salty flavors that are nothing short of spectacular.

The Arroz Caldosois (S$38) is an additional must-order dish on the menu. This dish takes traditional Arborio rice and infuses it with a flavorful mixed seafood broth enriched with uni cream and smoked eel, offering a delightful contrast with the crispy rice. To elevate the experience, it's generously topped with N25 caviar that enhances both the texture and flavor profile. Despite its seemingly straightforward preparation, the powerful umami notes from the seafood broth and uni cream left us craving for more. However, while noting that indulging in this dish might make you forget about everything else, but the next course is equally sensational.

The Chipiron is a harmonious fusion of Latin American and Asian flavors. This exceptional dish highlights the finest Japanese cuttlefish, charred to perfection and expertly layered with Chimichurri. It's skillfully paired with a zesty sauce crafted from 'Nduja sausage and house-cured egg. Among the other offerings on the menu, this dish stands out as one of the most opulent. The sauce is a symphony of flavors, boasting the robust essence of sausage and the savory notes of salted egg. With each bite, the delightful flavour combination of charred cuttlefish, chimichurri and the opulence of the sausage-egg sauce all come together to create It's an impeccably balanced dish- as all things should be.

Drawing inspiration from the Colombian classic Ajiaco, a quintessential comfort food typically prepared with chicken and an assortment of potatoes, the Langosta (S$38) takes a delicious twist. For Chef Fernando's rendition, succulent Boston Lobster takes center stage, delicately poached in Beurre monté and elegantly presented atop a bed of roasted white corn. What makes this dish truly remarkable is the slow, artful pouring of a velvety potato soup, lovingly crafted from three distinct potato varieties. This culinary masterpiece allows the savory essence of the soup to immerse itself into each inch of the protein! While it may deviate from a conventional Ajiaco, the richness and depth of flavor in this broth will unquestionably steal the spotlight!

Bacatá
Frasers Tower, #03-01/02, 182 Cecil Street, Singapore 069657


Verandah Rooftop Rotisserie
Verandah Rooftop Rotisserie, a picturesque rooftop poolside haven in the heart of an urban oasis has just launched its new Weekend Buffet Dinner (S$88++ per pax) featuring signature roasts, succulent premium meats and freshly baked hand-stretched wood-fired sourdough pizzas. The buffet begins at the larder, where an extensive selection of chilled items awaits. From crisp salads to flavor-packed charcuterie and antipasti, your taste buds will be in for a treat. These delights are perfectly complemented by comforting soups and artisan bread. A live seafood station is also available, featuring Live Pacific Oysters, Poached Sea Prawns, and Black Mussels.

But the centrestage of the buffet is undoubtedly the bustling live action kitchen, where meat lovers can revel in a delightful range of options, from the tender 75°C Slow Roasted Argentinian Angus Beef Ribeye to the flavor-packed Australian Wagyu Tomahawk.

Don't miss the culinary masterpiece that is Verandah Rooftop Rotisserie's signature 48-hour Citrus Brined Rotisserie Chicken, expertly marinated with a blend of 12 spices. To add to the spectacle, the exquisite Parmigiano Cheese Wheel Pasta is prepared fresh to order, offering a captivating sight to behold. Pizza lovers are in for a treat with hand-stretched, thin-crust sourdough pizzas baked to perfection in a applewood-fired oven. From the classic Margherita to the umami Seafood Sakura Ebi and irresistibly spicy Gochujang Chicken, each slice promises a mouth-watering experience.

Save room for a sweet ending as you indulge in luscious dessert creations that includes Sticky Date Pudding, buttery Madeleines, and a tower of Choux A La Creme adorned with caramel threads, among other delectable delights.

Verandah Rooftop Rotisserie
Momentus Hotel Alexandra, Level 7, 323 Alexandra Road, Singapore 159972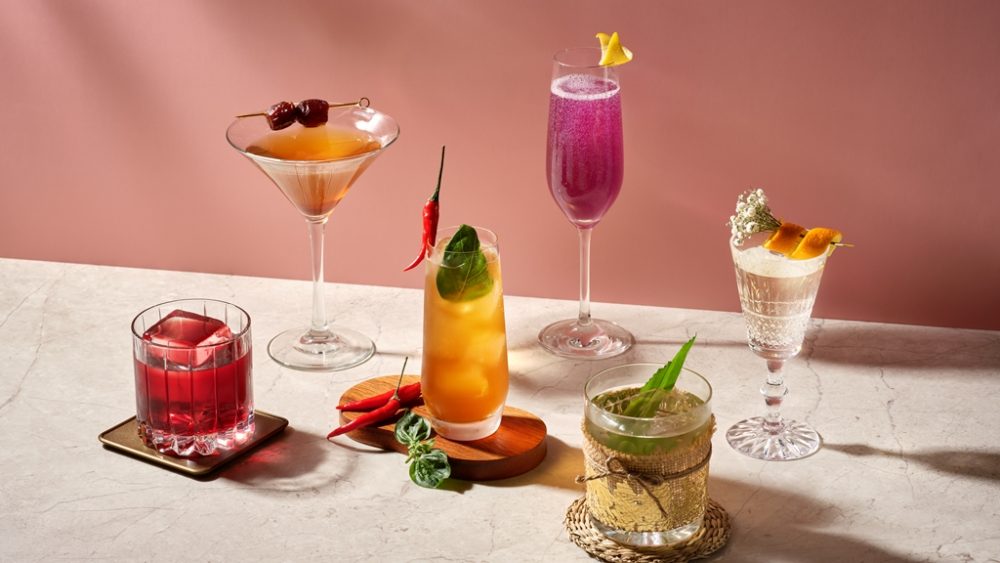 Lobby Lounge at InterContinental Singapore
The Lobby Lounge at InterContinental Singapore has recently undergone a transformation with the introduction of an entirely new cocktail menu. Crafted in collaboration with the renowned mixologist Jesse Vida, the new menu brings a new look to the lounge, positioning it as the ultimate destination for the discerning connoisseur.

This innovative cocktail menu is a journey inspired by the local neighborhood, celebrating local spices and herbs like cloves, cumin, and star anise.

"Sultan Gate Garden": Drawing inspiration from the iconic Gelam Trees and spice gardens of Kampong Glam, indulge in the Royal Rosales (S$22), a captivating blend of Kyrö Gin, Nardini Bitter, strawberry grapefruit, lemon, absinthe, pink pepper, and sea salt, "Arab Street": Paying tribute to Singapore's first-generation businesses, savor the spirit-forward Flower Shop Sour (S$22), composed of Chalong Bay Spiced Rum, kaffir leaf-infused Ceylon Arak, clove orange cordial, coconut cream, lemon, chamomile honey, and orange bitters.

"Haji Lane": Get swept away by the vibrant spirit of this famed street with Haji Paji (S$22), an agave-based concoction featuring Tequila Ocho Plata, Herrencia Mezcal, cumin, grapefruit, lime, absinthe, and soda, "Albert Food Centre": Spotlighting one of Singapore's best hawker centers, delight in the Tjendol Milk Punch (S$22), reminiscent of the beloved chendol dessert. This pandan-infused drink boasts a silky texture complemented by coconut, gula melaka, and lemon.

The journey concludes at 80 Middle Road, home to InterContinental Singapore, with the sophisticated Legacy Eighty (S$22) and its smoky counterpart, Flaming Tightrope (S$22), both offering a symphony of flavors.

To complement these exquisite cocktails, indulge in an array of delectable dishes from the establishment's Cantonese and Italian restaurant, Man Fu Yuan and respectively. Diners can indulge in dishes such as Singapore Style Chilli Crab Sliders, Satay Panggang, Vietnamese Netted Spring Roll and Seafood Fried Hokkien Mee. Western options include the 'Pulled' Lamb Panini and Hungarian-style Angus Beef Short Rib Goulash.

For those looking for Lobby Lounge's seasonal high tea menu, the Citrus Afternoon Tea offers delightful tiers of citrus-infused nibbles, including Yuzu Meringue Tartlet, Blood Orange Panna Cotta, Zesty Financier, and Asian-style Salmon Rillettes Sandwich with lemon confit. This addition provides a lighter alternative to the signature set, promising to reinvigorate the senses.

The Lobby Lounge
InterContinental Singapore, 80 Middle Rd


Tentsuru
Since first opening its doors back in 2022, Tentsuru is known for an intriguing dining experience that beautifully merges two of Japan's most renowned culinary traditions: omakase and tempura. Under the masterful guidance of Chef Daiki Kawaguchi, the Hatsuaki (S$280++) dinner menu captivates diners with its premium and unexpected additions.

Tentsuru's tempura is a testament to the finest and freshest produce, especially evident in offerings like the Kurumaebi Tiger Prawn, that bursts with rich, full, and sweet umami flavors. The Kisu Whiting, harvested in-season from spring to summer, and the whole and round medallion of Hotate Scallop are equally exquisite choices. The Nodoguro Blackthroat Seaperch, sourced from the prestigious Shimane and Yamaguchi prefectures, provides bold flavors to please the palate. Those seeking bolder meaty notes can indulge in the Miyazaki Beef Sirloin, celebrated for its clean mouthfeel, and served with a housemade negi sauce.

Other highlights include the Iwashinjo Sawagani —an artful dish featuring white fish, egg, and yam, all expertly deep-fried and garnished with aonori dried green laver. The Deep Fried River Crab, inspired by the creatures' penchant for climbing upriver banks on hot summer days, is another delightful addition. Additionally, the Tofu Paste with Shrimp and Edamame offers a velvety-smooth tofu paste adorned with boiled prawns and edamame.

Complementing the menu with the newly curated Hana (S$108++) sake pairing, featuring four distinct sakes, including a glass of bubbly champagne.

Tentsuru
The St. Regis Singapore, 29 Tanglin Road, Singapore 247911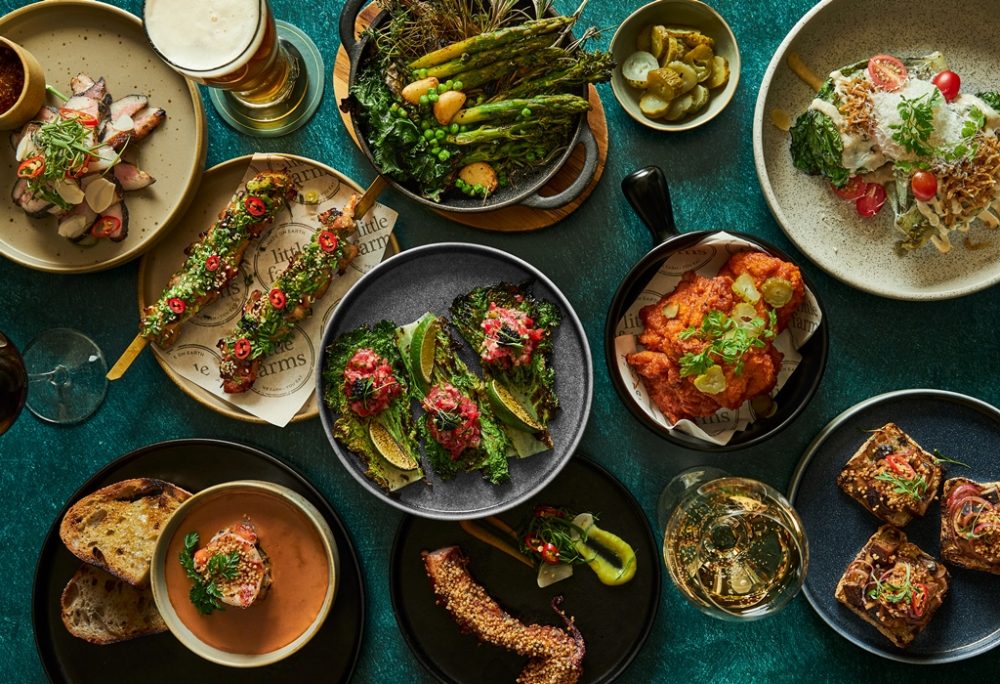 Little Farms Bistro at Katong Point

For a truly exclusive gastronomic experience, mark your calendars for an upcoming four-hands dinner event with renowned Chef Sam Chablani and Chef Ming Earn. Chef Sam is celebrated for his culinary philosophy: "No Burn, No Taste." This exceptional dining experience is available for three nights only, at Little Farms Bistro at Katong Point from September 21st to September 23rd, 2023. During this event, you'll have the unique opportunity to savor Chef Sam's specially crafted menu, showcasing his expertise in creating grilled masterpieces such as Woodfired Veges, Barbecued Pork Neck, Smoky Tamarind Glazed Grilled Octopus and Thai-Style Organic Barbecue Chicken! These dishes promise bolder, smokier, and more robust flavors that will leave your palate tingling with delight.

Additionally, don't miss the chance to try out Chef Sam's exclusive Dirty Delicious Umami Butter, (S$20) a one-of-a-kind offering available exclusively at Little Farms Grocer at Katong Point.

These remarkable NBNT wood-fire private dining sessions are in high demand, with reservations already filled until 2024. Therefore, this collaboration between Chef Sam and Chef Ming Earn represents a rare opportunity that should not be missed by food enthusiasts and connoisseurs alike.

Little Farms Bistro at Katong Point
451 Joo Chiat Rd, #01-04, Singapore 427664