Hokkaido's Most Awarded Kaiseki Chef Joins Shima and Divulges A New Menu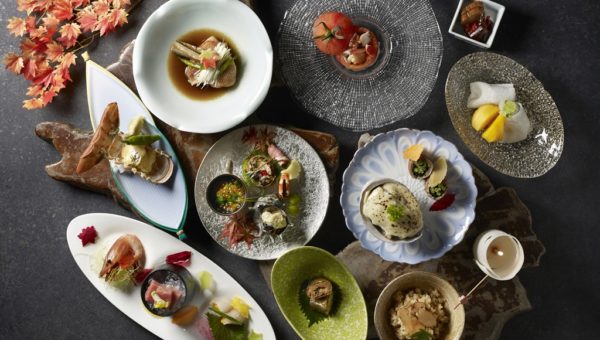 CONTENT: Yiew Kai Jie
Experience the ultimate indulgence in Japanese cuisine with Shima's newly unveiled kaiseki six to eight course menu! The menu is specially curated by Chef Fumihiko Hoshiba, an award-winning panjandrum with over 40 years of culinary experience. The consummate chef has worked in various renowned hotels and restaurants, such as the prestigious Tokyo Dome Hotel Sapporo, and was the former chairman of the National Culinary Society of Japan. Regarded as one of the best kaiseki chefs in Hokkaido, Chef Fumihiki Hoshiba is known for his diligence and he possesses a penchant for introducing handcrafted elements in his immaculately plated dishes.
Fresh and Precise
A culinary art form, kaiseki is a traditional multi course meal where tastes, textures and colours of the ingredients all come together as one impeccably. Inspired by the changing seasons in Japan, the kaiseki menus emphasises the use of fish and other seasonal ingredients. At Shima, fishes are flown in twice a week from Japan, and the courses are carefully prepared with precise cooking techniques that bring out the ingredient's natural flavours.
In Kaiseki, every element is beautifully orchestrated to provide diners with a complete sensory experience reflecting the beauty of the four seasons. The dishes are intricately decorated, with painstaking hand-carved ingredients being shaped like vibrant flowers and leaves. From the shapes of leaves, to colours and crockery, nothing in a kaiseki meal is done without thought or purpose.
Authentic Japanese Experience
Shima's new menu features five premium sets at affordable prices starting from S$48 for a six-course meal. There are S$48 and S$68 options for lunch and S$88, S$188 and S$288 options for dinner.
Here are some of the exquisite highlights that we had as part of the S$88 eight-course menu:
Nimono
A traditional simmered dish that typically takes a chef 10 years to master to get that perfect taste right. Requiring a precise cooking time, this dish is prepared over the course of two days under constant supervision.
Zensai
Made of several different components that comes together as one complete appetizer, the dish is made of seasonal ingredients that reflects the season, every part of the dish is uniquely his own, the yuzu aigamo is light yet tight in flavour, the escargot is really buttery and flavourful.
Sashimi
Extremely fresh seasonal seafood and fish that changes depending on the season and the location. Expect intricate attention in terms of detailing and food presentation as well as premium seafood at any duration when you order this appetizer.
Mushimono
Essentially a shark fin chawanmushi, patrons will find that the egg is very light and fluffy, packed with a slightly salty flavour. A layer of tofu in added between the egg and the bottom of the cup that gives the dish have a very creamy texture. However the shark fin holds no flavour, only the dish's broth gives it flavour while the fin provides the texture.
Yakimono
The fish is marinated for a week and the type of fish that will be served is also dependant on the season that is caught in. The Kagoshima Wagyu A5 beef with spring onion goes very well once the beef is wrapped around the spring onions and the fish itself has a very distinct strong flavour, which makes the dish a tale of two different strong proteins yet somehow even each other out to make it a balanced dish.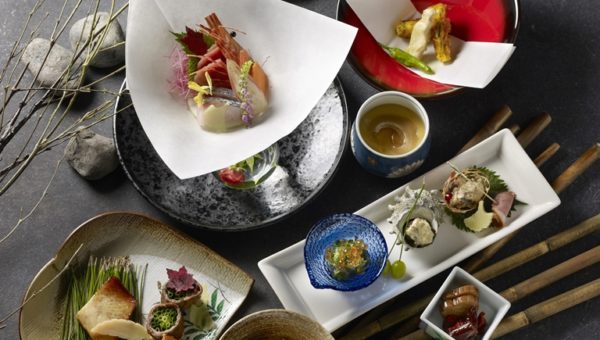 Matsutake Mushroom Rice
Known as the Japanese's solution to the prestigious black truffle, the matsutake mushroom is a prized ingredient, beloved for its spicy and fruity note. The dish is cooked with a thick dashi stock and by using a traditional method- an old school claypot over the stove.
Carved Kabu
The white radish is exquisitely carved to resemble a chrysanthemum flower and Chef Fumihiki Hoshiba has drawn upon his 40 years of knife-carving experience to perfect it. The refreshing radish is balanced with stuffed shrimp paste inside of it.
Miso Hamachi
This Japanese amberjack is marinated in miso imported from Kyoto for three days and boasts a complex and rich flavour.
Rare Yuzu Aigamo
The aigamo duck is steamed with sake, yuzu and many other ingredients until its texture turns medium rare and extremely tender till it melts in your mouth.
Other must-try dishes include the exquisite Abalone with kyoto miso gratin, Escargot butter with Shima special sauce, Fried lobster tempura, Premium sashimi (uni and Chutoro) and black tobiko with steamed ebi. Should you find yourself looking for the freshest and premium Japanese restaurant in town, head to Shima and book a reservation, for they are usually booked out for weeks.
.
Shima is located at #01-00 Goodwood park hotel, 22 Scotts Road, singapore 228221.
For Reservations please call: 6734 6281 or email: www.shimarestaurant.com.sg