Indulge in Bakerzin's Christmas De La Perfecto Spread This Christmas
CONTENT: Yiew Kai Jie
Shrieks, people running everywhere, absolute chaos in a house. What sounds like a horror show or a family feud gone badly wrong might just happen to your family during this Christmas when tensions are raised over preparing the annual Christmas feast for your family.
Instead of handling the impossible expectations of whipping up a perfect christmas dinner, soak in the delights of the yuletide spirit as you feast on the trouble-free delectable indulgences from Bakerzin! Available from 16th November 2017, enjoy a convenient and lavish spread at home with a delish medley of 'must-haves' from Bakerzin Christmas de la Perfecto Takeaway Menu or select the festive feast packages that are specially catered for parties of six and above. Conveniently packed, no complicated preparation is needed, simply heat it up before serving and your Christmas feast is ready!
Gochujang Capon
A twist on a christmas classic, thoroughly marinated overnight and roasted to a perfect tenderness under a controlled temperature, the Gochujang (Korean hot chilli paste) Capon (Chicken) is the Asian rehash of a western traditional must-have. The stuffing in the capon is a harmonious blend of minced chicken, herbs and spices, together with the spicy flavour-packed essence from within, this dish will make an excellent choice as a centrepiece this Christmas.
The succulent capon is infused with a taste of sweetness from the stuffing and is baked to a crisp golden brown. The meat did not taste dry or bland as the chicken was already pre marinated beforehand, while the stuffing mixed with the chicken gave the chicken all the flavour it needed, a sweet and slightly spicy kick to it that will impress both your western and asian families. However, do keep an eye on the oven for how long you place the chicken in the oven as heating it for too long will drain it of any moisture, leaving you feeling like you just ate leftovers that have been sitting in the fridge for a week. The centrepiece is served with Gochujang Sauce and Raisin Sauce.
Gochujang Sauce
Made from hours of simmering over slow fire, this sauce is a concentration of the essence of the stuffing inside the Capon Chicken. Infused with other spices and herbs, this sauce definitely complements the natural sweetness of the chicken meat.
Raisin Sauce
A splendid creation with a sweet and earthy flavour, this is your classic Christmas sauce to pair with the tasty elixir and tender capon. Using only golden raisins and selected herbs, and cooked to perfection, it go wells with the sweetness of the capon nicely.
Cakes & Pastries
Triplette Chocolat Cake Log
Christmas will not be Christmas without a sweet treat on the table, like your grandma's homemade gingerbread cookies or an old-school log cake that will get the kids talking and cheering for a slice over the dinner table! Chocolate lovers are in for a sweet treat as you not only get to enjoy just one, not two, but three different flavours of chocolate cake logs. The Triplette Chocolat Cake Log is the pièce de résistance of Bakerzin's festive dessert menu. This is the ultimate chocolate delicacy with three classic flavours that will blow your mind; decadent chocolate, pure cream cheese, and caramel.
Decadent Chocolate Cake Log – Carved with rich chocolate using 56% cacao, be surprised as you find crunchy chocolate pearls embedded within every bite. Moist and fluffy, forget about cheat day, turn over to the dark side and indulge in this beloved sinful chocolate treat.
Pure Cream Cheese Cake Log – Let your tongue dance to the symphony of smooth and soft cream cheese, and leave you craving for seconds with the perfect marriage of chocolate from within.
Caramel Cake Log – A classic flavour enjoyed by everyone, this dulcet delight leaves an overwhelmingly good caramel taste that lingers in your mouth even after the cake has been long gone.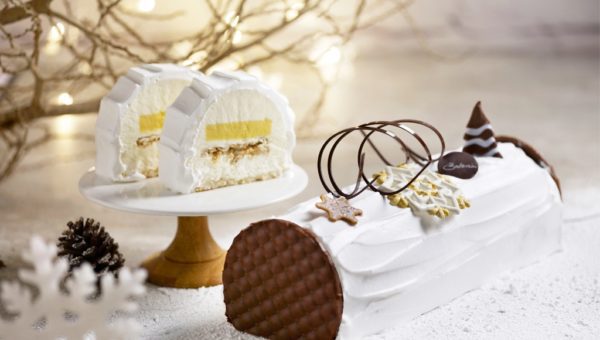 Coconut Passion Yule Log
If chocolate log cakes are already too passe for you, Bakerzin has brought its unique Coconut Passion Yule Log to the table for those who really want to impress their guests with a distinctive flavour and to declare that your family's yearly Christmas dinner can be held at your house. Topped off with a generous amount of miniature coconut bits, and layered with tangy sweet passion cream, be ready to be swept head over heels with this angelic creation. Cutting the cake open to reveal that perfect cross-section will prompt your friends to gaze in awe as they will tell you to drop everything to get their cameras out to start snapping away. The strong flavour combination of the coconut and passion cream will bring you to cloud nine in an instant. Each ingredient in this cake is bold and stands out by itself yet manages to work together to melt harmoniously in your mouth, definitely one of your must bring home sweet treat to share with your friends and families!
Savoury King's Bread Sausage and Cheese (Chili Spice)
A healthy blend of grains with a soft smooth texture, this delicious pastry is glistened with small tomatoes, chicken sausage, cheddar cheese cubes, and chilli padi. The texture of the bread held firmly together and did not fall apart when we started to cut it open and divide it amongst ourselves. The bread's flavour was chock full of the cheesy goodness while the slight spice of the chili padi gave it a little kick to the bread. But do look out for the chilli padi in the bread, we do advise those that can't take spicy food to remove them first before eating them unless they have a jug of milk standing by. Regardless if the chili padi is removed or not, the bread is already imbued with the spice from the chilli. Get hot this Christmas with an extra spicy sensation bringing about a mouthwatering experience fit for a king!
The food that listed in this review are only a small fraction of what Bakerzin is offering as part of their Christmas de la Perfecto menu. There are other dishes, plenty of other cakes and desserts that you can order on their website for a fuss-free Christmas dinner, so dig in with Bakerzin for a gastronomic experience now!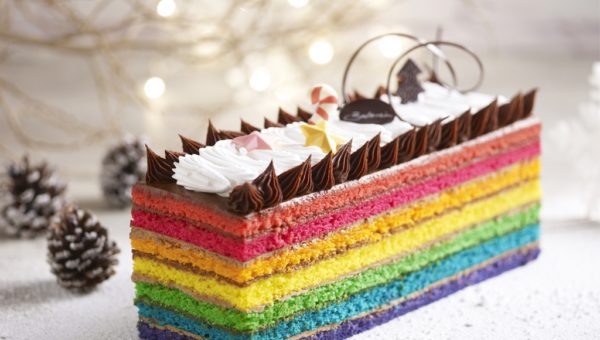 The Festive Packages
Festive Set A (Serves 4 to 6 pax) – S$89 (u.p. S$129) (Comes with 2 sets of Gingerbread Man)
•Coconut Passion Yule Log
•Gochujang Capon Chicken
•Festive Macarons (6pcs)
Festive Set B (Serves 5 to 6 pax) – S$109 (u.p. S$163) (Comes with 2 sets of Gingerbread Man)
•Rainbow Yule Log
•Sweet King's Bread
•Gammon Ham
•Festive Macarons (6pcs)
Festive Set C (Serves 8 to 10 pax) – S$169 (u.p. S$263) (Comes with 6 sets of Gingerbread Man)
•Triplette Chocolat Cake Log
•Sweet King's Bread
•Gochujang Capon Chicken
•Gammon Ham
•Chicken Teriyaki Shepherd's Pie
For more information on Bakerzin Christmas De La Perfecto, please visit: www.bakerzin.com