Interview with Peter Zwiener, President and Co-Founder of Wolfgang's Steakhouse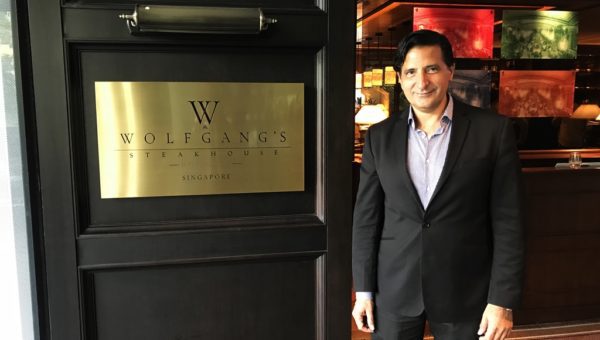 Peter Zwiener is the President and Co-Founder of Wolfgang's Steakhouse, a steakhouse based in the second floor of the Intercontinental Robertson Quay Hotel. The original Wolfgang's Steakhouse opened on NYC's Park Avenue back in 2004, and has since then has grown into an globally renowned institution famous for its USDA Prime 28 days dry-aged steak, with over 18 branches worldwide and more outlets to be opened by the end of this year.
With Father's Day fast approaching, we got a chance to sit down with the CEO over lunch and chat with him over his personal relationship with his own Father, Wolfgang Zwiener, his plans for the future of his restaurant empire and (because he owns a steakhouse after all), his own preference of how he likes his steak to be done.
CONTENT: Yiew Kai Jie
IMAGES: Luxe Multimedia
Luxe Society Asia: What made you decide to open a restaurant here in Singapore?
Singapore is truly an international hub for dining – it is a cosmopolitan city with residents that have very discerning, sophisticated palates, as well as a well-traveled expat community and a multitude of tourists who travel to Singapore specifically to enjoy dining. In addition, the city is an epicenter for business in Southeast Asia, which I have visited many times in the past. It has always been in our plan to expand into Singapore and when we were approached by our local partner, THP, to open in Singapore, we explored various areas and decided to open in Robertson Quay.
Luxe Society Asia: Many people confuse your restaurant with Wolfgang Puck's, what makes your restaurant stand out from his?
We do not believe there is much confusion There are a variety of steakhouses in Singapore – it's a highly competitive market with many globally recognized names. However, none of them offer an authentic New York-style steakhouse experience like we do – offering a new and unique experience through décor, service, menu and of course the premium USDA Prime Black Angus dry aged beef.
Luxe Society Asia: What factors do you think contributed to the success of your restaurant?
My father has over 60 years of experience working in F&B and hospitality business, so he was able to bring his knowledge and service expertise to the group, whilst I complimented that with the business know-how derived from a 16-year investment banking career. In addition, we were able to work alongside extremely skilled partners across the globe, who all share our passion for Wolfgang's Steakhouse and have helped make it the global institution it is today. Aside from expertise, we offer a consistently high quality product and excellent, warm hospitality.
Luxe Society Asia: What can customers expect when they come to your restaurant?
A New York-style steakhouse, the warm service of our staff, and the highest quality, USDA Prime Black Angus beef available, dry aged on premise for an average 28 days and paired with excellent sides and an extensive wine list.
Luxe Society Asia: What is notable about the dry-aging process used at Wolfgang's Steakhouse?
Each of our restaurants has its own proprietary dry-ageing room, which is specially designed and built to control temperature, humidity and air flow. The sub-primal cuts of beef are kept in the room for 28 days prior to serving so to achieve the perfect level of tenderness and an earthy flavour profile we have become well known and famous for.
Luxe Society Asia: On a personal note, how is the working relationship between you and your father?
It is an amazing experience for both of us to work with each other. As a child, I saw my father go to work 6 days a week to support his family, always arriving later than when we went to sleep, so in reality only seeing my dad one day a week my entire childhood. And after attending university and graduate school in different cities, and then having a 16-year career in international investment banking which had me constantly traveling, we really never got to spend much time together until we started working together.
I could honestly say we really have had no challenges in working together. Even though our personalities differ somewhat, we both respect each other's persona and abilities and ultimately trust each other as well.
What I have learned is that we complement each other whereas my father has the experience in hospitality, service and food preparation, I have the experience running and growing a business.
Luxe Society Asia: I've heard that you have a new Father's Day menu coming up, what inspired you to come up with that menu?
Our Father's Day menu is inspired by our relationship and our shared love of amazing steak and high quality whiskey. The menu includes some of our classic dishes, including Wolfgang's Crab Cake, dry aged New York Sirloin or Ribeye steak with creamed spinach and mashed potatoes, and Key Lime Pie. Each course is paired with a Macallan whiskey. It is a high-end menu which aims to celebrate the relationship between fathers and their children.
Luxe Society Asia: What's your favourite kind of steak, and how do you like it cooked?
I like to eat different steaks on different occasions…however, if I have to choose, I would say the Porterhouse. Porterhouse steaks provide the best of both worlds; the sirloin aspect is somewhat fattier and has more texture, and the filet is more tender. My personal preference is to eat my steak rare, as this best showcases the flavour profile, allowing me to truly appreciate the quality of the product and the value of the dry ageing process.
Luxe Society Asia: Could you summarize Wolfgang's Steakhouse in one word or sentence?
I would need more than one word, however words that come to mind: Spectacular, delicious, consistent, unforgettable.
Luxe Society Asia: What can we expect from Wolfgang's Steakhouse in the coming months and years to come?
More growth globally. Prior to year-end 2018, we will be opening at least in three more cities in Asia: Shanghai, Jakarta and a third one in Manila; as well as a 6th one in New York, and our first in the European Union, Cyprus. In 2019, we are currently slated to open a third one in Tokyo, as well as London and Dubai. We are also currently exploring several opportunities across the rest of Asia, including in other cities in China and Indonesia, Taiwan, Malaysia, Vietnam, and Thailand; the rest of Europe (including Germany, France, and Spain), Latin America (including Mexico, Panama, and Brazil) and Australia.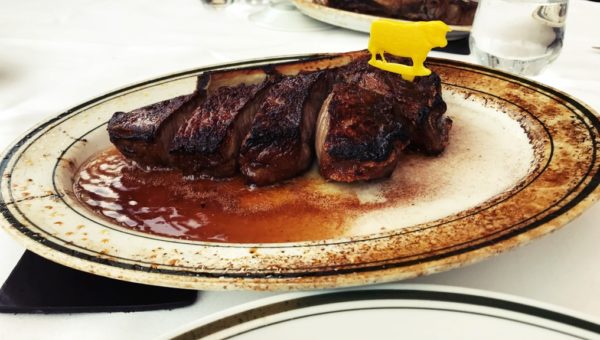 Wolfgang Steakhouse Father Day Whisky Pairing Set Menu Dishes:
Soup: Beef barley (Paired with Macallan 12 years)
Appetizer: Wolfgang Crab Cake (Paired with Macallan 15 years)
Main Course: Choice of USDA prime New York Sirloin or Ribeye steak served with Cream spinach and mash potatoes.(Paired with Macallan 18 years)
Dessert: Key Lime Pie
The Father's Day Whisky Pairing Menu will be available on Sunday 17th June for SGD 280 per person. (S$180 per person without the whisky)
Wolfgang's Steakhouse is located at 1 Nanson Road #02-01, Intercontinental Singapore Robertson Quay, Singapore 238909
Wolfgang's Steakhouse is open daily from 11:30 ~ 15:30 and 15:30 ~ 23:30