JYPSY: A Brand-New Casual Japanese Concept from PS.Cafe
The brand-new restaurant unites contemporary Japanese flavours with P.S Cafe's well known eye for design in their restaurants.
CONTENT: Yiew Kai Jie
IMAGES: Luxe Multimedia
PS.Cafe, the homegrown restaurant brand that has since grown into an iconic and internationally recognised brand has launched a brand-new concept; JYPSY.
Conceptualised through the lenses of the nomadic, youthful and free spirit, JYPSY offers a contemporary yet casual approach to Japanese cuisine, underscored by PS.Cafe's eye for detail and stylised interiors. Having planted its roots at 38 Martin Road, JYPSY's setting draws inspiration from Japan's bountiful seafood and large coastline. Able to accommodate up to 65 guests, JYPSY's light and expansive space evokes a coastal theme with a colour palette of whites, neutral woods and hues of blue, while lanterns, Japanese tableware and loose cushions create a cosy environment that will be sure to take your breath away.
The kitchen at JYPSY is helmed by Chef Taka. Born in Osaka, Japan, Chef Taka has carved his career working at both traditional sushi bars and modern Japanese restaurants. The menu, which draws on Chef Taka's years of experience, expert technique and knowledge of premium Japanese produce and couples it with a fresh and playful approach, is designed to be shared and enjoyed with friends and family in an easy going yet stylish setting!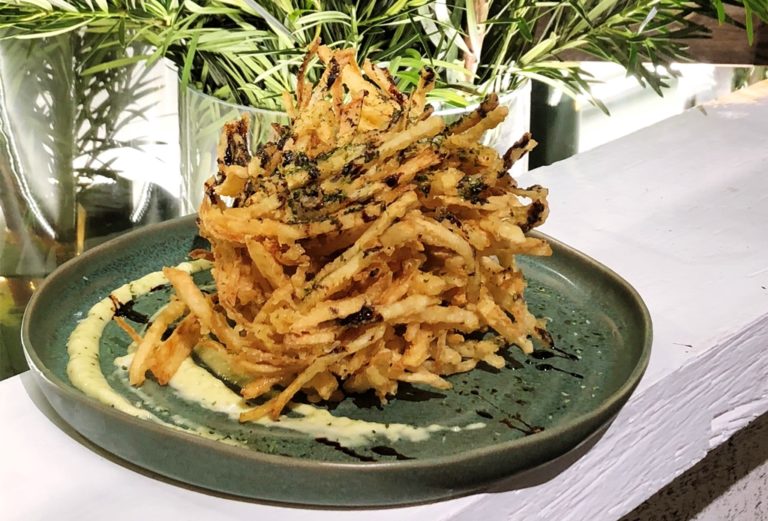 Oishī Zensai
Start off the JYPSY experience with various selections of grilled Robata Sticks, Sushi Rolls and uber fresh Sashimi. The grilled robata sticks, such as the teriyaki glazed Pork Belly ($12), are single-serve marinated grilled bites that come with chef's homemade sauces.Teriyaki Experiment with the sauces to give the pork an extra kick of flavour- regardless if you prefer your pork to be a little more spicy or sweet! The only complaint with this dish is that the protein looked a little dry, but it can be easily compensated with the homemade sauces!
The Nest of Fries ($11) pays homage to the traditional Kakiage dish of tempura chopped vegetables – showcases JYPSY's spin on PS.Cafe's signature truffle fries with crispy shredded potato, white truffle oil, wasabi mayonnaise and teriyaki balsamic sauce. Basically, it's the Japanese version of P.S cafe's signature truffle fries that are a must order on the menu that looks smaller and less overwhelming then its western counterpart for customers to share it amongst themselves.
The Unagi and Pork Gyoza ($12) tasted better than the average run-of-the-mill gyozas that you will find in many Japanese restaurants.Despite the overwhelming pork taste, The unagi kick will come in a little later as the unagi taste lingers in your mouth. What stood out with this dish is the ginger-scallion ponzu dipping sauce that works as a very delicious and healthy alternative for the traditional soya sauce!
The Freshest Catch 
A selection of sushi rolls and sashimi dishes celebrate the fresh, premium grade Japanese air flown fish first and foremost, complimented by locally sourced ingredients. Dishes such as the Jypsy Rainbow ($19) a combination of three types of sashimi -torched salmon belly tartare, Yellowfin Tuna and Bluefin Tuna each rolled with avocado and yuzu furikake and Bluefin Tuna Sashimi ($24) with sashimi grade bluefin tuna, shichimi furikake, avruga caviar, wasabi and baby shiso are set to become JYPSY signatures.
The vibrant JYPSY Salmon Tacos ($14 / 2pcs) combines king salmon, seaweed, avocado and tomato salsa, wasabi mayo and ikura, while the Momotaro ($16) plates Japanese momotaro on tomato consommé jelly, wafu and baby sorrel.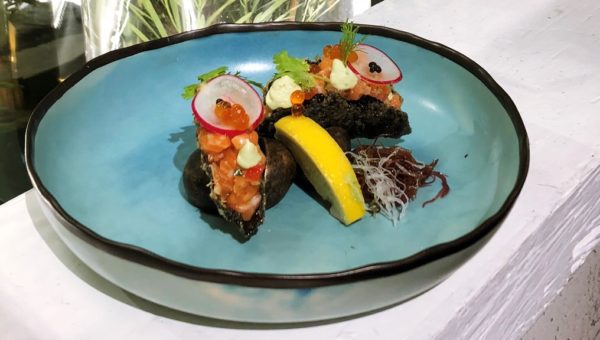 The Beef Tataki ($18) is very lean and tender to chew on. Although the protein is seared, it's not seared till the point that it's roasted so it doesn't have a heavy burnt flavour to it that it turn- preserves the flavour of the protein. Dip the beef in the sauces on the plate to enhance the flavour- or to hide your embarrassment if the raw flavour is too intense for you.
A selection of All Day Bowls offer the ultimate in comfort food, with the main highlight of the menu the Smokey Unagi Fried Rice ($22) with wok fried Japanese rice, grilled Unagi, tofu, pickle, egg omelette and slaw. The rice is the hero of the dish- the wok hei in the rice was so fragrant and strong that I myself was tempted to another a second portion! The flavour of the strong unagi pairs well with the rice as the smoky flavours of both ingredients creates a rather good combination that will leave a lasting impression on you as the signature dish at JYPSY! But this is a definite must order dish on the menu-whatever you order in JYPSY, don't skimp out on the rice!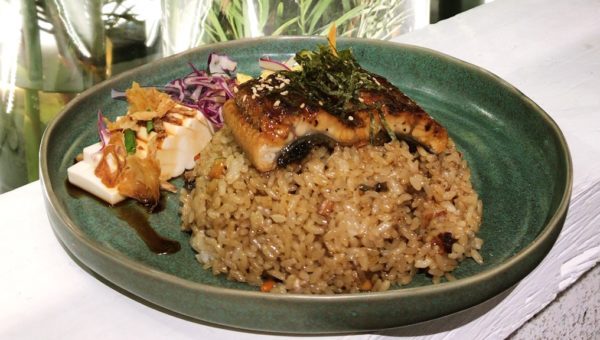 The Grande Finale
Desserts have been part of PS.Cafe's DNA from the get-go and JYPSY makes no exception. Guests can expect some new signature Japanese-inspired desserts such as the Watermelon Granita ($9) with calamansi jelly, which was inspired by the slice of watermelon that is commonly found in bento boxes, the Mama Cream Puffs ($9) that come in 3 distinct flavours (Matcha, Vanilla and Apple pie) and the Yuzu Tofu Cheesecake ($10) with butter biscuit crumbs. There are a wide range of desserts made available at JYPSY, ranging from something light to a fulfilling dessert to be shared with your friends over tea.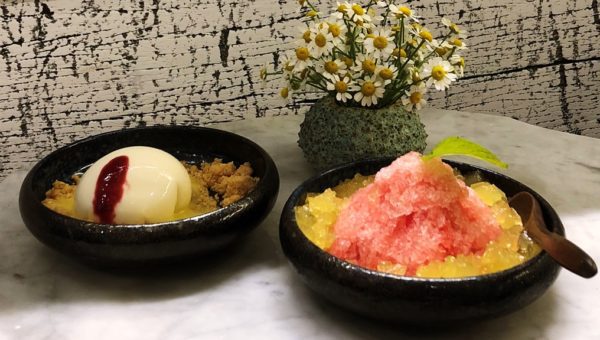 For P.S Cafe fans who simply cannot get enough of their desserts, you can ask to choose from the dessert corner at the P.S cafe outlet next door.
JYPSY is located at No.38 Martin Road, Singapore 239072.
JYPSY is open Tuesdays to Sundays from 11.30am – 4pm, 5.30pm – 11.00pm, with the last food order at 10.30pm.
For reservations, please call: +65 8188 6177.