Kohaku Tendon Suntec City Turns 2 with Two New Offerings
As part of Kohaku Tendon's Suntec City's 2nd anniversary, the restaurant is launching two new offerings exclusively for their loyal customers.
Special Golden Tendon
Kohaku Tendon is launching a special Golden Tendon for only S$10++ per bowl to commemorate their 2nd Anniversary.
Gold is a symbol of prosperity, good luck and abundance. This generous bowl is filled with whole anago fish tempura; kisu fish tempura; prawn; and king crab stick. A cousin of the popular unagi, anago is saltwater eel and has a lighter and delicate flavour. The clean-tasting kisu, or Japanese whiting, is extremely low in fat content. The seafood items are accompanied by a trio of baby corn, enoki mushroom and French beans.
Only 200 bowls of Golden Tendon are available each day, so hurry down to enjoy it.
The tendon is available from 6 to 8 July 2018 at Kohaku Suntec City outlet only.
The Natumi Tendon
Kohaku Tendon is proud to unveil The Natumi Tendon, its first-ever seasonal tendon for summer!
This unique offering features a medley of summer ingredients such as egg plant, corn and oba leaf. During the peak summer season, numerous eggplants can be harvested per week. This crunchy ingredient is a great source of dietary fibre, vitamins and manganese.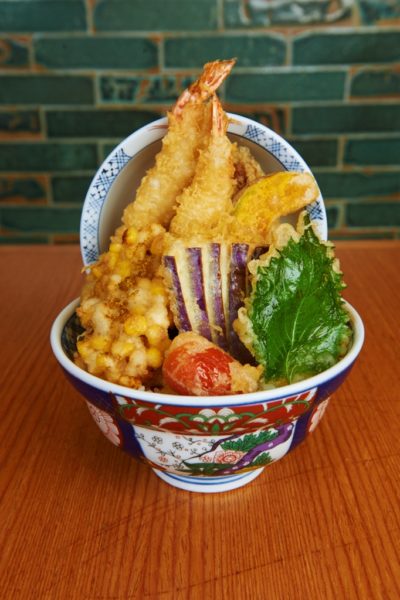 Made with premium ingredients, the unique corn and scallop kakiage exhibits sweetness in flavour, and boasts a tinge of spiciness thanks to the curry seasoning. With its excellent aroma and colour, the oba leaf is often used as a garnish. The vegetable itself is rich in carotene, calcium, vitamins A, B2, C and minerals.
Besides the three ingredients, the tendon is topped with a repertoire of super soft eel that is pleasant on the palate and has no fishy taste; fresh prawn; succulent chicken; pumpkin and seaweed.
The Natumi Tendon is available from 2 July to 30 September 2018, for only S$17++.
Kohaku Tendon Suntec City is located at: Eat At Seven, 3 Temasek Boulevard #03-311 Suntec City Mall S038983
Opening hours: 11:30 – 16:00 (Last Order: 15:30), 17:00 – 22:00 (Last Order:21:30) (Daily)
For more information please call: +65 6333 4386