LES45: A Modern Mexican Concept Nestled within Singapore's Skyline
CONTENT: Yiew Kai Jie
IMAGES: Luxe Multimedia / LES45
One of the latest additions to the Hidden Door Concepts portfolio- Lower East Side 45 (LES45) introduces an intimate and fresh contemporary Mexican dining concept on the 45th floor of Singapore Land Tower at Raffles Place, right next to Hidden Door's other successful F&B establishments including Angie's Oyster Bar and SEAR Steakhouse.
LES45 presents a bustling 60-seat restaurant with a fully stocked and radiant bar with an open concept atmospheric terrace, set sky-high against a majestic backdrop of the Central Business District.
Authentically Mexican from the Heart
Helming the kitchen is Mexican Head Chef Jorge, who combines his beloved Mexican heritage with over a decade of international culinary experiences to present a refreshing modern take on authentic dishes.When one thinks of mexican food, one tends to think of Tex Mex or stereotypical mexican food such as tacos or burritos. But Head Chef Jorge has created a menu that incorporates different elements from the Middle East as well as local flavours into the dishes that will stay traditionally Mexican with a dash of contemporary flavours in them.
One of his signature dishes is the Fresh Guacamole En Molcajete (S$30) which is prepared tableside with fresh, bright ingredients in a traditional molcajete, a traditional stone mortar and pestle from Mexico. My compliments to Chef Jorge for his guacamole, the guac is extremely fresh and creamy and has no artificial or additional preservatives as well! Give thanks to the fact that the guac being freshly prepared in front of your eyes means that no flavour will be lost due to refrigeration or deteriorate over time. The chips provided to compliment the guac are not overly salted and therefore does not overwhelm the distinct flavour of the fresh guacamole! I can't begin to fathom the amount of times that I've tried frozen or old guacamole that makes me sick. The restaurant also provides their homemade Salsa Fresca (onion, tomato, Cliantro, Olive oil and lime) and Salsa Verde (cilantro, jalapeño and Serrano chilli) as additional condiments. Just remember, don't skimp out on the guacamole! (The guac is only freshly prepared for groups of two or more.)
The Appetizers:

Scallop Aguachile, Avocado and Pickled Jicama (S$25)– The dish had a very creamy flavour in part due to the avocado, other than that, the dish was rather mundane.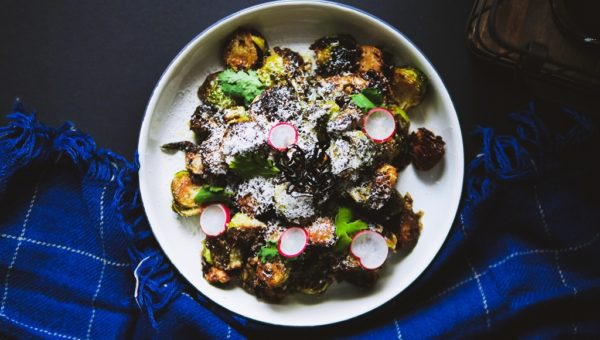 Brussels Sprouts, Guajillo, Chorizo and Cotija Cheese (S$17) – The chorizo sausages were packed full of flavour, nicely cooked with a smoky flavour and not being overly hard to chow down on. The brussels sprouts were nicely seasoned and the benefit of the dish being served in a skillet pan will be made apparent- the dish will stay warm for a long period of time and has a roasted smell that in part passes on to the items in the dish as well! A very hearty starter to your experience at LES45!
Hero Dishes
Chef Jorge's self-proclaimed Hero Dishes include The Lobster Tacos with Ginger Mint Mojo and Brown Butter (S$35) as well as the tangy Chicken Tinga Tostadas with Mango Guacamole and Wasabi infused sunny-side up egg (S$18) Firstly, don't use utensils and go in using your hands or not at all- you don't want the previous flavour of the tostadas to be lost on the utensils! Wait for the egg to burst in your mouth as you reach the layers of chicken and guacamole, the various combinations of flavours and food will compliment each other out! Watch it as the dish could get a little spicy because of the jalapeño and wasabi!
*By the way, the dish has an accompanying sauce but I wouldn't recommend putting it on the taco because the sauce does not complement the dish at all! Instead, go all out for more guacamole on the tostada!
Not to be missed are the Tempura Hake Tacos, served up with the tantalizing homemade Hibiscus Mayo and Salsa Fresca (S$18) The hake fish was nicely seasoned inside and was nicely and evenly coated with seasoning, making it extremely soft to chow down on and was not as hard as I expected it to be. The taco tastes like a Mexican rendition of a traditional meal of fish and chips! As always, add more guacamole to the taco to add more flavour and accompany taste of the taco!
These dishes highlights his personal cooking style – marrying Mexican tradition with today's modern palate. What's even more appealing is that all taco or tortilla shells are homemade and made from scratch- not some store bought taco shells that tastes mundane and old!
Drink with a View
Offering a high-energy and easy-going setting for lunch or dinner, as well being an equally vibrant evening and weekend drink destination, guests can gaze into the sunsets on the 45th floor while sipping on perfectly paired cocktails – ranging from unique tequilas from Mexico as well as the Dominic Toretto approved and well-loved limed Corona beer. For a soothing, thirst quenching start to the LES45 experience, homemade Horchatas (S$8) – a traditional non-alcoholic Mexican drink made from rice, milk, almonds and cinnamon, is a menu staple. The drink reminds me of a old school cup of Horlicks- albeit a little less sweeter and more fragrant due to the cinnamon stick. The drink can be enjoyed with a shot of alcohol, but I would recommend keeping this drink strictly non-alcoholic!
Finish the last course of your meal with a glass of Red Sangria or a Margarita cocktail while sharing a Les Churros with Chocolate Hazelnut Cream (S$8) with your friends or colleagues!
With the vibrant bar at the heart of the restaurant, guests can drink or dine indoors or al fresco style, the latter bringing with it cheerful cityscape views. In line with its menu style, the tasteful interior mixes Mexican touches with global influences – with punchy tiles and a cheeky neon sign at the entrance. A specially curated playlist of upbeat, Spanish tracks (Despacito) evolves throughout the day, from laidback low-key daytime tracks to lively energetic evening beats, right through to the wee hours on weekends.
Christopher Lim, the Founder of Hidden Door Concepts, says "At Hidden Door Concepts, we're always seeking to bring the latest in dining innovation and Singapore presents us with an exciting multicultural playground for us to introduce new concepts. With LES45, we are able to offer guests a modern approach to Mexican dining in the heart of the city. Chef Jorge has an inspiring culinary background and unique approach to Mexican cuisine, along with great knowledge of the Singapore market, so the time is right to bring his colourful menu to the discerning F&B scene!"
Rating: 8/10
LES 45 is located at 50 Raffles Place, Level 45, Singapore 048623
LES 45 is open for Lunch from Monday to Friday, 11am – 2pm as well as Dinner respectively from Monday to Thursday, 5pm – 11pm and Friday and Saturday, 5pm – 2am.
For reservations, please contact +65 6221 9555.