Michelin Starred Chef Anne-Sophie Pic makes her debut in Asia via La Dame de Pic at Raffles Singapore.
One of the world's top female chefs with a total of seven Michelin stars under her belt, Anne-Sophie Pic makes her much-anticipated debut into Asia with La Dame de Pic, Raffles Singapore.
Located in the Main Building of Raffles Singapore, La Dame de Pic, Raffles Singapore takes its place of honour at one of the hotel's most recognised dining spaces. Previously home to Raffles Grill, this signature dining space at Raffles returns carefully restored and refreshed with La Dame de Pic at Raffles Singapore. It is in this beautiful heritage space that patrons are invited to discover the world of Anne-Sophie Pic's culinary identity which reflects her search for aromatic complexity, combinations of flavours and powerful tastes that evoke emotions.
Anne-Sophie Pic hails from a long lineage of chefs with the Pic family's culinary heritage beginning since their first restaurant started in 1889. As a third-generation Michelin-starred chef, Anne-Sophie Pic follows in the footsteps of her father and grandfather, perfectly reflecting Raffles Singapore's rich heritage that has inspired generations since the iconic property was established in 1887.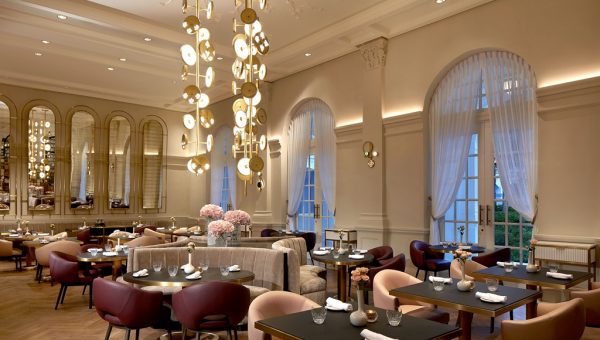 Designed by the award-winning Champalimaud Design led by Alexandra Champalimaud, the 46-seat La Dame de Pic, Raffles Singapore embodies an air of timeless elegance with a touch of personality and spirit. Soft pink hues and rich plums are matched with grey clay tones and metallic accents, while a peony bas relief graces the ceiling. Taking centre stage in the restaurant is a gold chandelier composed of tiers of discs with laser-cut spades, a play on 'La Dame de Pic' which translates to 'queen of spades', and wall sconces that play on circular geometries add an element of charm and enchantment while making a bold and definitive creative statement in the dining space.
La Dame de Pic, Raffles Singapore is helmed by Chef de Cuisine Kevin Gatin who has been a protégé of Anne-Sophie Pic for over eight years and is personally handpicked by her to lead the kitchen here. The signature restaurant of Raffles Singapore offers a variety of set menu options that will be changed seasonally. With influences from Valence and also the South East Asian region, the dishes from La Dame de Pic, Raffles Singapore deliver wonderful, creative stories while offering various tastes of excellence anchored in the present without compromising on its roots.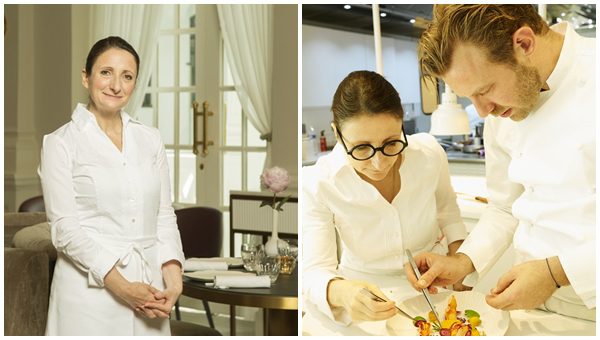 Indulge in many exquisite signature creations, such as the Berlingots – iconic pasta parcels found in all of Anne-Sophie Pic's restaurants around the world with unique and slight adaptations to reflect the character of each establishment's locale. At La Dame de Pic, Raffles Singapore the incarnation of the signature Berlingots incorporates a local touch with a new flavour association using herb of grace, also known as Chou Cao, which enhances the Berlingots' French cheese fondue filling. Cucumber with Oscietra Caviar, an elegant starter of fine caviar, pickled cucumber, cucumber consommé infused with blackcurrant, and a quenelle of hojicha tea, cubeb pepper and blackcurrant ice cream; Brittany Lobster, slow-roasted with shellfish butter and served with a coriander-and-barley-infused broth; and Tajima Wagyu Beef, roasted Japanese wagyu accompanied with smoked beetroot and a osmanthus-infused mushroom broth.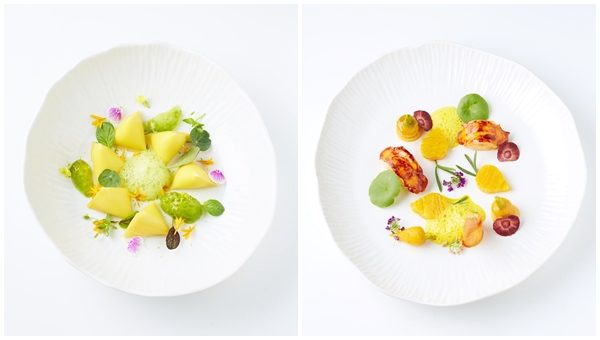 "Making our debut in Asia at Raffles Singapore is a very natural choice for me. Like Raffles, the Pic family's culinary heritage spans more than a century. Just like this beautiful hotel that will become one of our overseas residences, we are storytellers and constant seekers of excellence. Together, we share the vision to provide distinctive experiences to our guests, delivered with innovation that combines both tradition and change," said Anne-Sophie Pic.
La Dame de Pic, Raffles Singapore is now open for Lunch and Dinner from Tuesdays to Saturdays.
For reservations and enquiries, please contact the Raffles Service team at: +65 6337 1886 or via email at: singapore@raffles.com.