Michelin-Starred Tsuta has Launched Three New Tonkotsu Flavours In It's Singapore Outlets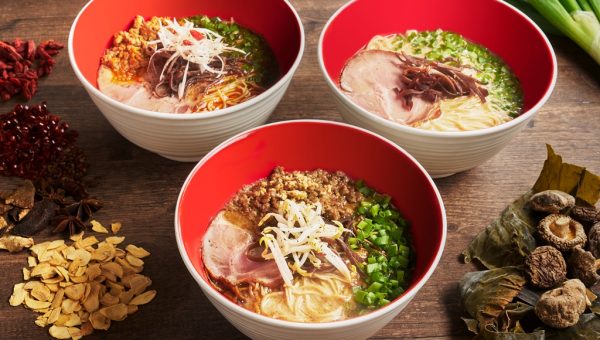 CONTENT: Yiew Kai Jie
Brought about by popular demand, the famed Michelin-starred Japanese soba ramen store Tsuta Singapore has unveiled three new ramen flavours to satisfy the local audience's palate which comes in Tonkotsu, Kurobishio, and Mala flavours.
After one full year and countless hours of experimenting with various combinations, founder-and-chef Yuki finally managed to find the ultimate solution to achieve the ultimate Tonkotsu flavour. Additionally, he has been able to keep to his personal philosophy of using only fresh ingredients in his ramen that uses zero MSG and artificial flavourings without sacrificing the natural umami flavour of the ramen.
The Tonkotsu Soba (S$12) comprises of premium black pork bone and trotter that has been boiled under high temperature over a period of 5 hours, to extract a fragrant and collagen-rich flavour. Hokkaido Kelp, tare and shiitake mushrooms are added to the broth to enhance its natural creamy and hearty Umami flavour. This helps ensures that the broth will be rich and light enough for customers to finish without feeling too bloated or have a lingering taste of umami on their palate that will make them reach for countless glasses of water.
The Kurobishio Tonkotsu Soba (S$13), which is also known as, 'Mayu' (Black Garlic Oil) is actually a customary tonkotsu flavour in Japan that remains a classic and all-time favourite with many Japanese diners. Tsuta's 'Ma You' is handmade from a combination of secret aromatics; its woody flavour is attributed to its spicy Black Pepper and fragrant Burnt Garlic taste paired with Tsuta's in-house Tonkotsu recipe. The fragrant broth is then accompanied by homemade black pepper minced pork, fried garlic chips and black fungus mushroom which gives more prominence to the texture profile of the ramen.
Lastly, the Mala Tonkotsu Soba (S$13) was specially created for customers who simply cannot turn away from a mala challenge. Made using the same flavourful pork broth for the other two ramen, the fragrant Mala oil promises to pack a punch as it features a mix of spices such as the Sichuan Peppercorn, Cinnamon Stick, Star Anise, and Dried Chili Flake which give the bowl the classic spicy-and-numbing sensation that is present in most mala dishes. Homemade Mala minced pork, crushed peanuts, and goji berries are used to add subtle hints of sweetness to the ramen as well. Customers should be warned that the spice will gradually build-up over time, so do slurp the ramen at a slow pace.
All three ramens are customisable depending on each individual customer's preference such as last salt or shoyu sauce for the Tonkotsu, additional pepper for the Kurobishio to enhance the spiciness level and more Sichuan pepper for the Mala ramen should customers want to show off their bravery to their friends who are dining with them.
The new Tonkotsu flavours are available at all Tsuta Singapore Outlets.