Mid-Autumn Festival 2017: Top 5 Baked Mooncakes You Wouldn't Want to Miss!
CONTENT: Andrew Kho & Terence Yeo
Into the fourth year of our special mooncake feature series this year, many establishments upped their game by introducing new interesting flavours for both the traditional baked mooncakes as well as the delicate snowskin creations. Their pretty and multifunctional packaging has made it an irresistible choice for consumers to purchase for personal consumption or as a gift to impress your family or clients.
We tried and spend days trying out numerous mooncakes that were submitted to us. Ranked in random order let us lead you through the Top 5 brands that made it to our list of Best Baked Mooncakes for you to try this year.
Baked Mooncake Category

1. Cherry Garden, Mandarin Oriental Singapore
Taking the top spot of the baked mooncake category this year, Mandarin Oriental's Cherry Garden restaurant is well-known for it's an authentic Cantonese dining experience that provides diners with fresh seasonal dishes. This year, their modern yet contemporary mooncake box design features a beautiful classical wooden chest embellished with elegant floral motifs.
What we liked most:
One of the highlights of Mandarin Oriental's enticing mooncakes this year is the uniquely rich flavours of the delectable Pandan with Dried Cherries and Pistachio mooncake ($72.80 for four). The all-new flavour has the perfect combination of a flavourful pandan taste with the dried cherries and crunchy nuttiness of pistachio is well baked in this traditional mooncake.
Mandarin Oriental, Cherry Garden's mooncakes are available for sale at Mandarin Oriental Hotel Lobby, as well as retail booths at Ngee Ann City B2 Takashimaya Square, Junction 8 Level 2 Atrium and Tampines Mall Level 1 Atrium on selected dates. Please call +65 6885 3081 or e-mail mosin-mooncakes@mohg.com for mooncake orders or further enquiries.
2. SweetSpot, Marina Bay Sands, Singapore
Making their debut entry into our review list this year, Marina Bay Sands' mooncakes are elegantly presented in an exquisite mooncake box design of a luxurious oriental treasure chest with velvet-lined compartments that can be re-used as a jewellery box. For the price of $74.90, it comes in a combination of four distinct flavours, Double Egg Yolk White Lotus Seed Paste, Lychee Rose, Caramel Lotus and Brown Sugar Longan Ginger Tea.
What we liked most:
Presenting two new baked mooncake flavours exclusively created by Executive Chef Christopher Christie of SweetSpot. The Lychee Rose delivers a fruity lychee taste followed by a fragrant rose floral aftertaste, while the Brown Sugar Longan Ginger Tea gives a sweet yet slight hint of Ginger Tea aroma.
Marina Bay Sands' exquisite mooncakes can be purchased at SweetSpot, Marina Bay Sands Hotel Lobby Tower 3. For enquiries, please call +65 6688 8588 or email Mooncakes@MarinaBaySands.com or you may order via online at www.MarinaBaySands.com/Mooncake
3. Shang Palace, Shangri-La Hotel, Singapore
Shang Palace is up a notch from last year's ranking making it to this year's Top 3 with their elegantly designed handcrafted blush, celadon and crimson hued silk boxes that resembles like an imperial jewellery boxes adorned with pearl buttons.
This year, Shang Palace introduces the Mini Eight Treasures which consists of eight mini baked mooncakes, four pieces of each flavour in the box.
What we liked most:
Shangri-La Singapore's Red Bean with Almond is a safe flavour every Chinese would love considering this is a common Chinese dessert, It is either you love red bean or you hate it. another flavour we liked is their Low Sugar White Lotus Seed Paste with Quarter Yolk, which is being reintroduced this year via this mini version which is not very sweet which makes you feel less guilt of having more, not to mention, less sugar is healthier.
Shangri-La Hotel, Singapore's exquisite mooncakes is available at Shngri-La Hotel Singapore lobby, Shang Palace or at the pop-up shops at Takashimaya, Vivocity, Parkway Parade, Jurong Point, NEX, Suntec City and Raffles Xchange. For orders and further enquiries, please call (65) 6213 4398/4473 or email shangpalace.sls@shangri-la.com.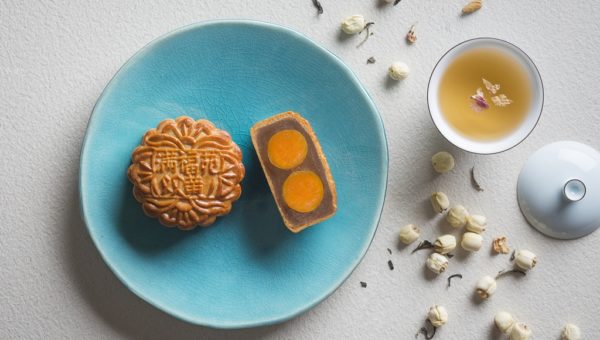 4. Man Fu Yuan Restaurant, InterContinental Singapore
Man Fu Yuan, being one of Singapore's finest Chinese restaurants and one of the most sought after especially when it comes to their traditional baked mooncakes.
The Baked Mooncake selection is available in a variety of flavours to suit all palates, such as White Lotus Paste with Single Yolk (S$68 for four) and Double Yolks (S$72 for four), Red Lotus Paste with Single Yolk (S$64 for four) and Double Yolks (S$68 for four), Assorted Nuts (S$66 for four), and Low-Sugar White Lotus Paste with Macadamia Nuts (S$68 for four).
What we liked most:
Staying true to the classic traditional flavours of the baked mooncakes, InterContinental's White Lotus Paste with Single Yolk is no doubt the best choice in our list. Its smooth lotus filling and generous serving of the yolk making it an irresistible indulgence. Alternatively, opt for the Low-Sugar White Lotus Paste with Macadamia Nuts Prefer for a healthier choice this Mid-Autumn!
InterContinental Singapore, Man Fu Yuan's luxurious mooncakes are available at the Tea Hut, entrance of InterContinental, Singapore from Bugis Junction, and at retail booths located in shopping malls island-wide. For online purchases, please visit www.singapore.intercontinental.com/festive
5. Antoinette
Being known for their pastries and good food, award-winning Chef Pang Kok Keong introduces his very first mooncakes this Mid-Autumn Festival. Handcrafted with finese and baked to perfection, Antoinette is a new entry to this year's list.
What we liked most:
Combining Salted Egg Yolk and Chicken Floss , Antoinette introduces Singapore's first-ever Salted Yolk Chicken Floss Mooncake. This is a very unique creation that uses Chinese ingredients for a Chinese celebratory tradition of the Mid-Autumn Festival, we loved that Antoinette is using low-sugar for their white lotus paste and pumpkin seeds, this means you can have more. Biting into the yolk with floss is also something unique you wouldn't find in any of the mooncakes. Their mooncakes are also prefect for gifting with their elegantly designed tin box.
Antoinette mooncakes are available from now till 15 October 2017 at both Antoinette restaurants located at 30 Penhas Road and Mandarin Gallery while stocks last