Okinawa International Logistics Hub Brings More Premium Japanese Specialties To You!
CONTENT: Yeo Terence
Ready for more fresh, seasonal Japanese produce and specialties? After a sell-out first session, Okinawa International Logistics Hub is back again with another array of rare and premium regional specialties from Japan's prefectures. Its curated products had proven to be highly popular — its first session featuring products from Kagoshima prefecture on 5 October 2020 sold out via Singapore Home Cooks Facebook Live within 90 minutes!
Japanese food enthusiasts will be treated fresh, seasonal produce and ready-to-eat items from Fukui, Hiroshima and Shizuoka prefectures. These items will be exclusively sold live on Singapore Home Cooks Facebook Page. Get to directly purchase the items during the live sessions and enjoy great deals! Held every Monday, each session will focus on produce from a different prefecture.
Highlights from the Fukui Prefecture – 19 October 2020
Making its debut in Singapore was the Golden Plum Beauty Jelly, a jelly made of the golden ume grown on trees in Kono, Minamiechizen Town, Fukui Prefecture. Fabled to be made specially for the Emperor of Japan back in the day and renowned for its medicinal properties on top of delicious sweetness, it is not easily recognisable to the untrained eye. The plums only get their name when they fall naturally from the trees in a short period of time when the fragrance is at its peak as they are allowed to mature fully on the trees. The thick flesh of an entire plum is set within wobbly jelly, which is finished in a gorgeous golden colour.
The Frozen Pressed Mackerel Sushi is a delicious sushi of grilled Hamayaki Saba mackerel from the Wakasa region. Its characteristic thick layer of fat promises depth of flavour, especially after being wrapped in kombu and grilled until it caramelises for cuts that are juicy on the inside and crispy on the inside. The wild-caught mackerel was transported frozen for ultimate freshness using a special freezing system, and arrived with no additives or preservatives are added.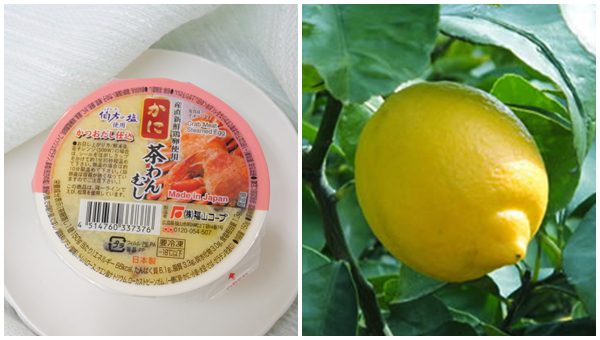 Highlights from the Hiroshima Prefecture – 26 October 2020
The Crab Chawanmushi, also proudly known as the world's first meat-free chawanmushi (only seafood) from Japan, comes packed with chunks of real crab meat, bamboo shoots, shiitake mushrooms and ginkgo nuts. After thawing, the chawanmushi presents a silky and delicate texture, making it the perfect starter to any Japanese homecooked meal! This chawanmushi is also made available in Singapore for the first time.
For the season of October to November, the Hiroshima Lemon comes in a green colour, complete with a bright flavour and a mild acidity thanks to the mineral-rich soil of the Seto Inland Sea where is it grown. As the lemon is grown without any preservatives or fungicides, even the rind is safe to eat. Simply blend the lemon whole to make refreshing glasses of lemonade! Bakers can use the lemon zest to make lovely cakes.
Highlights from the Shizuoka Prefecture – 2 November 2020
The adorable, tasty and juicy petite "Happily Ever After" Tomatoes hails from Shizuoka's Marutaka Farm. The front side of the tomato has a smiley face while some have a heart shape. This technique to carve the tomatoes with these emoticons, symbolising the farm's commitment to delivering happiness to everyone, took the farm five years to perfect. The tomatoes thrive in Hamamatsu City's warm climate and are grown on the red soil of the Mikatahara plateau for tomatoes that are robust in flavour. Already a favourite ingredient of chefs working in local Japanese restaurants, the tomatoes were for sale to the public directly for the first time ever.
Another unique product that is found only in Shizuoka, the Sun-darkened Orange Candy's invigorating yogurt flavour will appeal to adults and children alike. Encased in the middle of the candy is thick mandarin orange jam, which is 100% made with the oranges grown at Hidamari Farm. More than just a candy, the Mikkabi MIkan used in the candy contains GABA, which is known to improve high blood pressure and maintain bone health.
More details of Okinawa International Logistics Hub can be found via their Facebook Page