New Restaurants to Check Out at Jewel Changi Airport
CONTENT: Andrew Kho
Jewel Changi Airport is opening really soon, literally in a few weeks time. In anticipation of the opening we have round up some of the must try restaurants when you visit this newest lifestyle destination in Singapore.
1. Shang Social
Shangri-La Group launches its first standalone dining establishment – Shang Social – at Jewel Changi Airport. Shang Social marks the group's first venture into food and beverage (F&B) outlets outside of a hotel setting and pays tribute to three distinctive Chinese cuisines – Cantonese, Huaiyang, and Sichuan.
Diners at the 220-seater Shang Social will be brought on a culinary journey conceptualised by three of Shangri-La's highly acclaimed master chefs. The extensive menu features traditional and contemporary interpretations of classic Chinese cuisine while staying true to their authentic flavours and roots. Between the formal dining space, the casual MRKT and Bar, Shang Social is specially designed to cater to everyone and for every dining occasion.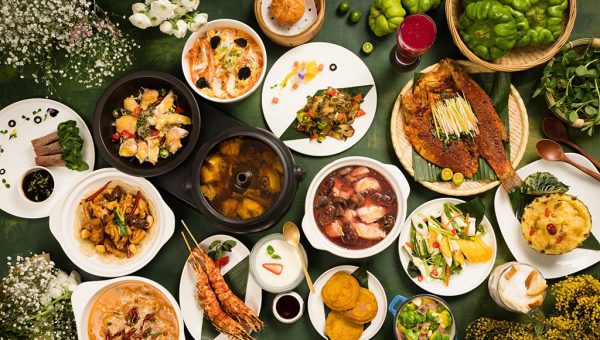 2. Yun Nans ( 云海肴)
The largest Yunnan F&B chain in the world, Yun Nans (云海肴) has chose Singapore as the place to open its first store in 10 years, and the first out of China. The flagship outlet will be located in the new Jewel Changi Airport.
First established in Beijing in 2009, Yun Hai Yao now has over 150 outlets in China, specialising in Yunnan ethnic highland cuisines. The restaurant uses fresh ingredients procured from the highlands of the Yunnan Province, offering specialties such as Steam Pot Chicken Soup, Stir Fried Wild Porcini Mushrooms with Dried Chillies and many more. At the Singapore outlet, there are exclusive dishes to savour as well.
3. Shake Shack
Shake Shack is opening its first restaurant in Southeast Asia partnering with SPC Group, a leading global food company based in the Republic of Korea to bring Shake Shack to the Lion City. The SPC Group is a 74-year-old food company with 51 subsidiaries and 35 brands around the world including USA, France, China and Singapore. In 2016, SPC Group launched the first Shake Shack in Korea and is currently operating 8 Shake Shack restaurants across Seoul.
The Singapore menu will feature Shake Shack's signature items including the ShackBurger, Shack-cago Dog, classic crinkle-cut fries, craft beer, wine and frozen custard ice-cream. Shake Shack will also partner with local food purveyors and producers to create one-of-a-kind items for the Singapore community.
4. Kam's Roast's
Michelin-starred Kam's Roast Goose Brand is opening their newest 75-seater outlet and their 2nd outlet in Singapore. This marks the first time the celebrated Kam's Roast Goose brand, which hails from Hong Kong, is opening an outlet in an airport setting.
At the new outlet, Kam's Roast will offer its signature roasts and cured sausages. The Roast Duck Travel Gift Pack, which comprises the restaurant's signature roast duck, is an exquisite travel gift pack that travellers can bring on their flight journeys. The cured sausages — lean pork, goose liver, or mixed flavours — will also be available in boxes so travellers can enjoy them back at home or gift them as souvenirs.
Special discounts will also be available exclusively at the new Jewel outlet.
5. Pink Fish
Norwegian restaurant chain Pink Fish is opening its first outlet outside its home country Norway and is opening their very first outlet in Southeast Asia.
Pink Fish is an exciting new food concept built around high-quality Norwegian salmon. A fast-casual chain, it was co-founded by Geir Skeie, who won both the World's Best Chef title and the Bocuse dÓr (a biennial world cooking championship).
Pink Fish opened its first restaurant less than a year ago. Today it operates four restaurants with four in development in Norway.