Newby Teas: The World's Most Awarded Luxury Tea Company Is Now in Singapore
Coinciding with the launch of Newby Teas in Singapore is the launch of their Classic Tea Bag Collection, which comes with two new offerings in the green tea category: Earl Green and Highland Green.
Sourced from the finest five per cent of the world's tea leaves picked at the height of their freshness, the teabags are presented in beautifully designed, individually wrapped sachets, allowing ease of everyday use. All of Newby's teas are blended and preserved in the company's condition-controlled facility in Kolkata, the only one of its kind in the world.
The stunning new designs are inspired by a priceless textile collection and the theme of craftsmanship. Newby's multi-award-winning in-house creative team worked in partnership with internationally renowned London design firm Lewis Moberly to develop the new branding.
The varieties in the collection have each been illustrated by a different detail taken from the private collection of vintage Indian pashminas owned by the late Chitra Sethia, wife of Newby's founder. The pashminas have been in the Sethia family for over two centuries, and have been lovingly preserved against the unravelling of time.
Each design meticulously and consistently reflects the character of the tea, complementing Newby's diverse range – from deep green patterns for Oolong teas to muted shades for light, delicate, green teas. The range also features world-famous classics such as Assam and Darjeeling, along with a selection of Newby's speciality blends such as Black Tea & Thyme and Rooibos Orange.
"Newby is a globally renowned brand, and we are optimistic about its foray into Asia Pacific, and in particular Singapore. Local connoisseurs will be pleased by the top-notch quality of the teas. With such an eclectic range, there is something for every discerning palate," says Estella Lau, CEO of Newby Southeast Asia.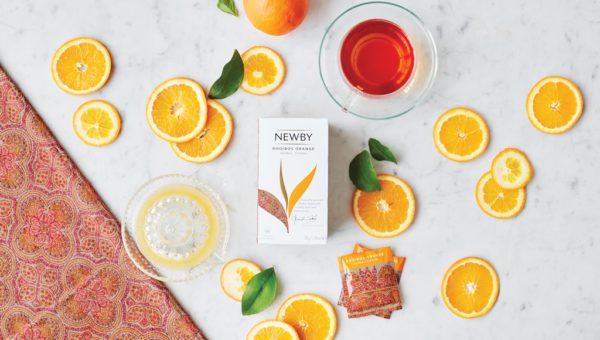 The Classic Tea Bag Collection:
Black teas: Assam, Darjeeling, English Breakfast, Indian Breakfast, Pride of Africa, Earl Grey, Masala Chai, Black Tea & Ginger, Strawberry & Mango, Black Tea & Thyme
Oolong & Green Teas: Milk Oolong, Ginseng Oolong, Green Sencha, Jasmine Blossom, Green Lemon, Oriental Sencha, Moroccan Mint, Earl Green (NEW), Highland Green (NEW)
Tisanes: Chamomile, Peppermint, Verbena, Rooibos Orange, Rosehip & Hibiscus, Summer Berries.
The Newby Classic Tea Bag Collection is priced at S$19 per pack of 25 varieties, and it is now available exclusively online at Newby Tea's e-boutique at www.newbyteas.sg.