Newly launched Taste Butchery & Seafood Factory Outlet raises S$13,200 with a Celebrity Charity Cook-Off
Taste Butchery & Seafood Factory Outlet launched to great fanfare in a charity cook-off starring Li Nanxing and Christopher Lee. The actors are used to sharing television airtime but for the first time, they shared kitchen space at the Taste Singapore Star Charity Cook-Off that highlighted what the new gourmet supermarket factory outlet and dining destination had to offer – restaurant quality produce at the most competitive prices in town.
For an evening, they pitted their culinary flair together and cooked four dishes: Nanxing whipped up his mum's favourite beef and chicken rendang while Christopher cooked up his wife's favorite braised pork and pan-fried prawns. They prepared and procured all the ingredients they needed from the new Taste Butchery & Seafood Factory Outlet in Holland Village.
After the cookout, a star-studded wait staff including Fann Wong, Constance Song, Julie Tan and Wei Le served guests of the evening with tasting portions of the dishes. Guests also enjoyed a free-flow buffet dinner of all the premium items that can be found at Taste Factory Butchery & Seafood Outlet and its affiliated brands.
These included premium Imperial Russian caviar, prime cut steaks, fresh oysters, roasted lamb and Swiss crispy roasted pork belly by Otto's Deli Fresh; airflown sushi, sashimi and Hokkaido scallops by Sens Sushi & Grill; and gourmet sausages, French baby pork ribs and beer from Surf & Turf; and more.
At the launch, renowned radio DJ DongFang Billy Wang also shared a taste of his home-made Billy's Signature Lemonade that guests could purchase.
Following the exciting cook-off, Li Nanxing's Mum's Favourites Beef and Chicken Rendang, and Christopher Lee's Wife's Favourite Braised pork, are also available for pre-order purchase exclusively at Taste Butchery & Seafood Factory Outlet.
In the spirit of charity, 100% of proceeds from online ticket sales to the cookout also went to charity. 50% went to the Straits Times School Pocket Money Fund that is channeled to support 10,000 students from low-income families and another 50% to Business Times Budding Artists Fund that seeks to make the arts accessible for children and youths from financially disadvantaged backgrounds.
The new supermarket concept Taste Butchery & Seafood Factory Outlet strives to bring its shoppers the best restaurant quality produce at factory direct prices.
It is proud to carry the largest range of premium meat and seafood products from oysters and caviar to premium sausages and beer, offered at the most competitive factory outlet prices in Singapore, made possible by its main supplier Far Ocean, a one-stop provider of the freshest choices of produce and ingredients recognised for their superior quality.
Far Ocean has a track record as one of the biggest and most trusted distributors of seafood in Singapore for the past 48 years, supplying to an array of 5-star restaurants and top hotels in the city. On top of seafood, Far Ocean also provides top range beef from Australia and Japan to the USA through partnerships with Silver Fern Farms (New Zealand), AMG (South Australia), Cargill (USA), Wagyu Japanese Beef (Japan) and more.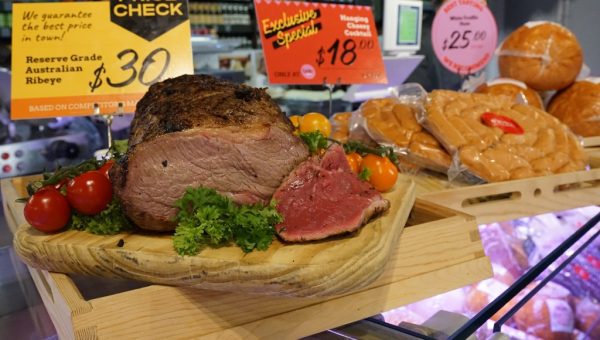 From the store, look out for 3 promotional categories – Best Price (assured lowest prices compared to surveyed competitor's market price), Best Tasting (Taste special recommendations as the must-buys) and Exclusive Specials (premium items available only at Taste Butchery & Seafood Factory Outlet).
Fresh produce, canned products, prime cut meats, imported stocks and more are all on the shopping list. There is also a Master Butcher counter offering premium sausages, hams, cheeses and more. Flown in from different parts of the world, you can be assured to find the finest Swiss cheeses, German sausages, Italian salamis, Spanish jamon and more all in one place.
This is your one-stop grocer for best quality products at best value prices, made possible by Far Ocean.
Exclusive to Taste is a selection of foods from De Chef Julien, by the one and only Chef Julien Bompard of Le Saint Julien fame, one of the top French restaurants in Singapore back in the 1990s. His famed French cuisine is now available for a re-visit and bring home, like his minestrone soup with basil, duck rilettes and artichoke with tomato sauce.
There is also a flower shop by renowned Chinese DJ DongFang Billy Wang offering the most exotic flowers and special arrangements for any occasion. Special Flower Baskets can be purchased for $128 each and Cushions for $168 each. Buy both for a bundle price of $268. They are limited to only 30 sets. 5% of sales revenue will also continue going to Straits Times School Pocket Money Fund and Business Times Budding Artists Fund.
Intimate Afternoon Tea with Billy
DJ DongFang Billy is also opening up a special opportunity for guests to spend time with him at his Intimate Afternoon Tea With Billy(比利下午茶)happening from 3-6 October 2019. For $55++, join him for an afternoon of surprises, where you'll get to try special dishes prepared by him. There will be flower arrangement and cooking classes! Different recipes will be prepared across the four days, each open to only 60 pax per afternoon. 5% from proceeds also goes to charity.
Taste Butchery & Seafood Factory Outlet is located at: 18 Holland Ave, S278997.
For enquiries or more information please call: +65 6264 8389