Niku Katsumata Unveils New Menu Featuring Affordable Wagyu Beef Courses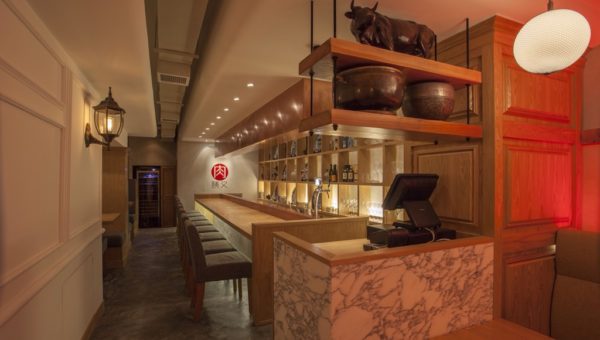 CONTENT; Yiew Kai Jie
Hidden in a quiet corner along the multitude of various bars and restaurants  of Duxton Road, the 28-seater Niku Katsumata is a grilled meat restaurant whose origins can be traced back to Ebisu, Tokyo.
Here, beautifully marbled beef reins over all as customers will be able to enjoy the exact quality of premium Japanese beef as Japanese natives do back in Japan. To put it in perspective, this restaurant is extremely exclusive and prestigious in Japan, only special members can enter the restaurant. The delectable proteins are cooked over a special crystal grill instead of a traditional grill and grilled over a low flame. There is no oil required for the cooking process, meaning there will be no unpleasant smell that will stick to your clothing after the dinner and yet it grills fine and smoothly ensuring that your scrumptious beef is evenly cooked.
There are 3 new set courses to choose from: Niku Course (S$98); Katsumata Course (S$128); and Ebisu Course (S$168). Each set meal offers different wonders, from premium wagyu beef imported from Kagoshima to an extremely tender black pork loin, chicken soba to wagyu donburi with their own homemade bonito broth.
We had the opportunity to taste the Katsumata 7- set course menu($128), here's what we thought of it:
Starter- Katsumata's special simmered beef tendon (Starter is depending on seasonal change): The beef tendon is slightly rough yet rather chewy while the broth has been stewed for several hours to achieve the perfect thick yet balanced salty taste for the diner.
Appetiser- Assorted Home made Kimchi and Marinated Vegetables: Rather average in it's taste, it's redemption lies in it's sole purpose being a palate cleanser for the next dish.
Sashimi- Kagoshima Wagyu Beef and Liver Sashimi: Sadly, the beef tastes better than the liver, there is a certain sweetness to the beef even though it's really raw and slightly cold. The liver was disappointing as it tasted frozen and actually had a little bit of ice in the middle of the meat.
Salad: Chinese cabbage salad topped with umami seaweed: Acting as another palate cleanser, they dumped a lot of their homemade salad dressing on it. The sauce is rather sweet and a slight spice of the salad comes from the pepper and it works very well with the following beef dishes such as the beef tongue if the taste is too strong or gamy for you. The strands of salad are cut up to resemble french fries and a single taste of the salad will make diners addicted to it, if i'm mistaken, do try it out for yourself!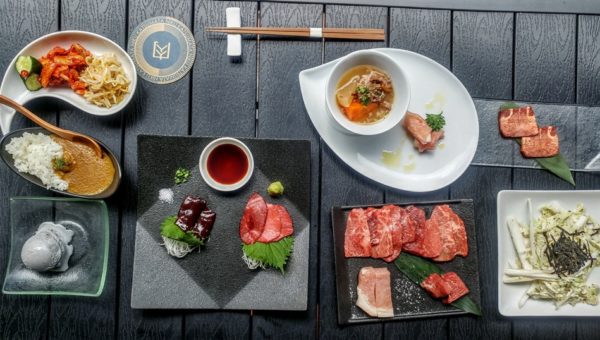 Yakiniku:
Beef tongue (Dip it with the Lemon and Truffle salt combo): The meat holds a slightly rough texture but is actually quite tender after chewing it a few times. However, it has an extremely gamy taste that can be nauseating for diners if they are not used to it. That's why it's highly advisable for diners to keep some of the addictive fries (I mean salad) to go along with the beef tongue.
Assorted A4 Wagyu Beef: Different parts of the cow will be served, including the ribs, stomach, diaphragm, thigh and hip. Don't get put off by the awkward or unorthodox types of meat that are served on the table, the different cuts are actually flavoursome and extremely soft to chew through when it is cooked to a medium doneness. but it could be too bloody or gamy for some eaters.
Black Pork loin Fat: The pork is already pre marinated with pepper before it even hits the grill, it helps add a whack of a flavour to the pork and the loin ultimately tastes like a cross breed flavour between a black pepper chicken and a perfectly grilled pork belly.
Wagyu beef fillet: The fillet has just the right amount of fat in it, as it falls apart so easily for you to chew and has an extremely tender feel to it. A perfect beef flavour and texture to end off the protein main course with!
A4 Wagyu Beef Curry: Eaten with a wooden spoon, the rice is deliciously served in a boat bowl that keeps the rice warm. Partake with an even portion of rice and curry should you need to balance out your protein intake with a balanced carbohydrate ending to your meal before you settle in for the dessert. Diners will feel the curry is extremely rich and creamy, like an elevated Monster Curry that has premium ingredients in it.
Dessert: Subject to change.
Other than the wagyu beef sets, there are also five other mentionable a la carte highlights: Assorted Lean A4 Wagyu Beef 60g (S$22); Assorted Marbled A4 Wagyu Beef 60g (S$22); Kurobuta Black Pork Belly 60g (S$18); Kurobuta Black Pork Loin 60g (S$18); and Kurobuta Black Pork Fillet 60g (S$22). With this menu, guests of Niku Katsumata have a greater variety of dishes to indulge in should they find themselves in want or need of more different kinds of protein.
Reservations are needed for this restaurant as it tends to be fully packed before hand, so remember to call them to get your spot reserved today for that special anniversary date with your significant other or to remind your Japanese friends or clients what genuine Wagyu beef tastes like.
Niku Katsumata is located at: 47 Duxton Road Singapore 089511
For reservations please call: +65 9162 7502 or more information please visit: Facebook: https://www.facebook.com/nikukatsumata/