Oakwood Premier AMTD Singapore Introduces New A La Carte Menu Highlighting Dishes From The East and West
CONTENT: Andrew Kho
IMAGE: Luxe Multimedia / Oakwood Premier AMTD Singapore

SE7ENTH, a contemporary restaurant located at Oakwood Premier AMTD Singapore unveils new mains with dishes inspired by the East and the West.

Helmed and curated by Executive Chef Gary Lim, with a decade of culinary experience under his belt, diners can choose from this new refined A La Carte menu designed to tantalize the most discerning of palate while enjoying the restaurants beautiful interior in a more casual setting.

 
New dishes we tried include Asian favourite and popular Japanese Wagyu Katsu Sandwich – tender breaded medium done Wagyu striploin steak sandwiched between grilled brioche; Oakwood Premier Nasi Lemak – an elevated Asian favourite with fresh Sambal King River Prawns, Mussels, Crispy Turmeric Chicken, fried egg and a fragrant coconut milk infused rice, this I also one of Chef Gary's favourite specialty. Mala lovers will surely love the Mala Xiang Guo – using only premium ingredients king river prawns, scallops, black mussels, squid, dig into this fiery creation stir-fried with quail eggs, noodles and Chef Gary's special recipe of blended Sichuan peppercorn, chili, garlic and shallots.


The new ala carte menu also features dishes inspired by the West, the Snow Crab Seafood Platter with Truffle Risotto – featuring sweet and juicy snow crab legs, mussels and prawns baked in garlic and herbs and served with a bowl of truffle risotto.

Additional highlights from the new refreshed menu include the Salmon En Papillote with Wild Mushroom Velouté – baked salmon on a tender bed of zucchini and eggplants nestled in a paper pouch; Chicken Roulade with Apricot and Raisins – chicken thigh meat rolled with minced meat, apricots and raisins, served with red wine glazed roasted greens and butternut squash puree and the Curry Cod Fish and Chips – Lemon Spinach Cream Potato Gnocchi with Fresh Basil in zesty cream, and a fresh addition to the Honey Truffle Ricotta with Grilled Caramelized Bread.

For Kids, SE7ENTH has also revamped its kid's menu offering healthy and nutritious choices for your young ones such as Udon soup paired with Chicken Karaage; Mini Beef Patties with Demi-Glace and Steamed Vegetables; Grilled Salmon with Mushroom Cream, Mashed Potatoes and Steamed Vegetables.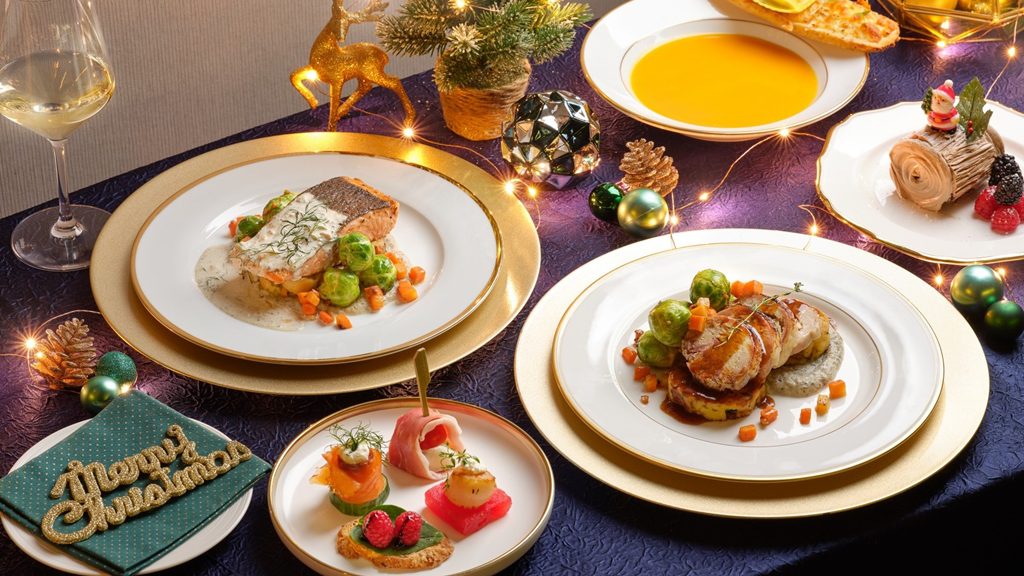 The restaurant will also be launching a four-course Christmas Set Menu for dinner on weekdays from 1 – 31 December 2020 well as lunch and dinner on Christmas Day. Each set will come with an exquisite nibbles platter, soup, choice of Smoked Turducken Roulade or Pan Seared Salmon in Apple Glazed Butter Cream and a Mini Chocolate Log Cake with Berries, accompanied by a welcome glass of Mimosa and a classic Christmas drink, the Snowball cocktail for S$88++ per person.

A Festive Executive Set Lunch which will be available from 21-24 December 2020 will feature a celebratory themed set lunch with mains such as Christmas Gnocchi in Creamy Neapolitan sauce with Spinach and Basil and Turkey Ham with Honey Glazed Carrots, Brussel Sprouts and Cranberry Sauce priced at S$25++ per person.

For dining reservations, please call +65 6812 6050, email se7enth.premier-singapore@oakwood.com or book via Chope.

To view all menus from SE7ENTH, please visit Website 

SE7ENTH, Oakwood Premier AMTD Singapore
6 Shenton Way, #07-01 OUE Downtown 1, Singapore 068809
Website