Oporto, Number One Portuguese Flame-grilled Chicken Chain from Australia, Opens First-ever Outlet in Singapore
A wide array of healthy fresh flame-grilled chicken wraps, burgers for a healthier spin from S$5.90 onwards combined with six unique sauces!
CONTENT: Yiew Kai Jie
Oporto, the number one Portuguese flame-grilled chicken chain from Australia has opened a brand-new 30-seater outlet at Holland Village. The brand boasts over 160 stores in Australia and New Zealand, and is owned by the same company that runs Red Rooster and Chicken Treat. Oporto is also the number one food brand in terms of restaurant chain growth in Australia.
The casual dining restaurant's philosophy is simple: offer healthy food in the quickest time possible made with real ingredients at affordable prices. Its menu comprises of flame-grilled chicken, burgers, wraps and sides, all available starting from just S$5.90! At Oporto, only fresh premium chickens are used in their cooking. The poultry is marinated prior to cooking and then basted with the Oporto Original Chilli Sauce (Portuguese spicy sauce made with chilli pepper, ginger and garlic) before it is grilled to perfection. Tender, juicy and spicy — just the way Singaporeans like their chicken! Then, up the indulgence by dipping the protein in Oporto's artisanal sauces such as their signature Original Chilli Sauce, Lemon & Herb; and Prego; which are flown in from Australia and a delicious Garlic sauce made specifically to appeal to the locals' appetite.
The Portuguese Flame Grilled Chicken's seasoning was on point and not overpowering as you would find in a typical "fast food" joint. (We would like to make it clear that despite it's looks, Oporto is NOTHING like a fast food restaurant!) You could taste the spice in the protein which wasn't overly spicy but rather had a mild tangy spice to it that helps to complement the chicken instead of setting your mouth on fire. However the chicken wasn't succulent, but slightly dry, making you really rely on the sauces (Chili Sauce, Prego) to provide the moisture and extra kick to help you finish the meal. But in our opinion, over reliance on sauces means that the overall quality and rating of the meal drops.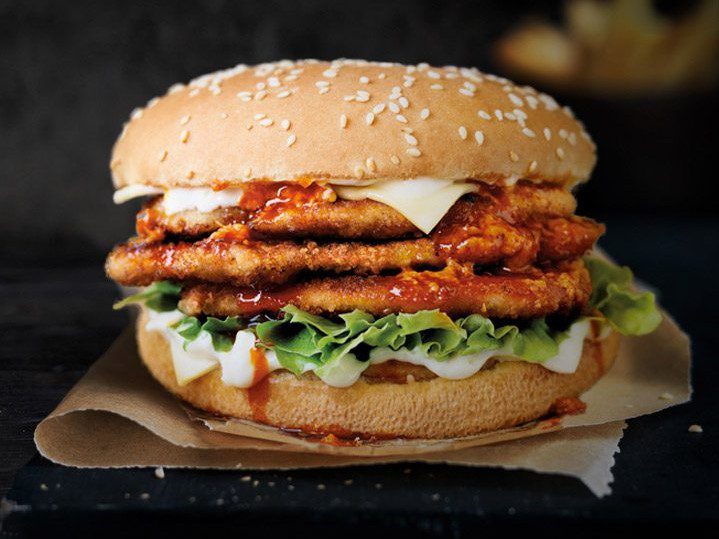 For the Bondi Burger, we appreciated the fact that we were able to choose from a single, double or triple patty burger, this puts other burger joints to shame as most of them do not offer the option to "upsize" their burger to have more than just a single patty in between the buns! Just like the Portuguese Flame Grilled Chicken, the chicken did not have a frozen taste and was nicely seasoned to perfection which made biting down into the patty all the more satisfying! However, the spicy rice that we ordered as an accompanying side to the burger was extremely dry, and the spice only worsened it, so stick to their chips as they aren't excessively oily or soggy – a much better fit for the burger compared to the rice.
Overall, we felt that Oporto's dishes heavily relied on their sauces to enhance their dishes and make them more palatable. We must give credit where it is due, their sauces are extremely delicious, especially their signature chili sauce, prego and lemon and herb sauce. We liked that the restaurant uses fresh ingredients and healthier cooking techniques in their cooking and it can be reflected in the final taste of the protein. However, the restaurant should look for ways to further enhance the flavour of the chicken and make their entrees and side dishes taste less dry.
Oporto is located at #01-01 Holland Piazza No.3 Lorong Liput, Singapore 277725.
Oporto is open daily from 10am -10 pm.