PARKROYAL at Beach Road Introduces new Asian-inspired Weekday and Weekend Buffets!
CONTENT: Yiew Kai Jie
IMAGE: Luxe Multimedia
PARKROYAL at Beach Road's all day restaurant Ginger has come up with new asian mainstay dishes to add to its buffet line for its weekday and weekend buffet promotions.
For their weekday lunch buffets, (S$35++ per adults, S$17.50++ per children) savour classic Singaporean highlights such as old school Hainanese Chicken Rice, or create your own Kueh Pie Tee at the live station and help yourself to copious amounts of freshly grilled satays straight from the grill with their mouth watering satay peanut sauce. One of the key dishes of the buffet is the unassuming looking Hokkien Prawn Noodles, served on a fragrant banana leaf that helps to give it more flavour and filled with that signature wok hei flavour that every zi char fan craves for!
For their weekday dinner buffets, (S$58++ per adult, S$29++ per child) kick back and indulge in dishes that are sure to help you relieve the stress from working all day! Look out for improved renditions of classic dishes such as their Laksa with Baby Lobster, Babi ponteng (Nonya style braised pork) or Braised Pork Trotter with Mee Sua soup! For seafood lovers, the buffet has an unlimited spread of deep fried Soft-Shell Crabs and Salted Egg/Chili Crabs for you to indulge in! Don't forget to grab some mantou buns to dip in the chill crab sauce to really enjoy the full experience and flavour of the crabs!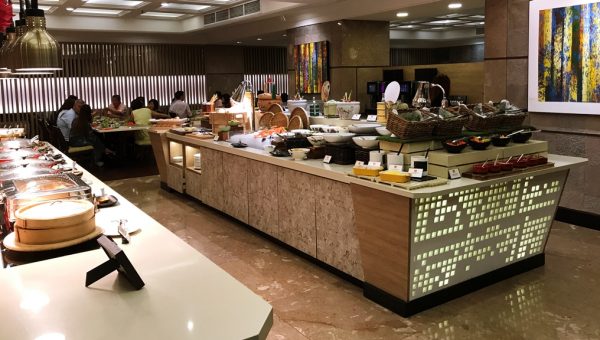 Finally, we have come to the weekend, where the days are meant for you to bring your friends and families to catch up over a meal at the airport or celebrate a special occasion over a buffet lunch (S$58++ per adult, S$29++ per child) or dinner (S$68++ per adult, S$34++ per child)! To that end, the restaurant has prepared an additional range of premium buffet items to satisfy your tastebuds and make the time spent with your friends and families all the more enjoyable! Pamper yourself with top-quality meats such as their Soft-Shell Crab with Wasabi Mayo, Claypot Rock Lobster with Fish Maw Soup and Rendang Wagyu Beef Cheek. Additionally, the craving station will be open on the weekends, granting you access to their oriental Nonya Whole Baked Salmon or a western classic- Whole Roast Wagyu Beef! Although the salmon and beef are the main stars of the weekend buffet, the proteins were not properly complemented with its rather weak-tasting sauces and instead could have been thicker to intensify the flavours of the proteins.
Despite the minor setback, the buffets are still worth a huge bang for your buck, with a wide array of oriental, Malay, Indian and western cuisines at a reasonable price with the usual salad, cold seafood stations as well as being stocked with a wide range of cakes and traditional kueh desserts to end your buffet on a sweet note!
Note: Child prices are only applicable for children aged between six to twelve years old.
PARKROYAL at Beach Road is located at 7500 Beach Road, Singapore 199591.
For reservations, please call: +65 6505 5710 or email: dining.prsin@parkroyalhotels.com