POTATO HEAD FOLK: Shaking up Singapore's bar and restaurant scene.
Housed in one of the most iconic buildings located on Keong Saik Road, Potato Head Folk which opened in June is now the trendiest place. Being the first venture out of Indonesia by the people behind internationally acclaimed "Potato Head Beach Club" in Bali and the "Potato Head" and "Potato Head Garage" in Indonesia, Potato Head Folk gives you the intimate feel of a cozy house.
Potato Head Folk's conception has centered on the honour of restoring and preserving the stunning historical building for the enjoyment of a new generation of Singaporeans and visitors to the South-East Asia's most dynamic city. The site was chosen as much for its position at the heart of the dynamic drinking and dining scene as it was for the way the building lends itself perfectly to the creation of a 'home'. Potato Head Folk will be a home where creativity in all its forms will be encouraged, nurtured and displayed.
Offering four venues within one building, guests will be able to combine the distinctively different restaurants and bars to create their perfect mix, or visit individually depending on the occasion, mood and time of day.
The first floor is the kitchen – the dynamic burger restaurant Three Buns; which has taken inspiration from Singapore's famous hawker centres and the building's previous incarnation to create a buzzing street-level restaurant with outdoor seating. Three Buns is an innovative restaurant and bar which redefines the neighbourhood burger joint and promises the best burger experience in Singapore.
Serving an entirely homemade menu of mouth-watering burgers, sides, sodas and cocktails, everything is available to takeaway or enjoy whilst soaking up the atmosphere on the verandah tables.
For his first foray into Singapore, Chef Adam Penney, who was brought from London specifically for the project  has created the cheekily named 'The Four Floors' – double prime 100g beef patties with double cheese, triple onions, lettuce, pickle, 'Notorious T.O.M Sauce' and den miso mayo. Chef Adam was previously behind the enormous critical success of London's 'Patty & Bun' – renowned for London's finest burgers. The wide selection of hand-made gourmet burgers and classic sides will demonstrate Penney's passion for the highest quality meat combined with homemade sauces and fresh ingredients.
Three Buns will also serve Penney's renowned dessert pots. Each deliciously sweet pot is made with passion and flair, using the very best ingredients. Flavours will include Rich Chocolate and Zesty Lemon for the perfect three-spoon indulgence.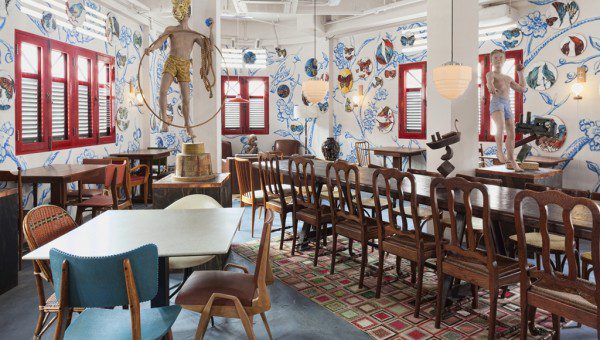 The second floor is the living room – a relaxed space to gather and meet from morning through to night.
Designed and decorated in collaboration with renowned Australian artist David Bromley, the style is inspiring and whimsical – beautiful bird and butterfly paintings in Bromley's signature style adorn the walls, standing out from the turquoise walls. The approach is artisanal – many of the pieces found here and throughout Potato Head Folk are original designs, handmade in Bali. The mood is sultrier than downstairs, inviting guests to linger.
It is in this space that Potato Head Folk will have the greatest impact on its local community. Committed to supporting the arts in all their forms, Three Buns Restaurant will host a programme of performance, exhibition and interaction featuring Singaporean talents as well as those invited from all over the world. Be it an intimate gig by an up and coming singer, spoken word, poetry or a show of contemporary art this room will be a feast for all the senses.
The third floor its private studio – Studio 1939 is Potato Head Folk's intimate bar – a glamorous reinterpretation of an artist's studio inspired by Bromley's own Melbourne studio.
Named in recognition of the stunning four-story art deco building which houses Potato Head Folk and dates back to 1939, this floor showcases a selection of modern art selected by Bromley, juxtaposed with traditional Chinese heritage pieces. Original walls are exposed in their raw form and the room is dressed with ornate objects and vintage furniture sourced from around the world
Elegant and alluring, Studio 1939 serves an eclectic menu of ingredients personally selected and discovered over the years by members of the PTT Family – many delicacies will be available exclusively in Singapore and the menu will change regularly.
The cocktail list features personal favourites of Dre Masso and his team, classics and special creations are all prepared with freshly made syrups and the highest grade spirits. The wine list offers an unrivalled mix of special vintages, limited collections and private reserves – all specially selected by the team.
Potato Head Folk also works with local suppliers as well as importing particular items from unusual locations around the world. Whether small plates of Carpaccio of grass fed venison with steeped Muscat raisins and cocoa nibs or an artisan board of award-winning British cheeses, paired with a cocktail made with special vintage spirits or a glass from a secret wine list, everything served at Studio 1939 will be unique. Open from 5pm until 1am, the bar will operate based on reservations only.
Lastly, the fourth floor is Potato Head Folk own rooftop garden, an open air bar which is beautifully stylish, tranquil and fantastical lush bohemian oasis taking inspiration from Tiki cocktail culture.
Painted in vivid blues, lush reds and vibrant yellows by David Bromley, The Rooftop is an escape for guests. One of the only rooftops in this part of Chinatown, it offers a chance to mingle and relax amongst the fragrant herbs, exotic flowers and tropical plants whilst appreciating the stunning views across Singapore. In keeping with the tropical ambiance, tiki cocktails created by Dre Masso and barbecue dishes will be served.
All drinks will be served in wooden bamboo and coconut cups from Bali. This unique space will also host exclusive 'Folk Gatherings'; regular dinners under the stars that will feature a guest chefs from Singapore and further afield, specially imported ingredients and unusual performances.
The different rooms of the house will be a haven in the heart of the city, a retreat for Singapore's creative crowd from the arts, fashion, film, music and design worlds.
Potato Head Folk, 36 Keong Saik Rd, Singapore 089143 +65 6327 1939, www.pttheadfolk.com