PS.Cafe One Fullerton: A Peaceful Haven In The Heart of Singapore's CBD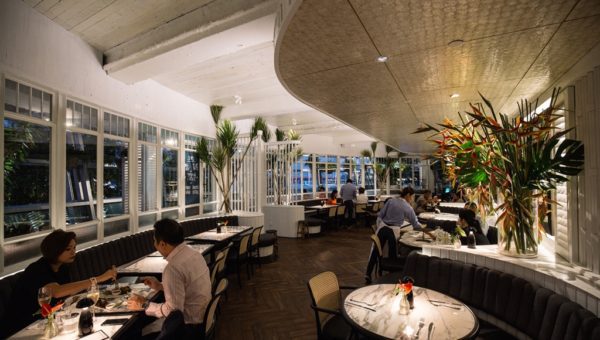 Established as a pioneer of Singapore's cafe culture, PS.Cafe recently opened its doors to its latest outlet; PS.Cafe One Fullerton. A true urban escape in the heart of Singapore's Central Business District, the light and expansive space will stay true to the restaurant's signature touchpoints, while introducing brand new menu items and stylised interiors inspired by its waterfront location.
CONTENT: Yiew Kai Jie
Return to Classics
The detail-oriented curation that was prevalent in all of their establishments remains evident in PS.Cafe One Fullerton. With all interiors carefully designed in-house by the group- Bespoke furniture, statement floral displays, stylised interiors and a carefully crafted menu combine to create a true urban sanctuary. With a nod to its waterfront setting, the design evokes a beachside boathouse ambience. Spanning over 5000 sq ft and accommodating up to 160 guests, PS.Cafe One Fullerton's versatile setting offers something for everyone, whether for a short tea break, a deal-closing business lunch, a relaxing dinner, or a post work cocktail. Guests can choose to unwind in the bright and airy indoor area, a private room which can accommodate up to 10, or on the open air terrace with its verdant foliage and cool bay breeze.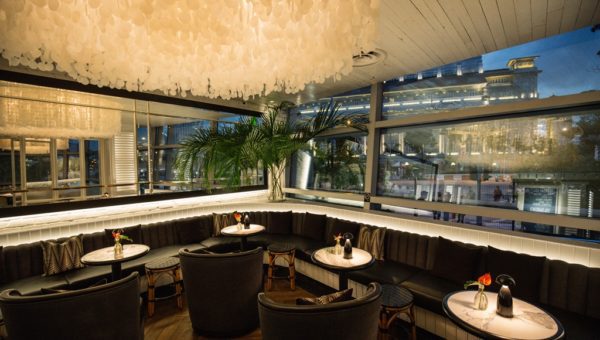 Food suited for any occasion
Service at PS.Cafe One Fullerton will change throughout the day, starting with morning brunch and ending with a late night menu. From 11.30am on weekdays and from 9.30am on weekends, guests can indulge in a selection of hearty brunch favourites such as Salmon Royale Benedict ($32) with poached eggs, gravlax, avocado and hollandaise on focaccia or their signature PS. Fluffy Pancakes ($24) with homemade banana jam, blueberries, passionfruit curd and fresh cream.
Appealing to the nearby office crowd, a two-course Executive Menu is set to make PS.Cafe One Fullerton the new go-to business lunch destination in the CBD. Priced at $34++, the carefully curated menu offer a regularly changing series of comforting pastas, inspired meat dishes and fresh vegetarian mains as well as indulgent desserts. Guests can expect dishes such as Fennel Sausage Aglio Olio with pappardelle, Toulouse sausage and broccoli, Chermoula Spiced Chicken with crispy smashed potatoes as well as Green Garden Ricotta Gnocchi with homemade ricotta dumplings, basil pesto and pecorino.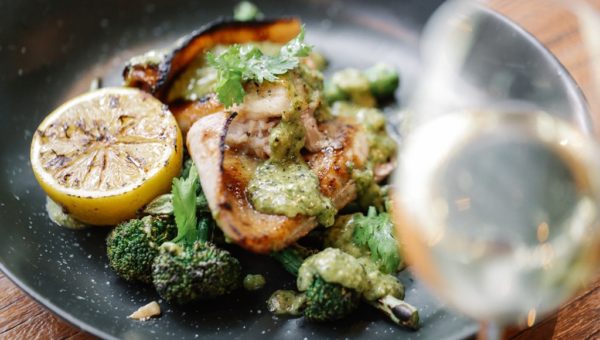 New Exclusive Dishes
The lunch and dinner menu at PS.Cafe One Fullerton celebrate new dishes that are exclusive to their outlet. One of them is the Chargrilled Skate ($34) with green harissa and broccolini. The fish was surprisingly light in flavor and does not contain a repulsive fishy smell that might place most diners off their appetite. However, do watch out for the bones and hard parts of the fish as they are extremely small and you can only tend to feel them once you have consumed the fish. The Chargrilled Chunky Prawn Sandwich with spiced pickled mango, kaffir lime aioli, truffle shoestring fries and house sourdough($27) is another must order on the menu. The sandwich is filled with generous portions of prawn and the ingredients of the sandwich work in harmony to give you that perfect oomph once you have taken your first bite.
While drawing on the iconic PS.Cafe signatures such as the popular PS. Truffle Shoestring Fries ($15) and the classic PS. Burger ($29). I always judge a café or a restaurant's ability by how well their burger is done, and I must say that their signature burger was absolutely outstanding. The Wagyu patty was grilled to perfection and had that charcoal flavor bursting out once you bit down into it. The truffle fries are also a delight, packing with flavor and yet they don't smell or look like they've been soaked with white truffle oil.
The new menu also offers lighter main course options such as the Baked Greek Spinach Pie with ricotta, feta, mint and house pesto ($27). New additions to the desserts menu include The Crème Caramel Orange Cake and Mrs. J's Trifle Bomb to end your meal with. I won't spoil the flavor or taste of the desserts here, but just a heads up, be prepared to work out for a week after eating the desserts just to offset those calories.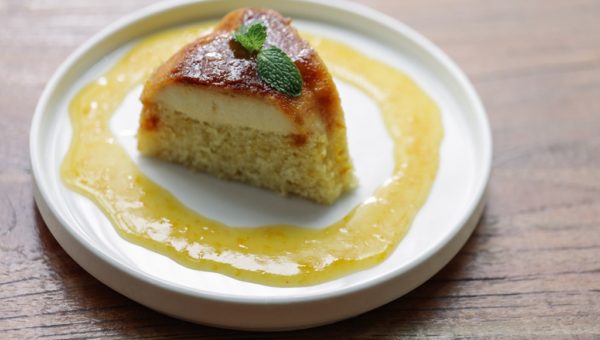 It's always 5'o clock somewhere
The sprawling bar area will serve up a thoughtfully curated beverage menu with an extensive list of Craft Beers, Lagers and Ciders, Aperitifs, Wine and PS. Classic cocktails as well as a selection of sumptuous bar bites. Available exclusively at PS.Cafe One Fullerton, the Fullerton Sours include options such as Doctor's Orders ($21), a unique blend of laphroig and famous grouse, honey, ginger, lemon juice and candied ginger and the Typhoon Carter ($21), which infuses plantation overproof rum with spiced passionfruit.
This was my first experience at eating at one of P.S café's many outlets. Their impeccable service, high quality of food and astounding decorations will definitely make the café a must-to-go place for special occasions or for catching up with your friends over a meal. I would suggest ordering a few dishes and sharing them with your friends as most of their main courses are designed as sharing plates. Overall, I would definitely go back to the P.S Café One Fullerton Outlet for their signature dishes and outstanding view of the bay with my friends or family.
P.S Café One Fullerton is located at 1 Fullerton Road, #02-03B/04 One Fullerton, Singapore 049213. Open daily from 11.30am till late, Monday to Friday, and from 9.30am on weekends.