PS.Cafe Opens It's Newest Outlet by the Beach at East Coast Park
CONTENT: Yiew Kai Jie
PS.Cafe, the trailblazer of Singapore's cafe culture, has made its first foray out of the frantic rush of the CBD area into the east as it opens its eighth outlet, PS.Cafe by the Sea at East Coast Park. Inspired by the open sea of its new location while staying true to its core concept, the new menu incorporates and highlights seafood into its staple mainstays, while introducing a special Junior kids menu section exclusive to its ECP outlet.
The all-day menu at the 120-seater restaurant pays homage to the calm and quiet waterfront location with new seafood dishes exclusive to its ECP outlet such as the Chargrilled Octopus ($21) – PS.Cafe's take on a delicious portion of 'char siew' features octopus wok-fried in a homemade sauce served with chilli lime dip, that lends a sweet yet delicate flavour to the octopus and might trick a diner or two into thinking they ordered a portion of pork instead of an octopus.
The Lemongrass Mussel & Clam Spaghettini ($29.50) contains a heaping portion of pasta topped off with portobello mushrooms, black mussels, fresh clams tossed in a sweet and sour sauce. The Thai-inspired sauce results in a mildly spicy satisfying finish that will be pleasing and wholesome that the dish can be ordered to share amongst two diners or for a solo famished diner to wolf down on.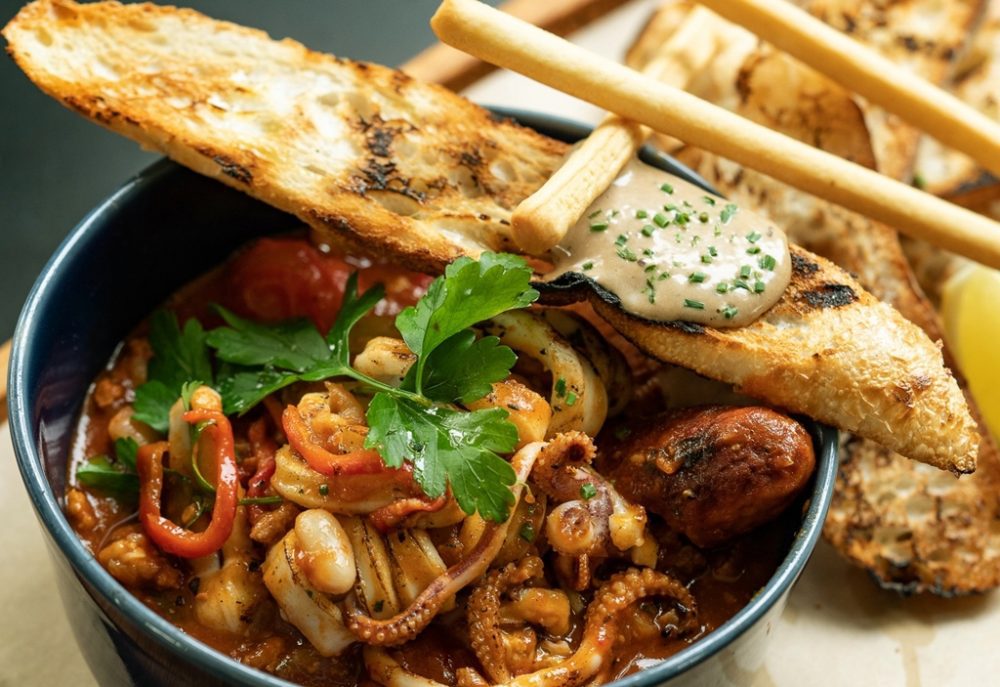 The Poached Ocean Trout Niçoise ($27) involves a modern twist on a French classic with string beans, green olives, capers, spinach and tuna aioli that promises a refreshing start to the meal. The Chorizo & Calamari Stew ($30) contains a heartwarming pot filled with white beans, fire-roasted peppers, spicy chorizo and tender squid topped with black garlic aioli and a side of crusty bread. Diners will have the option of leaving the aioli aside and chow down on the stew on its own, but it is recommended that the aioli be added to give the stew a more fragrant and distinct flavour that will pair well with the main stars in the dish.
The Singapore Chilli Crab & Prawns ($32) is a must-order on the menu that pays tribute to a long-standing East Coast tradition of chilli crab dishes. PS.Cafe's rendition comprises of fried soft shell crab and grilled tiger prawns with wok-crisped mantous, fresh chilli crab dip and jade fried rice. The generous portion of chilli crab sauce is extremely rich and rather spicy: the spice kicks in about 20 secs after the first bite or slurp. The large portions of soft shell crabs and large tiger prawns are absolutely mouth-watering and make a perfect meal when all components of the dish are brought together while being coated with the crab dip.
To cater to the family-oriented crowd at East Coast park, PS.Cafe came up with an exclusive Junior Menu for children under 12 years old; featuring kid-friendly items such as its iconic Spaghetti Bolognese ($14), Mini Pancake Stack ($12) with maple syrup, bananas and vanilla ice cream, Grilled Ham & Cheese Toasties ($12) with fries, and Cheeseburger and Fries ($13). All items on the Junior Menu come with a complimentary bowl of soft-serve ice cream with chocolate or strawberry sauce.
PS.Cafe by the Sea at East Coast Park's brunch menu features classic-favourites including eggs benedict and pancakes on weekends from 9.30am until 4 pm. The restaurant also serves breakfast from 9.30am to 11am on weekdays, offering staples such as almond chia seed granola and avocado toast.
PS.Cafe By The Sea at East Coast Park is located at 1110 East Coast Parkway, Cyclist Park 01-05/06/07, Singapore 449880. Operating Hours: 9:30am to 11pm daily.
For reservations, please call: +65 6708 9288 or email: contact@pscafe.com