PS.Cafe Raffles City: A Greenhouse in the Sky
CONTENT: Yiew Kai Jie
Lush greenery takes centre stage at Singapore's newest Instagram-worthy spot
PS.Cafe recently opened the doors to its newest and most striking space yet, PS.Cafe Raffles City. Marking the tenth outlet for the locally grown group behind PS.Cafe and Chopsuey Cafe, this green and vibrant enclave offers guests a true escape in the heart of Singapore's civic district.
Occupying a brand-new space in the light-filled atrium of Raffles City, the 3,300 sq ft restaurant is over seven metres in height, framed with large glass panels and industrial black arches as well as black and white awnings that gives a nod to Singapore's historic housing. Plants and florals take centre stage at Raffles City with a sprawling green wall that rises up above the bar with an abundance of trees and plants that were imported and grown freshly locally, creating a nature sanctuary in the heart of the bustling shopping centre.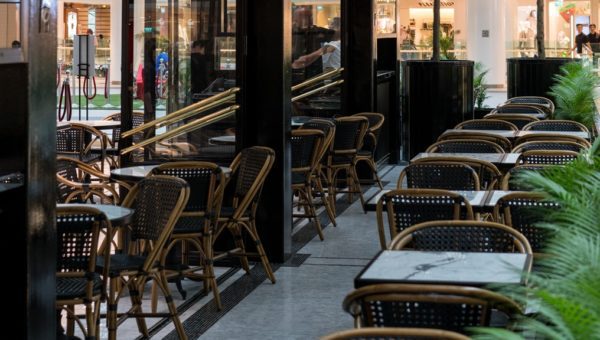 A cement plaque with the three co-founder's handprints can be found near one of the entrances, just as with the other nine outlets. The handprints pay homage to the friendship that has underpinned the success of the popular restaurant brand, which began as a cosy cafe hidden within the Projectshop concept store over 18 years ago.
Dishes at Raffles City will evolve throughout the day, starting with the signature breakfast dishes that have made PS.Cafe a local and international favourite, moving on to a thoughtfully curated all-day menu that comforts and indulges all. From lighter soups and salads to hearty sandwiches, mains and pastas, the menu will also include a section named 'street', celebrating Singapore's diverse culinary scene.
For long time PS.Cafe fans out there, dishes such as their Portobello Mushroom soup (S$14) and their signature PS. Truffle Shoestring Fries (S$15) are present at the new store for those looking for a quick snack or comforting bowl of soup while doing their shopping. The truffle fries are pretty self-explanatory in terms of it's flavour and reputation, while the soup isn't chunky and is extremely light despite mixing the truffle oil in the soup, giving a strong aromatic scent to the soup while retaining it's natural mushroom taste. Dip the accompanying generous amount of bread into the soup for a soft and salty delight!
PS.Cafe Raffles City also introduced new dishes that are exclusively available at this outlet which includes the Norwegian Smoked Salmon with avocado salsa, cucumber & yoghurt tartar (S$25) and Buttermilk Fried Chicken served with smoked jalapeno aioli & BBQ sauce (S$26). The first bite into the chicken will let anyone know that the meat is extremely tender and not overdone till it becomes hard to tear off like most fast food chicken outlets. The skin is extremely rich in it's buttermilk flavour- a single bit will give off a creamy and slightly spicy flavour once the smoked Jalapeno aioli is applied to it. Personally, I prefered the traditional BBQ sauce over the aioli, but to each his own. For those who prefer a slight acidic sour taste with their chicken, squeeze lemon juice onto the chicken for that extra oomph.
Last but not least, Mushroom & Fennel Sausage Conchiglie with grilled pork sausage, broccoli, fennel seeds, spinach, Riesling and parmesan (S$27). For those who are on a health cleanse or want to eat without gaining a lot of calories, this is the pasta dish for you. The sausages are made in house daily and they do not use frozen ones to preserve the high quality of taste in the dish. It is extremely juicy and packed with flavour due to it's seasoning, giving one a peppery kick and a "cheat" part to the healthy dish.
For those looking for a respite from walking around the malls looking for christmas presents, shoppers can breathe a sigh of relief and rest their tired feet and indulge in a list of wholesomely decadent deserts with favourites such as their signature Double Chocolate Blackout Cake (S$16) and Golden Banana Butterscotch Cake (S$13), paired with a selection of artisanal teas and coffees.
PS Cafe at Raffles City is located at the third floor atrium, 252 North Bridge Road, #03-37, Singapore 179103 and is open daily from 9.30am until 10pm.
For Reservations please call: +65 6708 9288.