Regent Taipei Introduces The BVLGARI Afternoon Tea Set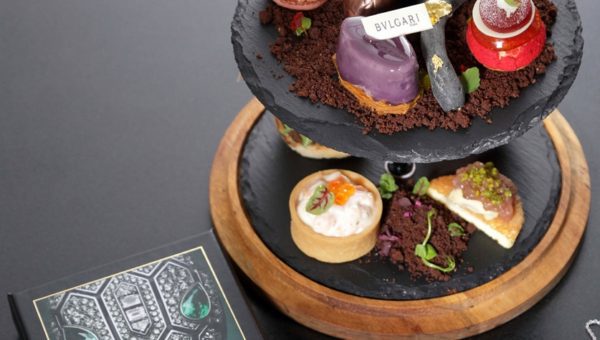 Inspired By Luxury Jeweler's New Collection 'Serpenti Eyes on Me', BVLGARI and Regent Taipei Collaborate to Present Creative yet Refined Afternoon Tea Set. The BVLGARI Afternoon Tea Set is available for the month of September at Regent Galleria's B2 Secret Garden.
Regent Taipei's innovative patisserie chef has studied the bold new collection extensively to inspire his sweet creations. The Frosted Walnut-Filled Chocolate Tart, for example, comprises a walnut based filling, enclosed by a hard chocolate casing shaped akin to a serpent's head which is brushed with rose gold powder and decorated with red chocolate, resembling the eyes of a serpent. Bright blues and reds are introduced in the Blueberry Mousse with a deep blue mousse perched atop fresh cream, blueberry puree and generously lashings of raspberry. Savory dishes include Tomato with Burratta Cheese, Duck Liver Pate, Mini Wagyu Beef Burgers and Tuna Tartare.
BVLGARI's newest collection Eyes on Me Serpenti focuses on the penetrating stare of the snake. Inspired by Greek and Roman mythology, the sensual serpent has been an iconic design for BVLGARI's Serpenti collection since the 1940s. With its renowned ability to hypnotize its prey, the legendary creature's stare is a metaphor for a woman's grace and powerful charm.
"The BVLGARI Afternoon Tea Set" is available every day from 12:00pm-18:00pm from 1 September 2016 to 30 September 2016, $1080 NTD/set, Limited supply per day, while supply lasts.
For more information reservation, please contact (02) 2523-8000 ext. 3089 Secret Garden
Regent Taipei is located at: No. 3, Ln. 39, Sec. 2 Zhongshan N. Rd.