Rice Dumplings to Enjoy This Dragon Boat Festival 2020
CONTENT: Andrew Kho
Dragon Boat Festival is fast approaching, this year it will fall on 25 June, and as we enter into Phase 1 of safe reopening, dine-in, gatherings and events are still not allowed. With these measures in place, it is not a reason for us to skip this annual tradition that began more than 2,300 years ago and since been passed down from generation to generation.

Here's some noteworthy rice dumplings Zòngzi (粽子) you would want to enjoy at home or share with your loved-ones and friends.
Carlton Hotel Singapore
Carlton Hotel Singapore's Dim Sum Chef Yiu Cheuk Yin from award-winning Wah Lok puts a twist on the traditional Cantonese rice dumpling by infusing popular local flavours into this year's new offerings, Roast Chicken Rice Dumpling and Roast Duck Rice Dumpling (S$18.80 each), come topped with slices of tender roast chicken or slices of succulent roast duck and are filled with pork, dried scallops, salted duck egg, dried shrimp, chestnuts, mushrooms and green beans, preserving all the delicious goodness of the classic Cantonese rice dumpling.

Carlton Hotel Singapore Rice Dumplings is available from 28 May till 25 June 2020. Orders can be made via their website or call +65 6311 8188. 
Crystal Jade Singapore
Crystal Jade Singapore introduces two new rice dumpling flavour this year, Spicy Dried Shrimp "Hei Bi Hiam" Rice Dumpling ( S$8.80 each), a full-bodied filling of diced chicken tossed in a generous amount of feisty homemade 'hei bi hiam' (spicy dried shrimp paste), made with Indonesian dried red shrimp and Hokkaido conpoy besides other choice ingredients. Another new addition is the Eight Treasure Quinoa Rice Dumpling (S$6.80 each), come studded with purple quinoa, a balanced meat- free combination of sweet and savoury ingredients such as 'chai poh' (preserved salted radish), Japanese Nameko mushrooms, black-eyed beans, dried shiitake mushrooms, red beans and chestnut among others. This is suitable for vegetarians.

Classic flavours such as Traditional Hong Kong-style Premium Jinhua Ham with Conpoy Rice Dumpling (S$18.80 each) and Classic Five-Spice Marinated Pork Rice Dumpling (S$7.80 each) is also available.

Jadeite, UOB or Citibank credit cardmembers enjoy a 15% discount for purchases till 5 June and 10% discount thereafter till 25 June 2020. Additional 5% e-store discount when you enter the promo code CJRD5OFF upon check out.

Crystal Jade Singapore Rice Dumplings outlet sales is available till 25 June 2020 and till 22 June 2020 for e-store purchases. The e-store also offers exclusive prices on select flavours, available in bundles of three and five dumplings.

To purchase visit the e-store  or visit website for more information.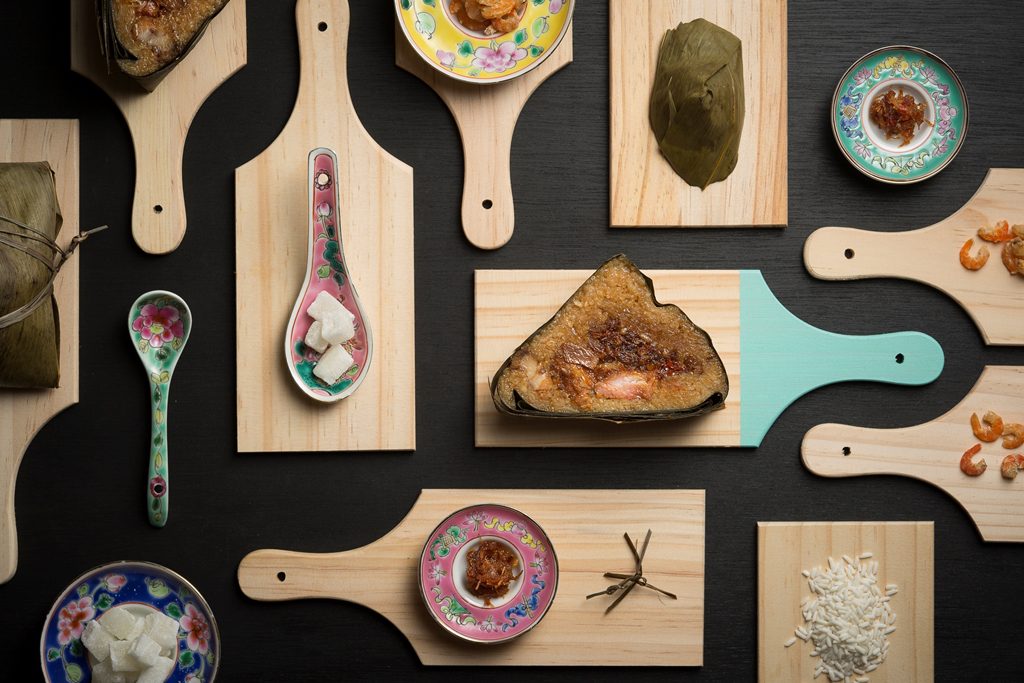 Intercontinental Singapore
Man Fu Yuan at Intercontinental Singapore offers six varieties of handcrafted bamboo leaf-wrapped Chinese rice dumplings starting with its newest Kimchi Five-grain Rice Dumpling (S$9.50 nett), a rendition made with a blend of five-grain variations of oat, barley, rice, red wheat and buckwheat; complemented with Chinese sausage, and balanced with a fiery kick from kimchi. The Roasted Smoked Duck Wild Rice Dumpling (S$9.50 nett) is another new highlight generous filled with succulent roasted duck, precious black gold garlic, mushrooms and fragrant wild rice, wrapped in a circular-shaped dumpling to mimic the form of the iconic black gold garlic.

Classic favourites Signature X.O. Sauce Nyonya Rice Dumpling (S$12.00 nett) and Signature Braised Pork Belly Rice Dumpling (S$10.00 nett) is not to be missed along with their healthier rice dumpling options, Black Sesame Rice Dumpling ($8.00 nett) and Red Bean Lye Rice Dumpling ($8.00 nett).

Man Fu Yuan Rice Dumplings is available for takeaway and delivery from 5 June to 25 June 2020.

For orders and more information, visit website , email intercontinental.dining@ihg.com, or call: +65 6825 1008.
Orchard Hotel Singapore
Orchard Hotel Singapore's award-winning Hua Ting restaurant presents a treasured taste of home and tradition with their signature Cantonese style Rice Dumpling with Abalone, Roasted Meat, Dried Scallops and Beans (S$32.80 each); and two other flavours – Rice Dumpling with Pork Bone Cartilage and Homemade X.O. Sauce (S$18.80 each), rich in calcium and collagen, the pork bone cartilage is infused with Chef's special homemade X.O. Sauce for a delicious taste. Vegetarian fans can indulge in their Brown Rice Dumpling with Wild Mushrooms and Black Truffle (S$18.80 each) which is paired with an assortment of mushrooms and black truffle paste to add a modern touch to the nutritional brown rice.
Enjoy a variety of flavours by ordering the Assorted Dumpling Set ($62.80) comprises all the three flavours.
Orchard Hotel Singapore Rice Dumplings is available for take-away, drive-through and delivery from now till 25 June 2020.
Enjoy up to 20% savings and get a complimentary traditional game (five different games to collect) with every order
For orders and more information, call +65 6739 6666, email huating.ohs@millenniumhotels.com or order online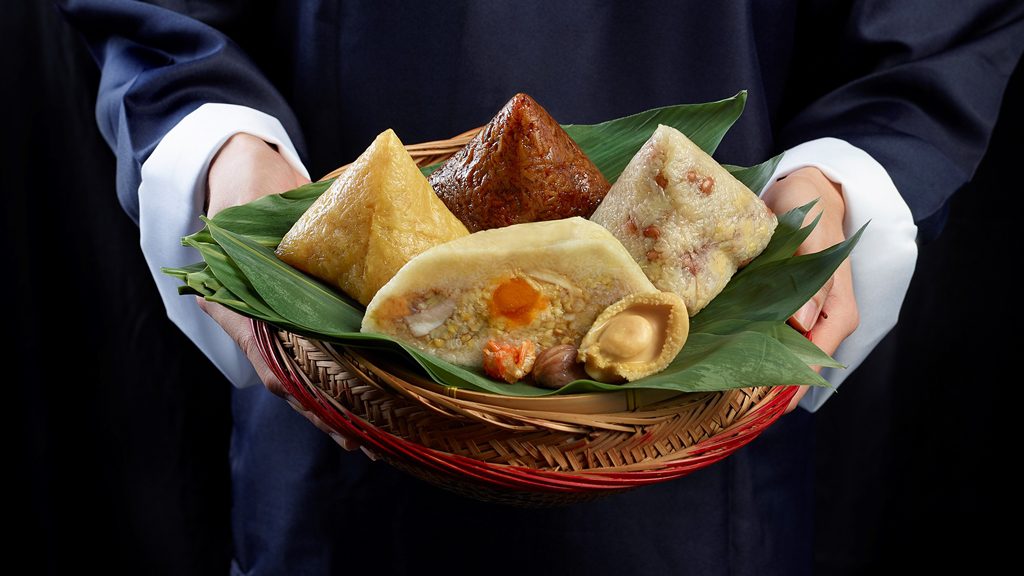 Paradise Group
Paradise Group introduces its new Teochew style braised specialties rice dumpling flavour inspired by Paradise Teochew's famous braised specialities. The Teochew Style Braised Specialties Dumpling (S$12.90 each) is filled with chockful of ingredients, a savoury medley of braised duck, pork belly, braised tau pok, braised peanut, dried shrimp, chestnut, lotus seed, salted egg yolk and mung bean and finished with a dash of sesame oil.

They are also offering a variety of premium dumplings such as an east-meets-west Black Truffle Five Grain Dumpling (S$13.90 each), Premium Abalone Dumpling (S$24.90 each), Deluxe Pork Dumpling with Conpoy and Chestnut (S$11.90 each) and Salted Pork Belly Brown Rice Dumpling (S$10.90 each).

Red Bean lovers can try the Red Bean Dumpling (S$5.90 each), which is made with lye water and works as a dessert.

Enjoy variety of flavours by ordering the Paradise Dumplings Bundle at S$52.90 (U.P. $55.60). Enjoy 20% discount on all rice dumplings for Citibank and Maybank Credit / Debit Cardmembers and PGR members (takeaway only).

Paradise Group Rice Dumplings is available for takeaway and delivery. You may pre-order via website by 19 June 2020 and collection from Paradise Teochew, Beauty in The Pot, Canton Paradise, Paradise Dynasty and Paradise Classic outlets and delivery from 5 June till 25 June 2020.
PARKROYAL on Beach Road
PARKROYAL on Beach Road's Executive Chef, Chef Zeng Feng from Si Chuan Dou Hua Restaurant presents two traditional handcrafted rice dumplings this year. Choose from either the Homemade Savoury Rice Dumpling (S$3.80 each) filled with  pork and green beans or the Homemade Classic Rice Dumpling with Roast Pork and Egg Yolk(S$5.80 each), filled with roast pork, mushroom, salted egg yolk, lotus seeds, dried shrimps, chinese sausage and peanuts.
PARKROYAL on Beach Road's Rice Dumplings is available for takeway and delivery from 14 to 30 June 2020. Enjoy 15% discount for UOB cardmembers when you enter the promo code UOBRICE15 upon checkout.
Orders are available via PARKROYAL on Beach Road's e-Shop or call  +65 6505 5722, or email at douhua.prsin@parkroyalhotels.com for direct takeaway orders.
Resorts World Sentosa
Elegantly presented in a three-tiered bamboo steamer, Resorts World Sentosa is offerings its Five-piece Dumpling Feast (S$98.00 nett per set) in collaboration with five specialty dining concepts at RWS.

The five piece set comprise of Sawara,Takenoko and Yuzu Chimaki Dumpling by Syun with seasonal sawara, succulent white-fleshed Spanish Mackerel ,wrapped in refreshing yuzu zest seasoned Japanese glutinous rice, Kampong Braised Sweet Gula Melaka Dumpling with Red, Purple and White Glutinous Rice by Malaysian Food Street uses ten different ingredients including purple glutinous rice, naturally sweetened with fragrant gula melaka lightly scented with fresh pandan leaves and is filled with wholesome ingredients such as lotus seeds, mung beans, sea coconut, desiccated coconut, taro and white, red and purple glutinous rice, XO Sauce Pork Belly, Mushroom and Chestnut Bean Dumpling by Forest森 by local celebrity chef Sam Leong, features 8-hour braised pork belly seasoned with a piquant housemade XO sauce of dried scallops, premium Yunnan Ham and salted fish with a mix of 60% yellow bean and 40% glutinous rice for a lighter dumpling that is easy to digest yet richly flavoured,

Khao Niew Nha Goong by Tangerine is not commonly available in Singapore, a interpretation of a traditional Thai sweet sticky rice snack topped with shrimp. Created using Thai glutinous rice scented with pandan leaves, it is then crowned with finely minced tiger prawns fried with freshly grated coconut and seasoned with Thai spices such as turmeric and white peppercorns, lastly, Executive Chef Li Kwok Kwong at Feng Shui Inn tantalises taste buds this year with this popular Hong Kong style dumpling Wild Morel Mushroom with Abalone Dumpling generously packed with premium ingredients like wild morel mushrooms, fresh abalones from New Zealand and conpoy along with roast pork, pork belly and salted egg yolk, the dumpling is a treasure trove of robust flavours.

Resorts World Sentosa Dumpling Feast is available for order now to 22 June 2020, available for takeaway only and pre-order is required three days in advance.

For more information, visit website or call +65 8140 7228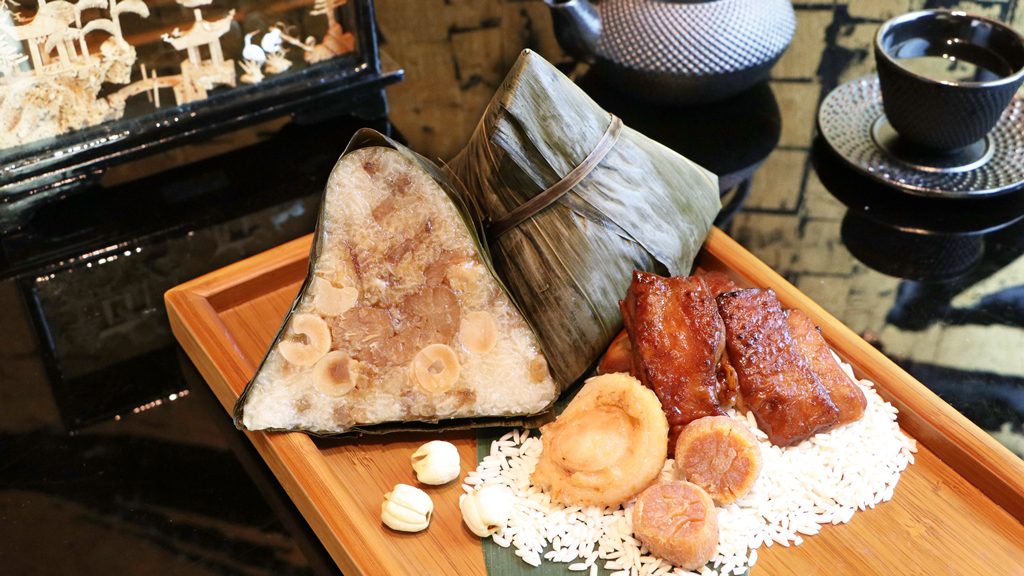 Singapore Marriott Tang Plaza Hotel
Wan Hao Chinese Restaurant at Singapore Marriott Tang Plaza Hotel with four homemade masterpieces starting with its newest 10-Head Abalone & Conpoy Chicken Rice Dumpling (S$25 nett), filled with a whole abalone, conpoy, Chinese sausage, tender chicken meat and chestnuts, bursting through a layer of fragrant glutinous rice and further cooked in flavourful superior stock that has been double-boiled for 3 hours.

Also making its debut is the nutrient-packed Wild Mushroom 5-Grain Vegetarian Rice Dumpling (S$14 nett), packed with varying textures and flavours such as cordyceps flower, king mushrooms, married with vegetarian bak kwah, black fungus, turnip, carrot, braised peanuts and cabbage, and a medley of grains including brown rice, sorghum rice, oats, barley and pearl rice, this east meets west masterpiece is elevated with the fragrant notes of black truffle.

Returning this year are traditional classic flavours White Pepper Crab Rice Dumpling (S$18 nett) and Signature Pork & Salted Egg Rice Dumpling (S$14 nett).

Wan Hao Chinese Restaurant Rice Dumplings is available till 25 June 2020.

Purchase a box of 4 handcrafted rice dumplings and enjoy 20% off. For pre-orders, please call +65 6831 4605 or visit website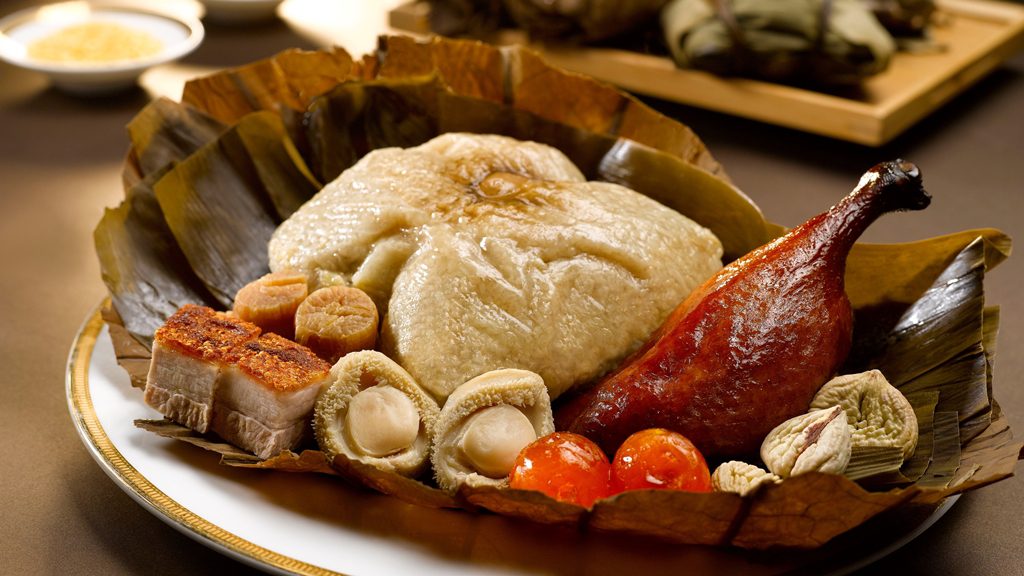 The St. Regis Singapore
Yan Ting at The St. Regis Singapore brings back three delectable rice dumplings starting with the abundant Glutinous Rice Dumpling with Abalone and Golden Dried Scallops (S$38.00 each), filled with delectable abalone, fragrant roasted duck meat and pork belly, chestnut, salted egg yolk, shiitake mushrooms, lotus seeds, dried scallops and shrimps. Another favourite is the Glutinous Rice Dumpling with Pork Belly and Salted Egg Yolk (S$22.00 each ), filled with egg yolk, generous chunks of tender pork belly braised in spices, and tantalising accompaniments of chestnuts, dried scallops, shiitake mushrooms and beans.
The Vegetarian Black Glutinous Rice Dumpling with Mixed Grains and Black Truffle (S$18.00 each), is lightly perfumed with aromatic black truffle sauce, delicious chestnuts, mung beans and fragrant, earthy shiitake mushrooms encased within a beautifully moulded mixture of black glutinous rice and five-grain rice. This is perfect for those who are looking for a healthier alternative.

Yan Ting Rice Dumplings is available till 25 June 2020 for both takeaway and delivery. Enjoy 10% discount for takeaways when you enter the promo code TAKE10 upon checkout.

Delivery is complimentary island-wide, with a minimum spend of $60 nett. A $30 delivery charge applies for orders below $60 nett.

To purchase visit the e-shop.