Singapore's First-ever Hot Stone Tendon Only at Japan Foods Garden!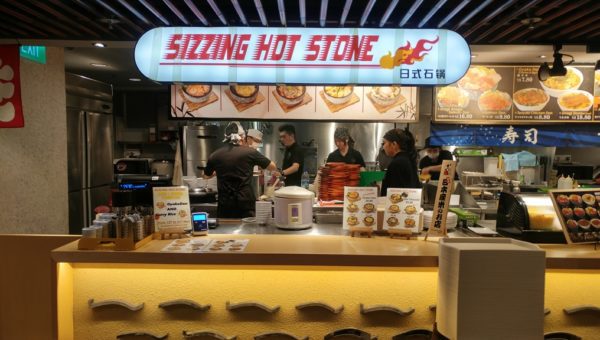 New offerings such as healthy soup pots, Korean-inspired tendons, bar grub and authentic Japanese desserts available as well!
CONTENT: Yiew Kai Jie
Looking for an authentic Japanese gourmet experience right here at home that won't break the bank? Well, look no further than Japan Foods Garden, a hidden enclave in Shaw Centre's Food Junction that houses five Japanese restaurants serves premium offerings that are priced affordably, with prices starting from just S$4.90. Gourmands hankering for a pocket-friendly yet indulging meal in the heart of Orchard Road should make a beeline for Japan Foods Garden!
First-of-its-kind hot stone tendon at Sizzling Hot Stone
Sizzling Hot Stone is Singapore's first-ever hot stone tendon! It comes with enticingly crunchy prawn kakiage perched on a bowl of al dente rice. An onsen egg sits in the middle — prick it and coat the kakiage with yolky goodness! The dish is priced at S$11.80, an unrivalled price for tendon offerings in Singapore. However, it tasted like a Korean Bibimbap, the dish was rather unflavourful as a whole because it lacked seasoning but on the bright side, there were rather generous bits of prawn in the rice but the prawn kakiage itself had a standard normal taste due to the prawn being overcoated by the batter.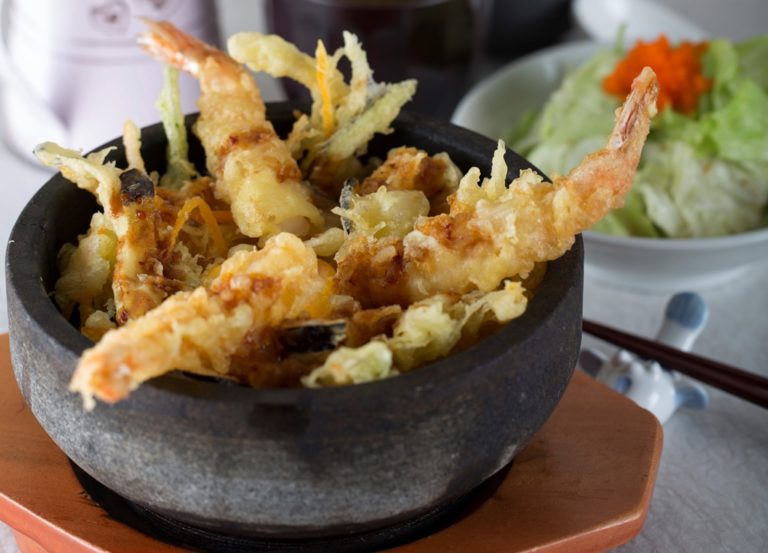 The restaurant also launched two soup pots: Health & Beauty Salmon Pot; and Spicy Chicken Pot. The Health & Beauty Salmon Pot (S$9.80) comes with a miso soup base, and features Norwegian salmon, onions, mushrooms and fresh vegetables. The soup is rather salty, however the Norwegian Salmon was very fresh and did not taste frozen! Combine this dish with rice and the saltiness of the soup would be compensated or at least diminished and the consumer would be getting all the healthy benefits of salmon without paying an exorbitant price.
Nourishing and tasty, the Spicy Chicken Pot (S$9.80) features tender chicken pieces with vegetables. Each offering comes with a bowl of rice. To upgrade the ingredients to either beef or pork, simply top up another S$4 or S$3 more respectively. A must order dish, the soup is rather similar to a spicy Korean hotpot's soup- that the first sip of soup can be very hot and spicy for the untrained palate. The chicken balls are juicy and nicely marinated, but do watch out for the hot water in the balls that squirt out when you bite on it- it's really hot and consumers could burn their mouths if they are not careful!
An Interesting spin on Tendon
Doling out the new-flavor tendons is Fry Pan Shokudo. There are three options: non-spicy; spicy; and gochujang (S$11.90 each). The assortment includes vegetable tempura such as enoki mushroom, pumpkin, seaweed and eggplant, as well as prawn and squid tempura, all of which are coated with the restaurant's special tendon sauce. For the third option, there is also a layer of gojuchang (Korean chilli paste) at the bottom for an element of surprise. The tempura are 50% less oily and have 30% lesser calories compared with other fried food. This is because Fry Pan Shokudo uses Dr. Fry, a revolutionary fryer, to prepare its tempura. The restaurant is also the only one in Singapore using this technology. Despite the rice being fragrant, the tempura's taste is overpowered with the flour and it tastes very starchy when one chows down on it. The gochujang sauce is rather watery and sweet rather then spicy and does not provide much substance or flavour to the dish other than enhancing he flavour of the prawn tempura.
Overall, the phrase "You get what you pay for" comes true for a place like Japan Food Garden. They claim to be authentic Japanese restaurants but the flavour of their food are rather mediocre and flat-tasting. Although there were one or two dishes that were worth trying (Spicy Chicken Pot), most of their dishes lacking good seasoning and fell short of my expectations of authentic Japanese food. So if customers are on a budget and looking for some Japanese food, then maybe Japan Foods Garden would be an option for them. If it's not because of budget constraints, I can't think of why customers would go there and look for the authentic Japanese experience.
Luxe Society Rating: 3.5/5
Japan Foods Garden is located at: #B1-01, Shaw Centre, 1 Scotts Road, Singapore 228208