St Regis Singapore Unveils A New Haute French Cuisine at Brasserie Les Saveurs
CONTENT: Yiew Kai Jie
St. Regis Singapore's premier dining establishment Brasserie Les Saveurs, has unveiled a new French-inspired à la carte menu that promises its diners an authentic Parisian brasserie-style experience under the helm of Executive Chef Thibault Chiumenti. The new menu has a key focus on incorporating local yet sustainable ingredients that imbue their dishes with rich and authentic tastes that can be found in Gay Paree!
Diners can commence their journey into French gastronomy with a cold appetizer of Pâté en Croûte ($34++). Executive Chef Thibault has put in countless hours of labour and love into preparing and refining his rendition of the enveloped pastry delight. The terrine comprises of pork and foie gras pâté that has been seasoned with pistachios, herbs and onion compote, and chilled in order to bring out its intense flavours for diners to enjoy.
An appetizer fit for a king, diners will be wholly satisfied with the cold entrée of Salade de Crabe ($32++). The sweet, succulent meat of an Alaskan king crab being scrapped clean out of its shell is the main star of this refreshing, crisp salad imbued with the perfect accompaniment of remoulade, dill, yogurt dressing and flavourful paprika mayonnaise that gives the mildest hint of spice to the salad.
Genuine gastronomes who are brazen and unfazed at trying something new can opt for the Tartare De Boeuf Au Conteau ($42++), a simple beef dish that has been well-seasoned and tenderized with nine different ingredients in order to give a flavour profile to cater to the local palate. This dish will prove to be an acquired taste for some diners due to the raw textures but a portion of homemade french fries are available on the side so that diners will be able to balance out the raw taste with a classic snack.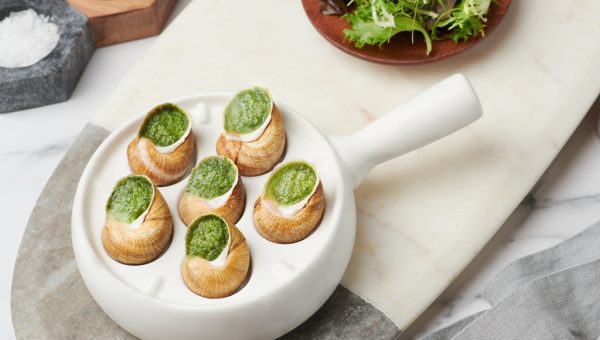 Apart from the cold appetizers, the menu also includes several other quintessential hot French appetisers. Diners can opt for the Escargots de Bourgogne ($21++)- six nutrient-rich snails poached in a court bouillon then baked in a spread of garlic butter and parsley that will prove to be a simple yet hearty dish to have at the dinner table. The Foie Gras Poele ($34++) and Bisque de Homard ($22++) will both serve as a rich and scrumptious introduction to the French dining experience and will leave diners licking the plate clean!
Moving onto the mains, the mouth-watering Coq au Vin en Cocotte ($42) dish involves a whole chicken being slowly broken down by braising it slowly in red wine to yield a luscious sauce brimming with soft, succulent meat. The one-pot dish includes a medley of brightly-hued seasonal vegetables including baby onions, carrots, mushrooms and roasted baby potatoes, that will have diners scrapping the bottom of the pot for every last piece of the dish.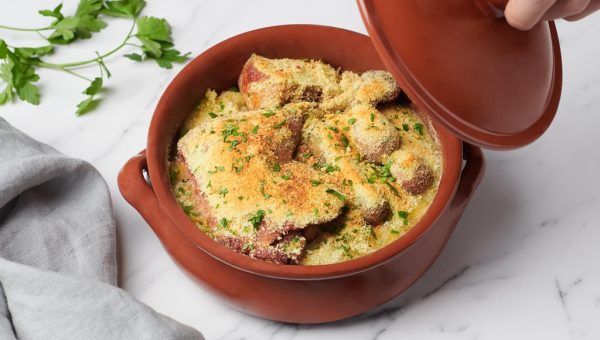 Another noteworthy casserole dish comes from southern France: the Cassoulet en Cocotte ($46++). Served in a cocotte that ensures that the dish stays warm for over an hour, the casserole is filled with bountiful portions of pork belly, sausage and duck confit laid over a bed of unassuming paimpol beans topped with a crispy coating of breadcrumbs that might resemble a classic mac and cheese dish. The heartwarming dish will prove to be an extremely filling for the average diner that will be worth the bang for their buck and the combination of healthy ingredients will leave diners less bloated over they are done with the casserole.
When dining in large groups, diners can opt for the conventional favourite, the hearty sharing platter of Côte de Bœuf ($154++, minimum preparation time of 30 minutes) that involves an exquisite 1.2kg of robustly flavoured beef prime rib paired with roasted garlic potatoes, green beans, mushrooms with a serving of green peppercorn béarnaise sauce on the side.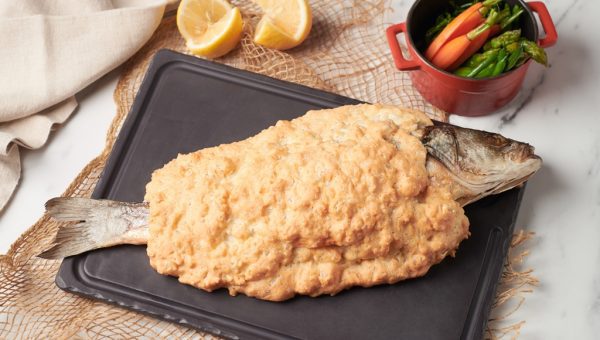 Similarly, the Bar en Croûte de Sel ($68++, minimum preparation time of 30 minutes) makes for an impressive entree especially for guests who prefer a healthier option compared to having too much red meat. A whole sea bass is baked in a salt crust to preserve the moisture and natural sweetness of the fish, culminating in a flaky and mildly smoky dish served with seasonal vegetables and a tangy Beurre Blanc sauce that can be evenly shared between two to four diners! The fish will then be served tableside by the servers who can assist in removing the tough salt crust while portioning and deboning the fish for the diners should they require assistance.
To end the dining experience on a high note, the essential French desserts must not be missed. The irresistible Crème Brûlée ($18++) with a creamy custard base and a paper-thin crunchy caramelised sugar top is a delectable choice, while the spectacular pud of Moelleux au Chocolat ($24++) will impress chocolate lovers with a decadent, gooey dark chocolate core, finished with a scoop of vanilla bean ice cream. Alternatively, those looking for a more lighter option can opt for the Mille-Feuille Traditionnel Vanille ($18.00++), where vanilla bean sweet cream is set within layers of delicate Napoleon pastry sheets that was made famous by Marie-Antoine Carême- one of the earliest chefs to practice the art of grande cuisine!
Brasserie Les Saveurs Restaurant is located at 29 Tanglin Road, The St. Regis Singapore, 247911.
Brasserie Les Saveurs Restaurant is open daily from 6:30am-10pm.
For reservations and enquiries, please call +65 6506 6860, email: bls@stregis.com or visit: www.brasserielessaveurs.com.