The Demon Chef of Hong Kong Unveils Forbidden Duck in Singapore
Forbidden Duck serves up signature Roasted Ducks, classic Cantonese Dim Sum and unique takes on other traditional Cantonese dishes
CONTENT: Yiew Kai Jie
One of the biggest names in the Hong Kong culinary scene,'Demon Chef' Alvin Leung, most famous for his "X-treme Chinese" cuisine at Three Michelin-Starred Bo Innovation restaurant in Hong Kong, has opened a stunning new Peking duck eatery in Singapore at the Marina Bay Financial Centre aptly named Forbidden Duck after the Forbidden City in China. Although it has a very similar concept to the one in Hong Kong, expect the unexpected with the creative chef, as he has created specific dishes just for the local paletes and wants his customers to know that his food is not snobby and can be eaten by anyone and be comfortable with the food that they are eating just like our own hawker scene here in Singapore!
Best known for his inventive approach to traditional dishes with exceptional finesse, be prepared for an exceptional dining experience with Chef Leung's extraordinary ingredients and cooking techniques. He believes in getting the basics right for any dish regardless if is classic or innovative and wants to do it right. Forbidden Duck will also be serving contemporary renditions of Cantonese dim sum and classic dishes.
Forbidden Duck serves two styles of roasted duck: the star chef's back-to-basics Peking roast duck and a signature slow-roasted whole duck. Chef Leung's latest restaurant pays homage to the traditional version of the Peking duck, while offering one with a modern twist that takes the duck concept to a whole new level.
The Signature Slow Roasted Duck (S$88) is slow-cooked in an oven for three hours over four different cooking temperatures for irresistibly pink, tender and juicy meat, before being roasted at higher temperatures in the last 30 minutes to yield its crispy skin. With no additional marinade, Chef Leung brings out the natural flavours of the duck purely through roasting. The duck itself is cooked till medium doneness like a steak for customers to enjoy the perfect tenderness and flavours of the duck. Butterfly-shaped steamed buns flavoured with calamansi helps cut through the oiliness without leaving an overly greasy aftertaste.
This is accompanied with various condiments such as hoi sin sauce with calamansi, sesame oil, garlic, sugar and smoked sea salt to complement the signature poultry. Regardless of what the protein is combined with, just await for the flavour explosion to blow up in the mouth once the protein is bitten into! A must order dish on the menu, only a limited number of slow-roasted ducks will be made available daily, so remember to reserve it early!
A well-loved Cantonese classic, the Iberico Pork Char Siu (S$30) at Forbidden Duck uses Spanish Iberico Pork for its incredibly tender meat and rich well developed fatty flavours that melts tantalisingly in the mouth. Slightly charred on the outside, then basted with a special sweet marinade for a glistening finish in the mouth.
The Seafood Rice in Aromatic Duck Soup (S$32) features fragrant rice in a flavourful broth simmered with juicy duck meat. A deeply comforting dish, the fresh scallops and prawns lend a subtle sweetness to the soup. Crisp rice pops added right in front of your eyes snap, crackle and pop for an added crunch to the dish. It goes without saying that this is another signature dish of Forbidden Duck that one absolutely has to try before leaving- mostly in due to the richness of the broth and the comfort level that this dish simply gives off makes it so irresistibly good!
Crisp on the outside and succulent on the inside, Chef Leung's Sweet & Sour Pork with Lychee, Rose and Hawthorn (S$23) comes with a refreshing twist. Relish the burst of sweetness from lychee, tartness from Hawthorne and fragrance of the rose for a delightful pairing with savoury pork. The dish tasting like any mainstream sweet and sour pork dish that one might find at any chinese restaurant, however the aromatic scent of rose was much appreciated and helped to elevate the dish to the next level. The fact that the dish was not over lathered in sauce made a stunning difference to the meat as it did not overpower the taste of the pork or the scent of the rose.
Apart from the duck and other main courses, diners can also enjoy Cantonese dim sum at Forbidden Duck, such as the Steamed Black Truffle and Duck Tongue Dumpling (S$8). Aromatic black truffle is paired with marinated boneless duck tongue for an interesting take on traditional dim sum.
Be sure to try the Crispy Taro Pastry Stuffed with Duck & Preserved Vegetables (S$6), a popular Cantonese dim sum. Here, the mashed taro is stuffed with a savoury filling of duck meat and preserved vegetables, then fried for an irresistibly crisp crust. The interior of the pastry is not dry (it's a major problem that I personally have with chinese pastries all the time), rather soft, fluffy and crunchy on the inside! The vegetables themselves were well seasoned and went along with the texture of the taro pastry- a good combination of flavour and textures that melts easily in the mouth.
Putting a fusion spin on the classic spring rolls, the Pesto Duck Spring Roll (S$6) is a delectable combination of nutty pesto and duck meat, all wrapped and rolled up in a crispy thin pastry wrapper.
One of the star courses in the dim sum menu, the Giant Egg Tart Pomelo (S$6) is a double-sized egg tart filled with smooth egg custard and pomelo for a refreshing touch to the classic Cantonese egg tart. Cut the tart open and the custard inside will start to flow open like a lava cake alongside a beautiful cross-section of the tart!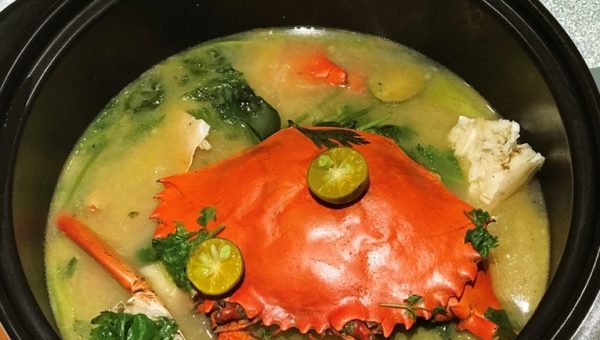 As a tribute to local favourites, Chef has specially curated a few Singapore-exclusives for Forbidden Duck's outpost in Singapore. The Sri Lanka Crab in White Pepper Broth (S$98), inspired by the local favourite delicacy, features the iconic Sri Lanka Crab in Chef Leung's fiery white pepper broth, balanced with a touch of calamansi. This results in a very peppery broth that marinates the crab well and ensures that the flesh is ultra tender when bitten down upon. Like a more classier and upgraded version of bak kut teh soup, this dish will not disappoint and one will tend not to leave the bowl empty and slurp up all the delicious broth!
For those looking to host a cosy dinner, the 98-seater restaurant also has 2 private rooms available for booking with a minimum spending of $800 for the room, and a capacity of up to 12 persons for each room.
From 19th May 2018 onwards, the restaurant will be open on weekends as well. Dim Sum is available only for lunch.
Forbidden Duck is located at 8A Marina Boulevard, #02-02 Marina Bay Link Mall, Singapore 018984. They are open daily from Monday to Sundays from 11am to 3pm and 6pm to 10pm.
For Reservations, please call: +65 65098767 or email: info@forbiddenduck.sg