The Dragon Chamber has Reopened with New Dishes and Management
The Dragon Chamber has reopened, now better than before. Hidden behind a fridge at a Circular Road kopitiam, this speakeasy restaurant and bar marks a new partnership between Ebb and Flow Group and Tung Lok Group. The 45-seater is helmed by Ebb and Flow Group Creative Director Norman Hartono and Operations Director Pio Subramaniam, who have spent a great amount of time finding a new location to house The Dragon Chamber. The Dragon Chamber was previously hidden within Lokkee at Plaza Singapura.
The Dragon Chamber is more than just a Chinese restaurant where guests come to dine and then leave. Right off the bat, it offers an immersive experience; one that's filled with intrigue. Arrive at the 32-seater kopitiam as well as a full-fledged 12-seater bar that opens till late. The kopitiam will serve breakfast and lunch, offering classics such as wanton mee, toast and the aromatic kopi.
A must-try from the kopitiam is the Singaporean classic wanton mee, which comes in two versions, dry or soup. Flavourful minced pork meat is wrapped within silky smooth dumpling skin before being poached to plumpness and served with springy thin noodles. To complete the dish, diners may choose to add on their noodles with char siew or roasted chicken.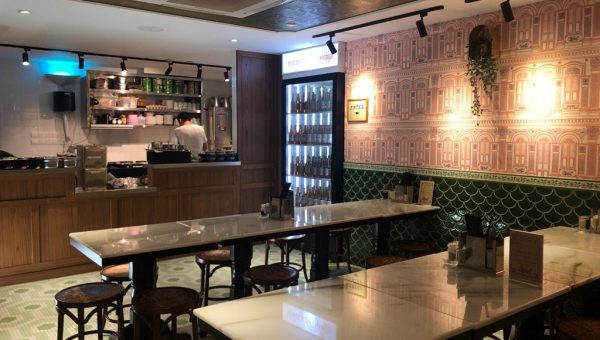 Enter The Dragon Chamber through the glass fridge door and you will be plunged into a world that is reminiscent of Chinatown gambling dens and secret society hangouts. The walls are covered with artworks from local and regional artists such as Sabotage, Mister Tucks and Riandy Karuniawan, referencing past and recent Chinese traditions.
Kickstart the evening with a devilishly good Asian-inspired tipple or enjoy a selection of range of craft beers and ciders including Dragon Chamber exclusive in-house labelled beers, Dragon Pale Ale and Summer Sesh Ale in a collaboration with local artists Mister Tucks and Sabotage respectively.
Overseeing the kitchen team is Chef Wong Meng Ooi. The 36 -year -old started his love affair with the culinary arts from an early age, and has over 20 years of experience under his belt.
Here the generously portioned dishes are presented communal style. There are new dishes such as Dragon Mountain (S$88 / $138), which is a treasure trove of fried whole lobsters, tossed with crispy garlic, crushed fermented soybeans, sliced chillis and Sichuan peppercorns.
A luxed up version of the trendy chicken and waffles dish is the Firecracker Chicken and Maple Fritters (S$16 / S$28). Diced chicken are deep-fried till golden brown and topped with chopped dried chillies, cashews, chives and Sichuan peppercorn. Crispy you tiao fritters drizzled with maple syrup are served on the side for that extra crunch.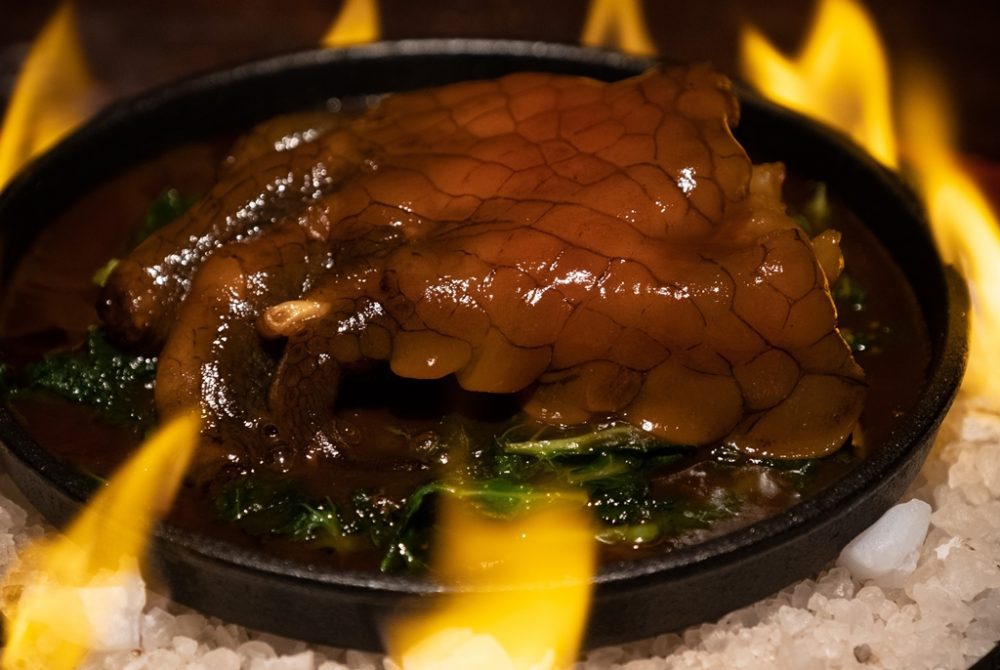 Then, brace yourself for dishes that will push you past your comfort zone. Served with a savoury fish sauce blend, the unique Roasted Pig Tail (S$28) is a flavoursome offering. Fat-insulated meat is encased within deliciously charred skin, and served with crunchy and refreshing lettuce wraps that help to balance the meaty indulgence. The Dragon Claw (S$45) is a showstopper fit for the brave — the foot of a Singapore-farmed crocodile is soused in braised herbal sauce and perched on a bed of kale. The bold will be rewarded with amino acids and potassium, which help to prevent heart disease. Follow that with Dick Soup (S$30), which features crocodile penis in a chicken- and pork-based soup that has been double-boiled for six hours.
Loyal fans of The Dragon Chamber will be delighted to know that there are also returning favourites. The new and improved Wagyu Truffle Beef Hor Fun (S$68) showcases wok-fried flat noodles in a moreish truffle gravy. The noodles are topped with exquisite slices of A4 Kagoshima wagyu, crispy deep-fried hor fun strips and poached egg.
Need somewhere quiet and spacious for group gatherings? Rendezvous at the private dining area, which seats 24 guests, or the VVIP area, which holds up to 12 guests.
"Dragon Chamber is for people who are looking for an adventure around every corner and want to push the boundaries of traditions and Chinese food. We focus on embodying the rebellious spirit of creation rather than just making food that sells," said Norman Hartono, Creative Director of Ebb and Flow Group.
The Dragon Chamber is located at: 2 Circular Road, Singapore 049358