The Fullerton Hotel Singapore's Town Restaurant presents Flavours of New Zealand!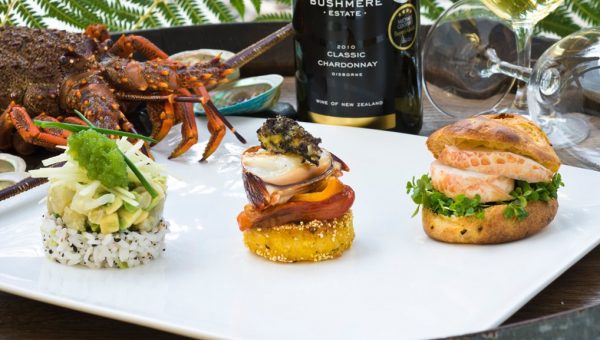 The Fullerton Hotel Singapore presents Flavours of New Zealand, with the support of Air New Zealand, New Zealand Trade & Enterprise, and Noshtrekker.
Flavours of New Zealand sets the scene for guests to savour of the fresh produce and epicurean delights of New Zealand. Executive Chef Bryn Lewis of The Vines Restaurant located at the Bushmere Estate Wines in Gisborne, New Zealand will be teaming up with Executive Chef of The Fullerton Hotel Singapore, Michael Gremer, to showcase New Zealand's superb produce.
From 8 to 17 November, the vibrant and unique flavours of New Zealand cuisine will be available at Town Restaurant's Sunday brunch and daily dinners. Signature dishes from Chef Lewis include Roasted Leg of New Zealand Lamb with Herbs, Garlic and Pepper Mint Sauce; New Zealand Sirloin of Beef with Horopito Rub and Choron Sauce; Hot Smoked New Zealand King Salmon with Confit Lemon and Tarragon Aioli; Duck Ballotine with Pistachio Stuffing and Truffle Jus; Kawakawa Roasted Pork Belly with Yellow Curry Coconut Sauce; Turbans of East Rock Takihi Scallops with Karengo Dressing; Potato and Sweet Potato Gratin with Nutmeg and Cream; Asparagus and Broccolini with Hazelnut Butter; Smoked New Zealand Green Lip Mussel Fritters; Wild Cape Manuka Honey UMF10+ Panna Cotta with Rhubarb and Ginger Compote, and more.
Town Restaurants Flavours of New Zealand is available priced at:
Sunday brunch, 12.00 p.m. to 3.30 p.m.
S$133* per adult; S$67* per child^ (with free-flowing chilled juices and soft drinks)
S$173* per adult (with free-flowing champagne, house wine and cocktails)
Dinner, 6.30 p.m. to 10.30 p.m.
S$59* per adult; S$30* per child^ (Sunday to Wednesday)
S$85* per adult; S$43* per child^ (Thursday to Saturday
For more information and reservations, please call Dining Reservations at 6877 8911 / 8912 or visit www.fullertonhotels.com