The House of Krug Launches Les Créations De 2004 in Singapore
The House of Krug President and CEO Margareth Henqiquez was in Singapore recently to celebrate the best of 2004 through Maison's latest vintage Krug 2004 and Les Créations de 2004, a limited edition tribute comprising the latest vintage alongside the Krug Grande Cuvée 160ème Èdition, which was composed around the year 2004.
After a challenging exteremes and limited yields in 2003, the following year called for patience with a crisp winter and chill spring keeping temperatures in Champagne cool for an exceptionally long time. May brought a gentle warmth to the region and in late summer the grapes ripened perfectly in the radiant sunshine. The beautiful weather in harvest time from mid-September to early October brought a good harvest offering more characterful yet mature grapes than any previous harvest.
"The wines of the year held great promise, they were at once highly expressive, bright and undeniably elegant," says Krug Cellar Master Eric Lebel. "The vivacity, tension and citrus notes of the Meuniers and the shining Chardonnays combined with the backbone of Pinot Noir gave rise to a very balanced year"
The Krug 2004
The Krug 2004 is a blend of 39% Chardonnay, 37% Pinot Noir and 24% Meunier. Unusually for Krug vintages, it contains more Chardonnay than Pinot Noir, It's combination of radiant generosity and crisp precision led us to name it luminous freshness. On the nose, you have an expressive bouquet of ginger, candied citrus and quince is followed by richer notes evoking lemon meringue tart, plum and mirabelle. On the palate, light notes of brioche and honey give way to an array of fresh citrus, including oranges, lemons and mandarins, enhanced by a very elegant finish.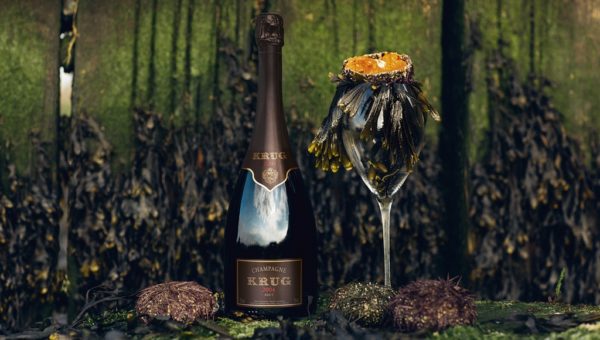 The Krug Grande Cuvée 160ème Édition
The Krug Grande Cuvée is the first and only prestige Champagne to have been recreated every year since the House was founded. Therefore, Krug Grande Cuvée 160ème Édition represents the 160th re-creation of the fullest expression of Champagne as envisioned by Joseph Krug. A very limited number of bottles of Krug Grande Cuvée 160ème Édition were specially kept in the House's cellars, waiting to be re-discovered alongside Krug 2004.
Krug Grande Cuvée 160ème Édition, composed around the harvest of 2004, is a blend of 121 wines from 12 different years, the youngest of which dates back to 2004 and the oldest to 1990 and matured over 12 years Krug's cellars gives this Édition of Krug Grande Cuvée its unique roundness, beautiful expression, finesse and elegance
"When I think of who Krug Lovers are, I see that they are independent people, with unique personalities and strong self-confidence. They are lovers of contrast and paradox, seeking enjoyment. They want an unforgettable experience, pleasure beyond perfection" said Olivier Krug, Director of the House of Krug and sixth generation of the Krug family
Krug 2004 and Les Créations de 2004 will be available through MHD Singapore's private sales channel, and price is available upon request.
From the 1st of October 2017, Singapore Airlines will be the first airline to serve Krug 2004 in-flight, in Suites and First Class.