The Kooky Sumikkogurashi Gang Are Having Their First Pop-up Café At Kumoya Orchard Central
CONTENT: Michelle Ng

You might recognise these adorable Sanrio characters, and the cute gang from Sumikkogurashi are the newest center of attention over at Kumoya Orchard Central.

The characters are shy and love living a quiet life in the corners, and you'll be able to spot them hiding throughout the entire café decked out in pastel shades. The menu is designed and themed by Littlemissbento, and will feature all the characters, which looks adorably delicious and Insta-worthy.


The most popular dish we saw everyone ordering was the Left Behind Tonkatsu And Ebifurai No Shhippo Cold Udon (S$25.90), with a salmon croquette and assorted tempura vegetables served with a side of chewy udon noodles. The Gone Fishing Tokage Salmon Croquette Cream Rice is another all-time favourite of ours, and the dish turns into a pool of creamy mushroom sauce with Tokage catching lil fish carrots. Sitting on top of a salmon croquette, this dish a heartier version of the Japanese classic tonkatsu curry, but with a twist.

New to the menus is also the All Friends Picnic Rosti Big Breakfast (S$24.90) that's served all-day long, or have the So Shy Neko And Zassou Mega Fish Burger (S$26.90) for a more Western-inspired dish.

Snacks come in the form of bites, with Hand Cut Nacho Cheese Fries ($12.90), Ocean Fresh Seafood In-a-box, and Teriyaki Chicken Sticker (S$13.90). The Karaage Chicken With Shoyu Glaze (S$14.90) is my go-to for savoury yet sweet chicken bites.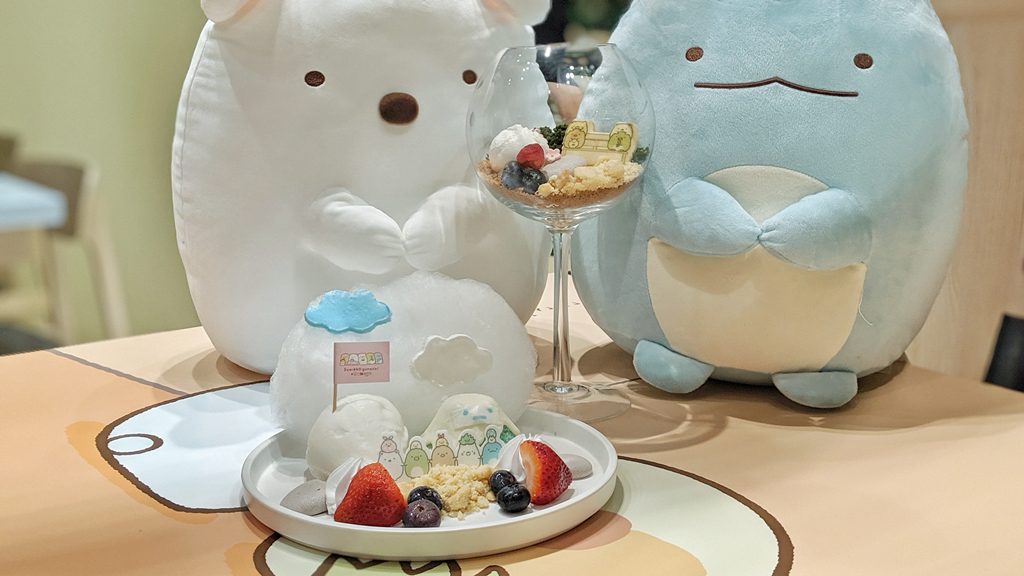 If you're dropping by in between mealtimes, have something sweet to share. The dessert menu selection is delightful, with a few new creations that surprised us. The Magical Matcha Terrarium Garden (S$24.90) is a little edible garden with chiffon matcha, macaron pebbles, cookie dust, rice crispies, fruits, and a scoop of Kumoya's signature Hokkaido milk ice cream. Mix everything together to get all the textures in one mouthful, with the ice cream tying the flavours together in a super milky and crunchy way. It could do with an additional bit more of ice cream, as we found that it tasted better with more ice cream to add in some moisture.

Sweet tooths will love the Yama And Friends Blueberry Chiffon Cake (S$22.90), which comes with a chiffon cake shaped like Mount Fuji (Yama), a handful of fluffy cotton candy, berries, and ice cream. The blueberry chiffon cake lacked a distinct blueberry flavour, but it was well-balanced out with the sweet cotton candy and citrusy berries.


The drinks menu has a seen a shakeup, with fruity frappes and iced tea. The Mango Yuzu Frappe ($13.90) is a fruity and citrusy drink that is refreshing in the summer heat, while the Apple Momo Iced Tea is sweet palate cleanser to end a hearty meal. The other usuals like hot chocolate, matcha latte and coffee are also on the menu, and each drink order comes with a collectible Sumikkogurashi coaster. There are a total of 5 exclusive designs, where the Sumikkogurashi gang are all hanging out together instead of in the corners alone.

As usual, each person has a minimum order of at least one food or drink item, and each table has a seating time of 90 minutes maximum. While there is no pork or lard used in the menu, Kumoya is not halal certified (but still working towards it!).

The Sumikkogurashi café is open from March 15 for a limited time only at Kumoya @ Orchard Central. The Kumoya outlet at Bugis is currently hosting big hearted bunny Molang and his friends until end June 2021.

Kumoya/ Sumikkogurashi Café
181 Orchard Rd, Singapore 238896, #04-09
Open daily from 11am to 9.30pm.