The Luxe Society Yusheng Guide for Lunar New Year 2020
CONTENT: Yiew Kai Jie / Andrew Kho
As the festive season passes by in the blink of an eye, everyone is busy getting ready for the hectic Chinese New Year and F&B outlets are at the frontline bracing themselves for the frantic rush of the CNY period. Already various restaurants and hoteliers are busy experimenting with various flavours and ingredients to produce the all too familiar dinner set menus that are led by the tossing of the quintessential Yusheng dish!
ANDAZ Singapore
At ANDAZ Singapore's oriental restaurant Auntie's Wok and Steam, guests will be able to opt for a more healthy guilt-free Yusheng option waiting for them at the dinner time. The Andaz Healthy Yu Sheng ($68++) is jam-packed with a healthier variety of greens such as kale, beetroot, Japanese cucumbers, green apples and pomegranates. The dish is then topped off with a generous serving of Scottish smoked salmon and a wide array of superfoods such as sunflower seeds, flaxseeds, chia seeds and almond flakes.
The Yusheng is part of the restaurant's nine ($588++) or ten ($838++) course CNY set menu that includes the restaurant's signature favourites such as Boston Lobster Crispy Noodles, Steamed Tiger Grouper, Treasures of the Sea Pen Cai and a juicy offering of Braised Pork Belly.
Capitol Kempinski Hotel
The Capitol Kempinski's main restaurant 15 Stamford by Alvin Leung has come up with its own Salmon Yusheng Platter ($88++, $168++) for the festive occasion. Apart from the typical vegetable slaw, plum dressing and fish skin crisp, customers can opt for additional offerings of kingfish ($10++, $18++), scallop ($18++, $28++), lobster ($28++, $48++) or abalone ($38++, $58++).
The Yusheng platter is part of a four, five and six ($138++, $158++, $90++) course Chinese Lunar Set Menu that is complete with all the dishes required for a jovial get-together during the Lunar New Year. Such dishes include Australian Abalone Ceviche, Fine De Claire Black Moss Congee, Roasted Bangalow Sweet Pork Belly and Lotus Leaf Rice with Chicken Mushroom Chinese Sausage and Dried Shrimp just to name a few.
Note: The Chinese Lunar Family Style Set Menu is only available via preorder and a minimum of 5 guests is required.
Fairmont Singapore
Szechuan Court is offering guests a multi-tiered seafood yusheng experience that pays homage to everyone's favourite mouse by taking the form of Mickey and Minnie Mouse and assembling the proteins into the shame of a koi fish. The Prosperity Yusheng begins with a traditional Salmon ($68++) offering that can be enhanced with Snow Crab ($88++), Abalone ($98++) or with all three ($168++). A vegetarian ($58++) option is also available that swaps out the seafood for coconut meat instead.
The Prosperity Yusheng is part of six luxurious prosperity set menus that includes signature favourites such as Chef's Superior Consommé with Fish Maw and Bird's Nest, Abalone Stuffed with Prawn Mousse and Crab Roe in Egg White Broth, Szechuan Court's Pen Cai Prosperity Pot of Gold and Traditional Steamed Red Grouper in Lotus Leaf.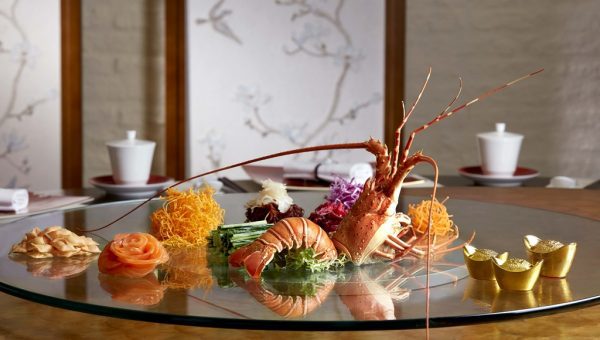 Mandarin Oriental Singapore
Cherry Garden at Mandarin Oriental Singapore brings guests to an bountiful wealth and prosperity with their Bountiful Yu Sheng ($138++ Small, $276++ Large) prepared by Executive Chinese Chef Cheng Hon Chau, complete with luxurious ingredients such as Alaskan Crab meat, Black Truffle and Black Caviar. The Yu Sheng is served with julienned rosella fruit and savoury spring onion sauce unique to the restaurant.
The Yu Sheng is also available four other options such as Harmonious Yu Sheng with Abalone and Bonito Flakes, Harvest Yu Sheng with fresh lobster and golden leaf flakes, Prosperity Yu Sheng with salmon and crispy fish skin and lastly, their vegetarian option Garden of Health Yu Sheng with fresh fruits and vegetables.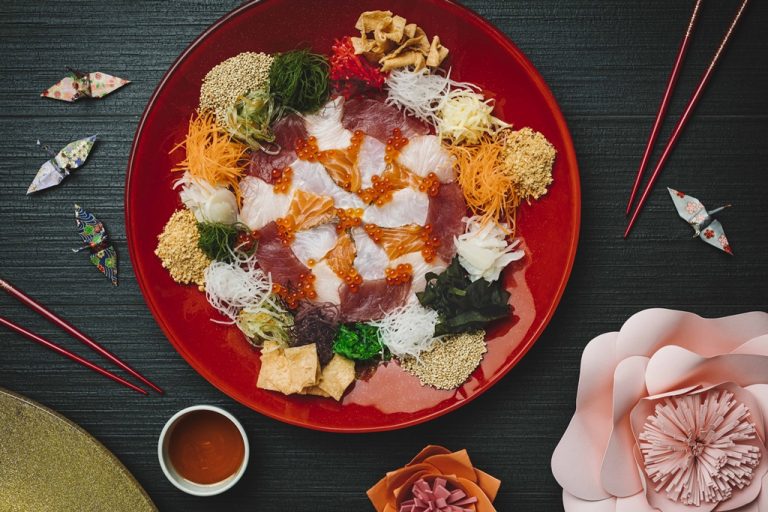 Marina Bay Sands
Guests who are keen to celebrate the Lunar New Year with front row seats to a dazzling view of the river and the CBD district can simply opt to dine at one of the many fine-dining establishments at Marina Bay Sands' signature and celebrity chef restaurants with bountiful feasts and special renditions of yusheng!
From 24 to 27 January, db Bistro & Oyster Bar will be offering a special decadent King Salmon and Hamachi Lo Hei ($18++ per pax; minimum 2 pax) as part of it's Lunar New Year offerings!
For the true sashimi lover, KOMA has spared no expense in its modern interpretation to a traditional Chinese New Year fare, as the Japanese restaurant and sushi bar presents two types of lo hei to usher in the Year of The Rat from 18 January to 2 February. The KOMA lo hei ($138++) consists of a generous seafood spread comprising of maguro, hamachi, with sake (salmon), Tai (sea bream) and ikura. However, for guests who want to go all the way to treat themselves and their family members, they can indulge in the KOMA signature lo hei ($588++) which will see the addition of fresh awabi (abalone), fugu (pufferfish), and a whole fish's portion of Kodai sashimi(baby sea bream).
Finally, guests can take to the skies to enjoy a memorable reunion dinner with an unbeatable view at LAVO Italian Restaurant & Rooftop Bar from 23 January to 8 February. The restaurant's festive specials include their Longevity Lo Hei ($28++ per pax), consisting of an elegant platter of abalone, smoked salmon and hamachi.
Orchard Hotel Singapore
Toss to a greater year with award-winning Hua Ting Masterchef's creation, the Prosperity Yu Sheng featuring Salmon Belly with Organic Vegetables and Wolfberries. ($88 for small and $148 for large).
A modern culinary staple in Chinese cuisine, wolfberries have been used in traditional Chinese medicine for thousands of year. The highlight is the use of specially imported Crystal Ice Plant, best known for its crunchy texture accompanied by other Organic greens to make this a healthy and appetizing Yu Sheng.
Raffles Hotel Singapore
Since reopening its doors for the first time last year after its long term refurbishment, the iconic Raffles Hotel stands ready to host and entertain their guests who are visiting the luxurious hotel to celebrate the Lunar New Year with their families over a heartwarming reunion dinner.
A special array of festive delights awaits guests at 藝 yì by Jereme Leung this Lunar New Year from the 10th January to 8 February 2020. Celebrate the year of the rat with a high toss and a loud cheer of "huat ah" acclamation with the Prosperous Yu Sheng! The Yusheng comes with a choice of either smoked salmon ($168++) or live lobster ($198++) that is topped off with a special Yunnan rose dressing specially created by Master Chef Jereme Leung.
Singapore Marriott Tang Plaza Hotel
Wan Hao Chinese Restaurant has come with one of the most decadent Yushengs for the new year festivities! Their Lobster, Scallop, Salmon, Alaskan Crab, Caviar and Crispy Fish Skin Yu Sheng with Passionfruit Pearls and White Peach sauce ($268) is one of the most grandiose dishes that customers will be able to experience if they decide to go all out for the best Yusheng dish that money can buy!
For customers who prefer a less loud dish, the Yusheng can be scaled down to a more conventional option such as the Mini Abalone and Crispy Fish Skin Yu Sheng (Large: $158nett, Small: $88nett), or the Smoked Duck Breast and Crispy Fish Skin Yu Sheng (Large: $128nett, Small: $68nett).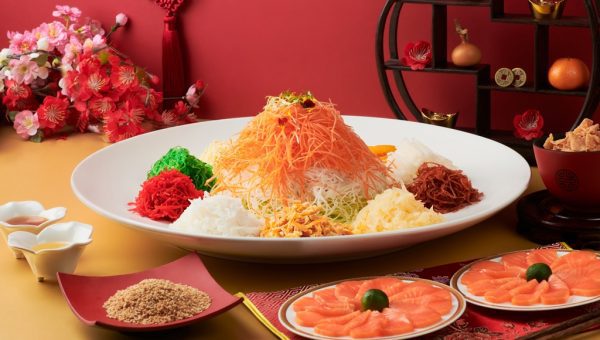 St Regis Singapore
Yan Ting, St Regis Singapore's premier authority on Cantonese cuisine, has come up with its own take on a typical Yusheng- it's signature Prosperity Yu Sheng with Norwegian Salmon. ($78++, $118++) Topped with a generous portion of the Nordic delight, the platter features pomelo, peaches, carrots, white radish, cucumber strips, dried orange peels and snow pear. The platter is then drizzled with an alluring combination of Chef's secret signature sauce comprising of fermented beancurd sauce, mayonnaise, garlic, and alongside a sweet plum sauce, passionfruit, orange and apple sauce. To increase the decadence, customers can opt to add on an additional portion of ten-head abalones. ($188++, $298++)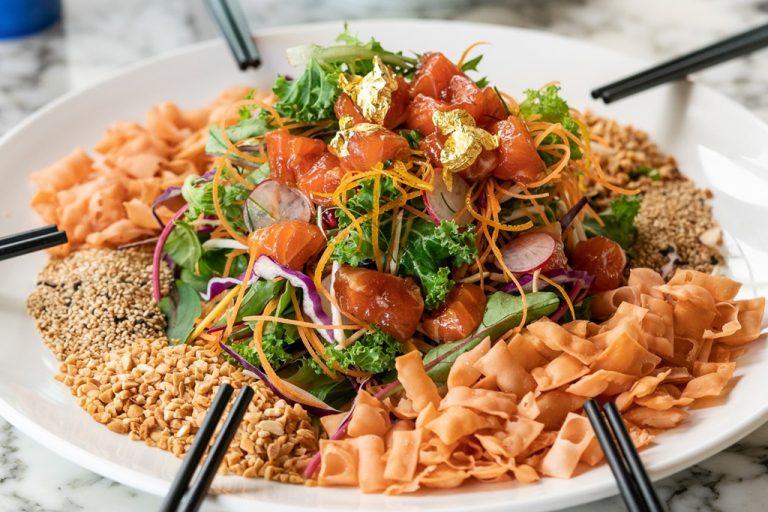 Chopsuey Cafe
Chopsuey Cafe has come up with a healthier alternative of a typical Yusheng, the Chopsuey Lucky Lunar 'Lo Hei' ($28++ for half portion, $48++ for full portion). This healthy variation of Yu Sheng replaces the conventional ingredients with a bout of fresh trout, kale, celeriac, sprouts, red radish, blueberries and wild rice. This is followed by a perfectly balanced homemade dressing combining fresh calamansi, lemon juice, plum sauce, marmalade and Japanese vinegar. This healthier alternative will prove to be a boon for customers who prefer a less sweet tasting Yusheng or prefer something other than salmon to go with their Yusheng.
The Yusheng is part of a specially curated two set menus for 4-6 people at $68++ per pax and 7-10 people at $88++ per pax. Customers can look forward to wholesome dishes such as Young Coconut & King Prawn Soup, Tamarind King Prawns, Crispy Cod with Chilli Garlic Sauce, Fried Chicken Rendang, Crispy Orange Beef Rib and Chef's Wok-fried Claypot Rice.
Din Tai Fung
Recognized worldwide for their signature Xiao Long Baos and dim sum creations, Din Tai Fung is joining in on the Yusheng tradition with its signature Prosperity Smoked Salmon Yusheng ($32.80, $48.80) with a taste from the land of smiles with its new Abundance Thai Dressing. The new in-house Thai-inspired sauce consists of Thai Chillies, roasted peanuts and topped off with lime and nuts giving it a robust sweet and sour flavour with just a mild hint of spiciness and an umami kick when drizzled atop the YuSheng.
Additionally, customers will get to bring home a pack of eight pieces of Din Tai Fung's limited edition Red Packets with minimum spending of $68 at any of their outlets except for their Bedok Mall outlet.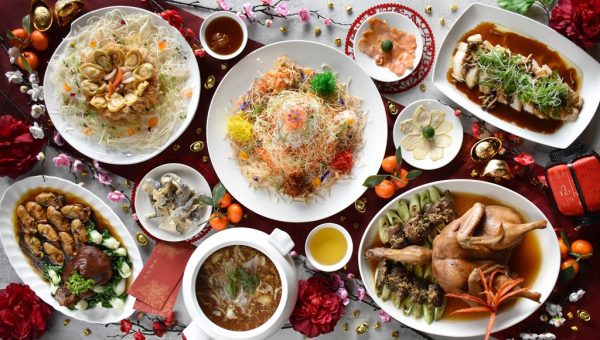 Mimi at The Riverhouse
Mimi restaurant aims to ring in the new year with an enticing offering of their Mimi Prosperity Akagai Yu Sheng ($48 for small, $88 for large) that is filled with premium ingredients such as Akagai ark shell clams, deep-fried yam, pickled red ginger and winter melon, pomelo, deep-fried salmon skin, truffle oil and yuzu dressing. To further add on to the prosperous occasion, guests can add abalone to their Lo Hei toss at a top-up of $10 for a truly 'huat' time.
The Yu Sheng will be part of the restaurant's Lunar Soirée that features three festive set menus: Set Menu A ($68++ per pax for four to six), Set Menu B ($88++ per pax for six to eight), and Set Menu C ($108++ per pax for eight to ten). Some of the dishes in the menus include Mimi's Signature Roast Duck, Salmon Sabayon, Truffle Fried Rice & Scallops, Abalone Pork Trotter, Herbed Sea Bass just to name a few.
Paradise Group
Paradise Group has prepared a delicious Yu Sheng which is available for dine in at either Beauty in The Pot, Paradise Dynasty, Canton Paradise (excluding Changi Airport T3 and Westgate outlets), Paradise Classic, Paradise Hotpot, LeNu ( The Seletar Mall and Funan) outlets.
The group's Prosperity Abalone Yu Sheng ( $46.80/ 8 pax dine-in and takeaway; $66.80/ 12pax dine-in only) which serves 8 guests includes a can of abalone and a medley of vegetables prepared daily in the kitchen accompanied with exclusive recipe tangy plum sauce. A perfect dish to kickstart your festive mood.
Unagiya Ichinoji
Treat yourself to a one of a kind reunion dinner with Unagiya Ichinoji's Unagi Yusheng with Crispy Udon ($88++). This Japanese style Yusheng features the restaurant's signature grilled unagi, impeccably glazed with a special in-house tare whose recipe has been passed down for generations.
The Unagi has a crisp exterior and tender on the inside. The Yusheng is then topped with cripsy udon which is made by udon specialist Udon Kamon along with takuan, shredded cucumber, carrot, radish, purple cabbages, pickles, chuka karrage, ikura, ebiko, yuzu peels and pork floss.
Yun Nans
One of the world's largest oriental F&B chains has also come up with its own take on Yusheng with its Prosperity Salmon Yu Sheng ($40.80/6 pax, $58.80/10 pax) and Prosperity Abalone Yu (S$68.80/6 pax, S$88.80/10pax). The vegetables will come in the shape of rats so as to pay homage to this year's zodiac sign before being lathered with the sweet plum sauce and fresh seafood before tossing around the dish with a jubilant display while screaming out every single Chinese blessing one's mind can conjure.