The Whiskey Library: An Enclave Of Recherché and Extraordinary Whiskies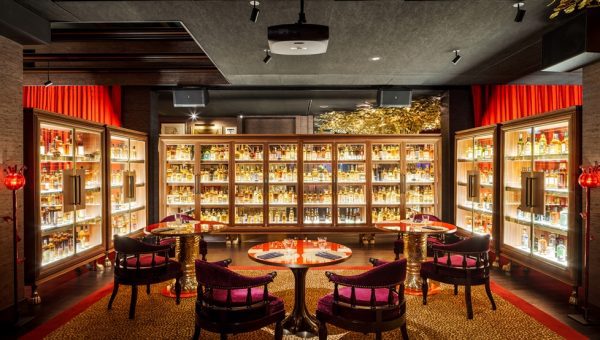 As the demand for high quality and rare whiskies are on the rise in Singapore, The Whisky Library is a 75 seat new sanctuary for whiskey aficionados. Entrenched within the ornate and luxurious interior of The Vagabond Club, one of Singapore's distinguished luxury boutique hotel with 41 individualistic and elegantly decorated rooms and suites, the Whiskey Library offers over 1,000 bottles of ultra-rare award-winning whiskies from all over the world, and comes with a Membership Programme to bedazzle guests with a love of whiskey and give them access to the captivating vagabond experience.
Each bottle at The Whiskey Library has been carefully collected from the finest distilleries from Scotland, Ireland, Japan, the US and other countries around the globe, with the collection predominantly comprising of single cask and limited-edition bottles. Just as with a great literary work, each bottle is a unique piece of art that stirs the imagination, captures the mind and revitalises the spirit.
The man behind The Whiskey Library is luxury hotelier Satinder Garcha. Motivated by his love and passion for artistry, Garcha has spent two years bringing his dream to reality. The display cases housing the whiskey collection and other craft spirits are designed and hand-crafted by a local woodsman Mr Ng – who is one of the few remaining craftsmen in Singapore who continues to create unique furniture pieces. Specifically designed to enhance the elements of the hotel, the cases feature brass claw feet to complement the similarly brass Allahbuksh-designed Rhino reception desk.
With The Vagabond Club's Membership Programme, guests who sign up will enjoy 10 nights at The Vagabond Club (fully transferable) as part of the S$3,000 annual membership fee.
Members will also have privileged access to 80 whisky lockers, each having its own gilded and tasselled key, reminiscent of a bygone era of old world charm and hospitality, kept on-site in a specially designed wood-crafted armoire placed in a private space at The Vagabond Club's salon.
Each locker will be able to store up to 15 bottles of whiskey. Members can bring one of their own bottles from home for every two bottles purchased at The Whiskey Library. Members will also enjoy special prices, access to the Vagabond Club gym, and reserved seating at regular Whiskey Club events and experiences.
Bespoke elements such as artisanal ice and an international selection of the finest cigars, together with the extensive collection of whiskeys, bourbons, and other crafted spirits bring a truly complete and unique experience to guests of The Whiskey Library.
The Whiskey Library is located at The Vagabond Club, 39 Syed Alwi Road, Singapore 207630
For more information and reservations, please visit www.hotelvagabondsingapore.com