Top 5 Snowskin Mooncakes You Wouldn't Want to Miss this Mid-Autumn Festival 2017
CONTENT: Yiew Kai Jie, Michelle Ng, Andrew Kho
Into the fourth year of our special mooncake feature series, this year, many establishments upped their game by introducing new interesting flavours for both the traditional baked mooncakes as well as the delicate snowskin creations. Their pretty and multifunctional packaging has made it an irresistible choice for consumers to purchase for personal consumption or as a gift to impress your family or clients.
We tried and spend days trying out numerous mooncakes that were submitted to us and now let us lead you through the Top 5 brands that made it to our list of Best Snow-Skin Mooncakes for you to try this year.
Snowskin Mooncakes Category
Yan Ting, The St Regis Singapore ( New Entry) – "Luxe Society Editor's Choice"
Making its début on our list this year, Yan Ting debuts their own Champagne Truffle with Chocolate Paste to win out the top spot in the snowskin category. Other new creations include a Green Tea Paste with Almond Flakes, Six Course Grains Paste, and a healthier choice of Reduced Green Apple Paste with Macadamia Nuts, Their mooncake box comes in a beautiful circular box covered in yellow silk, which symbolises prosperity and power. It makes a pretty good jewelry or watch holder once you've gorged yourself on all the mooncakes.
What we liked most:
We tasted many, many champagne infused mooncakes to find the best one, and we have to admit that Yan Ting won out the rest. Debuting in it's snowskin collection this year is the Champagne Truffle with Chocolate Paste. The champagne, with hints of truffle, pairs well with the bittersweet chocolate filling, nad comes wrapped in a black sesame skin. The mooncake comes dusted with gold for a luxurious touch, and totally Insta-worthy.
St Regis Mooncakes are available for sale at Yan Ting restaurant (Level 1U) and La Pâtisserie (Lobby Level), from 21 August till 4 October 2017, daily from 10am – 10pm. Please call 6506 6852/ 9488 2741 or email yanting@stregis.com for mooncake orders or further enquiries.
1. Hua Ting, Orchard Hotel Singapore
Retaining the second spot from last year, Hua Ting's snowskin mooncakes are always a wonder to behold, with striking colors and simple, yet interesting flavors. This year sees the début of a new flavor: Cempedak with Mung Beans. While the box that the snowskin mooncakes arrives in is more functional than it is aesthetic compared to the other boxes it can be reused as a hard case to store things as it even complete with a zipper. The leatherette gift box comes in a deep, resplendent red and decorated with Oriental illustrations, making a presentable and useful gift.
What we liked most:
The White Lotus With Champagne Ganache was our favourite . The chocolate core gave way to a mouthful of delicious bubbly that will have you slowly savouring each mouthful. Last year's favourite, Blueberry with Vintage Hua Diao Wine, also makes a comeback this year.
Orchard Hotel Mooncakes are available for sale at Orchard Hotel Lobby Kiosk. Please call 6739 6577 or email mooncake.ohs@milleniumhotels.com for mooncake orders or further enquiries.
2. Li Bai, Sheraton Towers, Singapore
Li Bai is one of the few trusted brands when it comes to fine chinese dining but during Mid-Autumn festival, they are also known for their exquisite snowskin and baked mooncakes.
What we liked most:
Snowskin Mini White Lotus Seed Paste with Strawberry Sea Salt Truffle $60 per box (8pcs):- A brand new flavour created for Sheraton's 2017 snowskin collection, a single bite into this mooncake will slowly and smoothly break apart in your mouth. An extremely tangy strawberry flavour awaits your taste buds while the seed paste in the mooncake prevents the mooncake from becoming too sweet. Snowskin Mini White Lotus Seed Paste with Lychee Martini Truffle $60 per box (8pcs):- Providing an escape into a mini-alcoholic treat, the burst of flavor from the inside will ensure that your craving for liquor will be satisfied without having to open carry any bottles in front of your relatives.
For orders and enquiries, please call 6839 5636/5623 or email mooncake@sheratonsingapore.com. For corporate orders, please email directly to kolin.koid@sheratonsingapore.com.
3. Grand Hyatt Singapore
Grand Hyatt made their début on our list last year and this year they have maintained a good spot rounding up the Top 3 spot of on our list. Uniqely handmade, their traditional and miniature snowskin is a crowd favourite during mid-autumn especially for their snowskin. Their mooncake packaging this year resembles last year's square-shaped pattern and material except that this year they focused on flowers accents as compared to last years hexagon shapes.
This year, Grand Hyatt is bringing back all the flavours from last year including the favourite Black Sesame Buddha's Hand Truffle.
What we liked most:
Lychee Martini Truffle, Violette & Tanqueray No. TEN Gin and the Strawberry Lime Tequila Truffle are our favourites which are bursting with flavour and you really could taste the Gin, Martini and Tequila with each bite yet it is still refreshing and flavourful.
To purchase Grand Hyatt Singapore mooncakes please call the retail hotline +65 6887 5492 (between 11:00am to 10:30pm) or visit the pop-up stores in Vivo City, Ngee Ann City and Chevron House.
4. Man Fu Yuan, Intercontinental Singapore
Man Fu Yuan, being one of Singapore's finest Chinese restaurants and one of the most sought after especially when it comes to their traditional baked mooncakes, but through the years they had also joined the wave in creating unique snowskin flavours for everyone to enjoy. This year they have launched their Garden Themed Snowskin Mooncakes which is shaped and presented in a flower form.
Each box contains each of the following flavours, Roselle and Red Date, Rosemary, Lavender, Almond and Green Tea, Rose and Pistachio and Pandan and Macadamia Nuts
What we liked most:
Roselle and Red Date, very traditional Chinese flavour, unique idea of using Red Date, surprisingly the taste is good! We are perfectly sure that the adults would surely love this flavour. The Rosemary, Lavender, Almond and Green Tea is another unique combination and surprisingly is a good not to sweet flavour, the combination of Green Tea and Rosemary balances out the flavour in this mooncake this makes it enjoyable for young adults to indulge as well as to those green tea lovers as well.
InterContinental Singapore, Man Fu Yuan's luxurious mooncakes are available at the Tea Hut, entrance of InterContinental, Singapore from Bugis Junction, and at retail booths located in shopping malls island-wide. For online purchases, please visit www.singapore.intercontinental.com/festive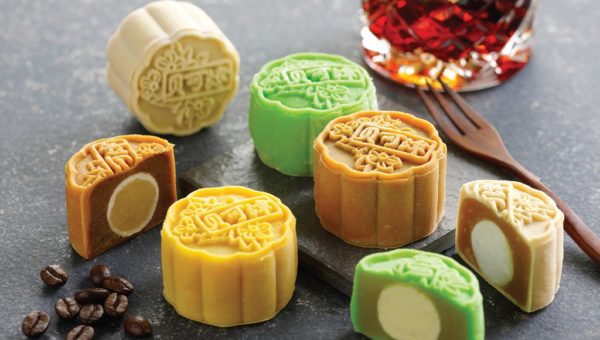 5. Bakerzin
Bakerzin has come up with mooncakes that imparts both traditional classics and modern snow skin favourites made with a touch of finesse from premium ingredients. Each mooncake has been delicately handcrafted with low sugar lotus paste, so that all health conscious foodies and mooncakes lovers out there will be able savour every cherished masterpiece without worrying about empty calories or putting on weight over the lunar month. (S$60.00- 8 pieces per box)
What we liked most:
Prepare to lose yourself in the milky goodness of Baileys paired beautifully with the inner velvety treat of a rich butterscotch filling with the Butterscotch Baileys Snow Skin while the first bite into Coconut Liqueur Snow Skin mooncake will instantly light up your taste buds with the essence of coconut liqueur flooding through your mouth. Close your eyes and enjoy the sweet taste and texture as it melts in the mouth with every bite.
Bakerzin 2017 Crème De La Crème Mooncake Collections is available for online order at www.bakerzin.com/mooncake or at all Bakerzin and Nom La La by Bakerzin outlets in Singapore.