Trailblazing Cocktail Bar Maison Ikkoku Launches A New Local Concept 'Sling'
CONTENT: Yiew Kai Jie
Maison Ikkoku, one of the few pioneer cocktail bars in Singapore will be celebrating the best of Singaporean and Peranakan cuisine with the imminent launch of its new establishment Sling! With the aim to revitalize the sole cocktail that Singapore is known globally for, internationally recognised Singapore Sling for a new generation, Sling will introduce an all-natural craft cocktail menu that showcases their innovative interpretation on the classic Singapore Sling alongside with their spin of irresistible artisanal local cuisine.
Widely regarded as the nation's national tipple, the Singapore Sling was first created in 1915 by Hainanese bartender Ngiam Tong Boon. The cocktail has since garnered local and international recognition through its historical significance and distinct flavours. Using all-natural craft ingredients from the region, the founder, head mixologist and chef at Maison Ikkoku, Mr Ethan Leong, has curated five distinctive interpretations of this iconic cocktail that will suit the modern palate.
Inspired by Singapore's kampong days in the early 1900s, the Coco SLING ($28) involves the whole cocktail being served in a roasted coconut and topped off with young coconut foam. Served with a glass straw, guests will go coco for this sweet yet slightly sour cocktail with a smoky scent due to the coconut being smoked- perfect for guests who have a sweet tooth or have a profound love for coconut!
For customers who prefer a more traditional tipple, the Original SLING ($26) has been crafted with the classic London Dry Gin with its distinct juniper berries notes, Cherry Heering, Bénédictine D.O.M, Cointreau, Angostura Bitters, homemade fresh Grenadine with fresh pineapple and lemon foam for a perfectly balanced concoction. The combination of flavours results in a fruity mixture that dances on the tongue with distinct notes of pineapple and a mild sweetness that will make this drink go smoothly down the throat.
The spirit-forward interpretation 1819 SLING ($25) is a homage to British Governor Sir Stamford Raffles, then Lieutenant-Governor of Bencoolen, who developed Singapore as a port for the spice trade and who had an avid interest in botany. The tipple includes Giffard premium pineapple liqueur which adds sweet, faint vanilla notes that are balanced by delicate cinnamon, peppery spice and light citric acidity.
The Majulah SLING ($25) is inspired by Singapore's Independence in 1965. This old-fashioned take on the timeless tipple uses the addition of Campari, resulting in a bitter, dry cocktail with herbaceous notes – a homage to the nation's robust spirit that managed to overcome the arduous challenges during its independence.
The SLING-a-pu-ra ($26), emphasises the tropical heritage of Singapore and pays tribute to the lush greenery and wildlife in Singapore's nature reserves. With the addition of passion fruit and fresh pandan, lemongrass, ginger, kaffir and calamansi, this well-rounded easy-to-drink tipple is fruity, refreshing and well-balanced.
Complementing the locally-inspired cocktails, Sling has also come up with a food menu with a Peranakan influence that features some of Singapore's most popular and iconic dishes.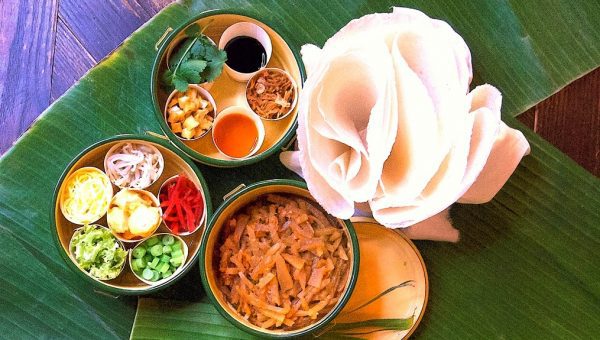 One of the highlights from the sharing plate offerings includes a traditional D.I.Y Popiah available in a Vegetarian ($36), Sweet Pork ($39), and Crispy Prawn ($49) option. Presented in traditional Tingkat containers, each tier opens to reveal four homemade popiah skins, plant-based stewed turnip and carrots, long beans, eggs, coriander, shallots, beansprouts, tofu, roasted sesame seeds and other ingredients depending on the ingredient that guests have chosen. Innovative placards will be given to the guests in order to guide them through the wrapping process comes with the dish, acting as an interactive conversation piece. While the addition of the succulent prawns and juicy sweet pork are certainly welcomed, the price of the dish leaves rather a LOT to be desired as the portion of the Popiah is rather small for the high price.
Taken from Ethan's grandmother's secret cookbook, the Turmeric Chicken ($28) contains lean pieces of chicken fillet slowly simmered in ginger, lemongrass and turmeric, to form a flavourful curry best paired with Nasi Biru ($3) – Japanese pearl rice with blue pea flower and lemongrass essence. Guests are highly recommended to order the Nasi Biru especially if they are ordering other rich dishes on the menu such as the Babi Hitam ($39) and Rendang ($45) as the rice will be able to balance out the richness of the dishes while providing a fragrant aftertaste on the palate.
One of the highlights of the new menu includes the Hey Mee ($38 for half lobster, $48 for full lobster), an enhanced version of a classic plate of Hokkien noodles stir-fried with homemade pork lard alongside an Asian rock lobster and using the lobster broth. Their method of cooking results in an extremely delicious mouth-watering wok-hei filled dish stir-fried with homemade pork crackling and crowned with a half or full baked lobster. The lobster is then flambéed tableside for an Insta-worthy shot for that extra show of flair for their guests!
To end the meal on a sweet note, guests can indulge in Sling's singular dessert offering of Kueh Dadar ($16) that includes a freshly made French-style pandan crêpe, homemade young coconut espuma, toasted coconut shavings and a shot glass filled with sweet gula Malacca syrup.
*The new level-one space of Maison Ikkoku will be fully converted into Sling on 17th February 2020 while retaining its art gallery that will be filled with Singaporean-inspired paintings.
Sling is located at 20 Kandahar St, Singapore 198885.
SLING is open daily, 11.30am – 2pm and 6pm – 10.30pm on weekdays and 11.30am – 10.30pm on weekends and public holidays.
SLING does not accept reservations, only walk-ins. For more information, please call: +65 6294 0078.