Twelve Grand Christmas Feasts to Soak into the Yuletide Spirit
CONTENT: Yiew Kai Jie
As Christmas is descending upon us, It's time to get your stocking out of the deepest part of your closet and practice singing 'Silent Night' again while you start preparing that giant butterball for your annual Christmas family dinner. But instead of going through hours of tedious preparation, why not bring your family out for a delicious and fuss-free Christmas feast? From top tier hotels to rooftop eateries to casual restaurants, here's our curated list of restaurants for you to have fun and be merry over this festive season.
1: St Regis Singapore
Revel in the magic of Christmas at The St. Regis Singapore with its extensive line-up of exquisite culinary buffers for convivial year-end celebrations at their award-winning dining establishments – Brasserie Les Saveurs, LaBrezza and Yan Ting.
Start off the festivities with the hotel's Epicurean Lunch Buffet ($58++ per pax) from now until 2 January 2020 which features the likes of Navarin of Lamb which consists of a French lamb stew packed with nutritious greens, Seafood Bouillabaisse Parcel, Stuffed Calamari with Capsicum Ragout and Pork Sausage Cassoulet. The hotel also has a Seafood Dinner Buffet ($98++ per pax) from now until the 28th December on Fridays and Saturdays that promises a gratuitous amount of seafood delights and appetisers. Highlights include classic French seafood fares consisting of Beef Cheek Bourguignon with Pearl Onions and Mushrooms and Moules Marinières, alongside splendid desserts like Earl Grey Gateaux de Voyage and Paris-Brest.
For those who are looking to go all out for their friends or family in the name of the Christmas Spirit, the hotel has an exclusive Christmas Eve Dinner ($328++ per pax) that showcases an exquisite gourmet feast while guests get to bond with their loved ones over a piece of Foie Gras or a slice of turkey. The menu promises scrumptious highlights such as Salt-crusted Salmon with Saffron Beurre Blanc, a Christmas staple of Roasted Turkey with Chestnut Stuffing, Cranberry Sauce and Giblet Gravy, Grilled Boston Lobster with Garlic Parsley Butter and a festive Glühwein Nitro-sorbet along with a myriad of enticing dessert options – log cakes, fruitcake, Spiced Amandine Tart, Lemon & Hazelnut Tart and Assorted Christmas Macarons.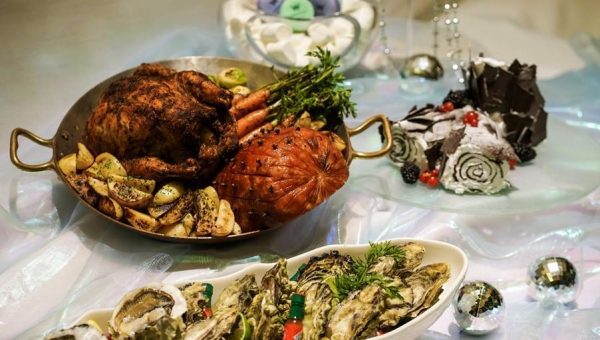 2: W Hotel Singapore
Located in the secluded enclave of Sentosa Cove, W hotel has come up with a formidable line-up of festive feasts and celebrations. Guests can treat themselves to a feast at their award-winning steakhouse SKIRT as they dig into a special Festive Grazing menu ($88++, additional $38++ for wine pairing) that consists of Pan-seared Scallops, Blistered Padron Peppers before diving into a choice of Grilled Half Side Salmon or Slow-Cooked Venison Tenderloin. Alternatively, guests can come together for the yearly family feast at The Kitchen Table's Christmas Eve Dinner ($138++, $178++ with alcohol) or to celebrate Christmas early with a scrumptious Christmas Day Brunch ($168++, $228++ with alcohol) as the kitchen will prepare their own take on festive favourites such as Roasted Whole Turkey, Spiced Honey-baked Ham, Yorkshire Pudding and Perigord Truffle Jus, to local renditions like Singapore Chilli Crab with Crisp Fried Mantou.
3: Publico Ristorante at Intercontinental Robertson Quay
The popular Italian restaurant has focused on a theme, named "The Feast of the Seven Fishes" which features an astounding lineup of mouth-watering seafood dishes to feast into all night long.
The restaurant's monthly spit grill will be undergoing a festive revamp as grilled river prawns will be freshly prepared in the outdoor terrazza area to get diners dancing into the tune of the festive mood. The restaurant has also prepared a Christmas Eve Dinner that features hearty seafood offerings such as oysters, scallops, tuna and swordfish just to name a few that can be topped up with a free-flow alcohol promotion as well. To further add on to the Christmas festivities, guests can opt for a Christmas Day Brunch that is sure to delight and entertain their friends and family. Enjoy the bounty of the sea with a whole sea bream fish being roasted on the spit alongside other festive favourites such as a maple-glazed turkey and Prime Rib Beef.
4: Intercontinental Bugis Singapore
InterContinental Bugis Singapore is introducing 'A White Christmas' this festive season, taking its inspiration from yuletide adventures from the wintery Christmases of the Nordic region.
Guests can take part in delectable feasts at the European powerhouse Ash and Elm from now until 31st December. One of the highlights of the various feasts is it's Festive Sunday Champagne ($98++ per adult) that features the finest produce flown in exclusively from the Nordic states such as Nordic cheeses, Skagen Salmon and Braised Beef Short Ribs with Winter Root Vegetables.
Take delight in a convivial gathering with loved ones over choice European gourmet presentations at Ash & Elm, savour a tête-à-tête over Afternoon Tea in the charming setting of The Lobby Lounge, imbibe on a midwinter cocktail delight, Joyeux Noel at Idlewild, and marvel at handcrafted festive gourmet takeaways perfect for lavish Christmas gifts and feasts.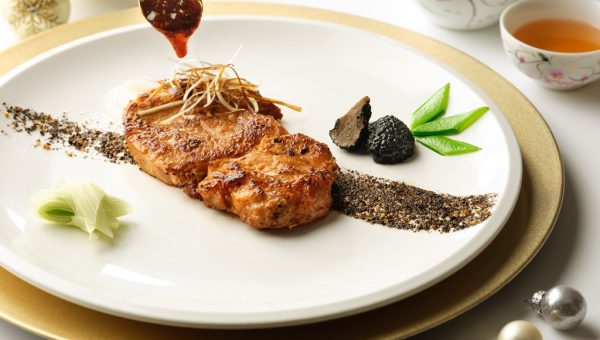 5: PARKROYAL At Kitchener Road
PARKROYAL on Kitchener Road is getting into the holiday spirit with scrumptious seasonal dine-in specials coupled with the highly anticipated reopening of their main restaurant Spice Brasserie on 12th December 2019- just in time for their Christmas promotions.
The hotel's Festive Buffet ($52++ per pax) will see a spectacular spread of Christmas classics such as a Traditional Roast Turkey, a creative and modern interpretation of Bone-in Gammon Ham with Ginger and Sarsi Glaze and Roast Duck with Burnt Tangerine Sauce, along with a bountiful Asian street food spread featuring Korean Seafood Pancakes and Indian specialities.
The hotel's iconic Chinese restaurant Si Chuan Dou Hua will be serving a Festive Premium Selection for Guests who want to celebrate Christmas with an oriental twist. Highlights from the menu include Roasted Turkey, Flatfish in Osmanthus Sauce with Fresh Fruit, Assorted Mushrooms and Jelly Fish, Pan-fried Kurobuta Pork in Truffle Oil; Double-boiled Abalone with Sea Whelk and Conpoy; and Spiky Sea Cucumber stuffed with Minced Sakura Shrimps.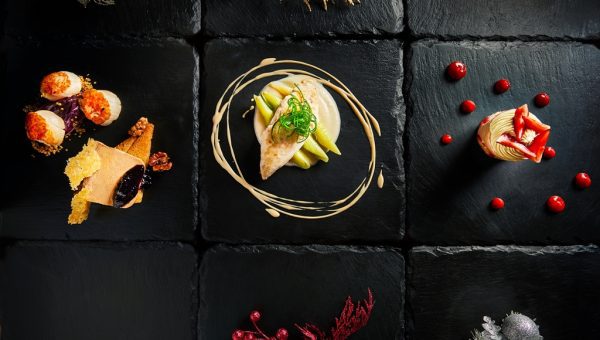 6: SO Sofitel Singapore
SO Sofitel Singapore has come up with several festive promotions in order to provide the best experience to their guests while basking in the jovial mood of Christmas. During the day, the culinary team behind Xperience Restaurant have curated a festive dinner menu to get guests into the holiday mood. The four-course set dinner menu ($88++ per pax) will consist of smoked salmon and marinated red Cabbage served with spicy horseradish and condiments, followed with a homemade tagliatelle with Maine lobster, cherry tomato confit and basil sauce. Dig into a guinea fowl with honey glazed baby carrot and reduced rosemary jus, and end the evening with a delicious 68% dark chocolate log with vanilla creme al'anglaise and cranberries in the compote.
Apart from the food, the hotel is also offering a 12 cocktails of Christmas promotion at its 1927 Rooftop Bar in order for guests to take the edge off and relax from the crazy rush from doing their last-minute Christmas shopping. Guests can start the night off with a stiff drink, The Nutcracker ($24) features a concoction of cinnamon-infused Espolon tequila, cinnamon sugar, a dash of lemon juice topped off with apple cider. Should guests prefer something with more pizzazz, the Festive Fizz ($24) made with Becherovka, a splash of lemon juice, yuzu puree, and topped with Cinzano Prosecco promises a bubbly good time all night long.
7: Six Senses Maxwell
The newly opened Six Senses Maxwell is offering a range of sumptuous yet sustainable and healthy food options for guests to enjoy with their family in order to bring about the festive cheer during the Christmas season. Cook & Tras Social Library and Six Senses Brasserie have come up with three-course Festive Set Menus that are available for both lunch ($38) and dinner ($80) at both restaurants. The menus offer scrumptious Southern European delights such as Three Beetroot Salad, Festive Turkey Breast with Chestnut Stuffing and a Festive Sharing Board with a selection of six mouth-watering desserts.
Other additional enticing Christmas feasts are available at Six Sense Brasserie including it's Christmas Eve menu ($108++ per pax), Christmas Day Brunch ($78++ for two pax) and its exclusive New Year's Eve menu ($202++ per pax)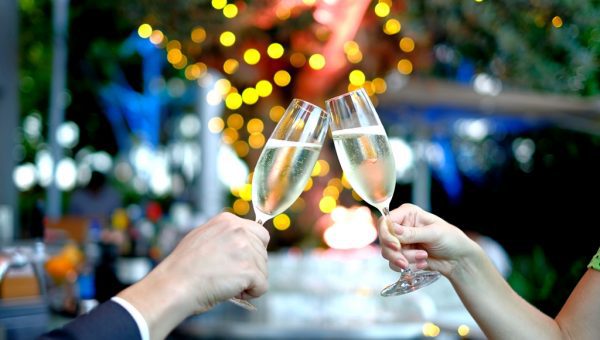 8: Artemis Grill
Staying true to its reputation for providing gastronomical dining experiences with a view of the CBD district, Artemis Grill is offering guests new dishes for the festive season. For the month of December, guests can tuck into festive specials such as a 1.1kg Bone-In Ribeye "Cote de Beouf" with chimichurri and violet mustard, a grilled 400 gram whole turbot with sauce vierge, crushed potatoes and basil, or Iberico Pork 'Secreto' served with cauliflower puree, marinated prunes and smoked shallot. Finish off the meal with desserts such as the sinfully satisfying traditional Mont Blanc, made with chestnut, pumpkin cremeuax and milk chocolate.
Apart from the festive menu, Artemis Grill is offering a special New Year's Eve menu over two seating options, an early seating (from 5.30pm to 6.30pm) with a four-course special menu with plentiful options for $148++ per person, while the latter 8.30pm seating inclusive of a cocktail or champagne at $188++ per person.
9: Orchard Hotel
Being one of Singapore's prominent hotels in the Orchard area, Orchard Hotel has kickstarted its festive celebrations with its swanky decorations, with the biggest eye-catching feature being the Royal Swan Festive Goodie House located right smack in the middle of the lobby. The goodie house is filled with various assortments of Christmas snacks and decorations for guests to bring home to spruce up their houses or share the cookies with their loved ones while listening to charming Christmas carols.
Apart from the festive house, the hotel has come up with several Christmas-themed feasts for customers to revel in the festive mood with their friends and families. The Orchard Cafe will be having its special Christmas Eve Dinner ($128++), Christmas Day Brunch ($108++) and its weekly festive Sunday Brunch ($98++). Highlights from the feasts include freshly shucked Irish and Canadian Oysters, freshly sliced sashimi, US Ribeye steak, Honey Baked Gammon Ham, Pan fried Foie Gras, Singapore Chilli Crab with Szechuan bun and Oven-roasted Whole Turkey.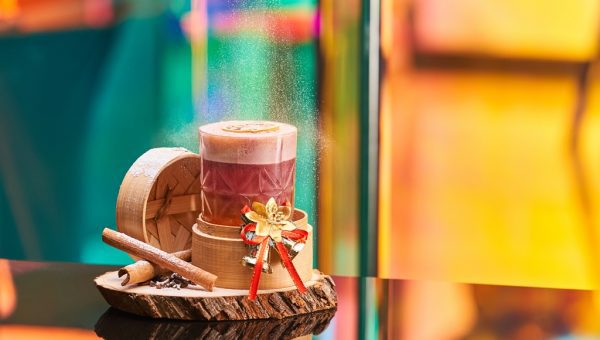 10: Mitzo Restaurant and Bar
Mitzo Restaurant and Bar is well known for its modern take on Cantonese dishes while pairing their food with specially curated cocktails for the occasion by its award-winning bar. Available from now until 1 January 2020, this festive menu showcases Chef Nicky's emphasis on quality ingredients and execution, while retaining the authenticity of Cantonese dishes. The festive set menu ($88++) consists of dishes such as Pumpkin & Scallop Soup with Caviar, Mitzo's Festive Wagyu Beef Cheek, Black Pepper Turkey Fried Rice and Coffee & Coconut Granita with Caramel Jelly served with Custard Sesame Pancake. The menu is available for both lunch and dinner with a minimum of two to dine.
Mitzo has also come up with a festive cocktail called Santa's Roots ($18++) made up of ginseng, cinnamon-infused bourbon with mixed with Licor 43, chocolate bitters, lemon juice, goji berry syrup and topped with egg white and pinot noir foam.
11: Ginett Restaurant and Wine Bar
Known for its daily enticing deals and a wide variety of French wines, Ginett is offering its special Festive Group Menu (Group bookings of a minimum of 10 pax at $68++ per pax) from now until 31st December. The menu will include a special festive one-meter cheese board, Charcoal-grilled Prime Rib, Turkey Breast Roulade stuffed with chestnut with roasted brussels sprouts, cranberries, ginger and orange chutney, Truffle risotto with grilled asparagus and Prosciutto wrapped codfish with buttered savoy cabbage.
Apart from their festive set menu, Ginett will offer special a la carte festive items on their menu from 23 December to 31 December. The special mainstays will consist of Sri Lankan crab tartare, compressed watermelon, avocado, pomelo salad ($34++), Roast venison saddle, pistachio crust, parsnip puree, mushroom duxelles, roasted bone jus ($45++) just to name a few.
12: PS.Cafe
The popular homegrown cafe brand has released their new Christmas special menu available from now until 25th December across all their outlets in Singapore. Those looking for a quiet respite from fighting with other shoppers for that last teddy bear on the shelves can take refuge in a range of comforting festive delights.
In lieu of alcohol, guests can sit back, relax and knock back a few Tomato, Lime and Cilantro Oyster Shooters ($14 for two). Alternatively, they can indulge in a creamy delight of Baked Christmas Camembert ($19) that makes for the perfect sharing appetizer amongst friends or for one's own satisfaction.
Other hearty delights involve PS.Cafe's Turkey Dinner ($38), Chargrilled Pork Tomahawk ($36) and Roasted Fillet of Branzino ($35) and a sugary delicacy called P.S Cafe's Burn Rum and Raisin Cheese Cake ($15) that makes for the perfect Christmas dessert to end the meal on a sugary high note.