Un-Yang-Kor-Dai, Singapore's First Restaurant To Focus On Community And Authentic Fiery Thai Food
First to launch the concept in Thailand, the brand is currently the biggest community restaurant in Khao Yai National Park, Thailand
CONTENT: Yiew Kai Jie
Un-Yang-Kor-Dai ('Anything Goes" in english) has launched its brand-new outpost in Singapore! The brand pioneered the concept of a community restaurant in Thailand, and is the biggest community restaurant in Khao Yai. Based on this unique concept in Thailand, Un-Yang-Kor-Dai is a restaurant where people from various communities come together to share their culinary passion.
Un-Yang-Kor-Dai is founded by Panchana Vatanasathien, a lady who used to be a lawyer and an adviser of the Amata Foundation. Driven by a mission and passion to give back to the local community, she launched this concept so that individuals from various backgrounds can have a platform to showcase their love for food and culinary, resulting in many opportunities for exchanges of ideas and experiences among the employees of Un-Yang-Kor-Dai.
She employs people of all ages and treats them all equally regardless of their background or age and tries to help them through difficult times should they be going through them. Her restaurant in Khao Yai employs the elderly so that the restaurant would be able to learn from their tultage and pass on the recipes to the next generation of chefs. Students who are working to pay off their student loans or struggling with debt are paid fairly and sometimes given opportunities to move up in the restaurant.
In keeping with the spirit of the original Un-Yang-Kor-Dai, the Singaporean outpost is a labour of love made by a group of friends who have various expertise in different backgrounds. This eclectic group is made up of a certified engineer; an interior designer; an expert in retail leasing; a F&B operations executive; and a former CEO/COO and managing director of several F&B groups. Bringing to the table complementary strengths, they will work in tandem to make Un-Yang-Kor-Dai a grand success.
Tuck Into a Wide Array of Isaan Cuisine
The 70-seater restaurant specialises in northeastern Thai or Isaan cuisine- the region that is well known for their glutinous rice and use of hot spices in their food. Begin with the Thai Papaya Salad (S$13.50), or Som Tam, an appetiser that has its roots in Isaan. The crunchy leaves are topped with refreshing cubed papaya and succulent prawns. Don't be fooled by this dish, it is one of the spiciest dish on the menu that is sure to overwhelm one if he isn't careful.
It was so spicy that no one man managed to finish the entire bowl and pitchers of water were refilled every five minutes to help them deal with the spice. Move on to the Crispy Spicy Minced Pork Sticks (S$10.90), which are served with their homemade sweet and sour sauce. Each stick is hand-rolled with the right amount of meat and batter, then deep-fried to a golden-brown colour- with a crunchy bite (and once again spicy) finish!
Whetting appetites is the fiery Tom Yum Fresh Prawns soup (with coconut milk) (S$18.90) — the soup is freshly prepared every day, and features generous portions of fresh prawns and oyster mushrooms. Fair bit of warning, do not consume the soup without ordering a portion of their Khao Niew Dum (S$2.00)! A common staple in Isaan culture, known locally as Glutinous Brown Rice or sticky rice, the rice is served in a katip, a handcrafted Thai basket made from bamboo & palm. This dish is usually eaten with hand, and requires one to roll and dip the rice in sauce. However, in this situation, the rice helps to provide balance to the spicy soup and prevent the spice from overwhelming the mouth. Despite the gradual increase in spiciness with every spoonful, it makes one wanting to finish the whole bowl because the spice level will be just right that it will make the soup enjoyable!
The PenLaos Signature Grilled Chicken (Half-S$12.00, Whole- S$21.00) follows a time-honoured recipe from Thailand — the spring chicken is superbly tender and flavourful; the meat is marinated with a mix of white peppercorn and fresh coriander for three days and grilled with a watchful eye as to prevent the chicken from being too dry. While the protein isn't spicy, it is highly recommended that the chicken be eaten with their special homemade spicy sauce for an extra kick!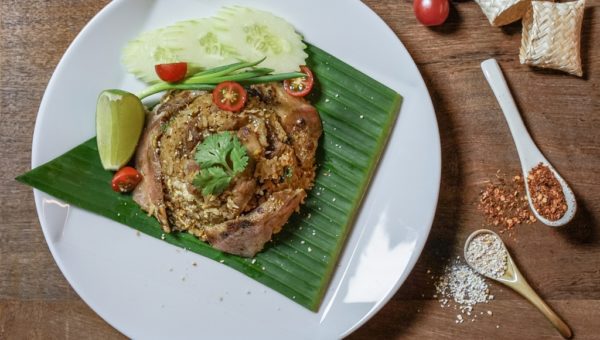 A must-try Isaan dish is the Grilled Pork Neck (S$12.90) that is imbued with a homemade blend marinate. Enlivening the meat is the homemade Isaan Spicy Dipping Sauce that is made up with a trio of tamarind sauce, cilantro and chili powder. While the pork was nicely marinated, it wasn't as tender as one might perceive it to be and turned out to be a little too hard to chew down on.
A glorious sight to behold, the Deep-fried Whole Sea Bass with Premium Fish Sauce & Mango Salad (S$28.00) is filleted before it is deep-fried so that it is easier to cook thoroughly, and it must be eaten together with a scoop of the mango salad for the perfect flavour combination! Like all other food items in this restaurant, the sea bass should be eaten with a slight amount of chilli dipping sauce for maximum enjoyment! (Only if the salad isn't spicy enough for one's taste buds!)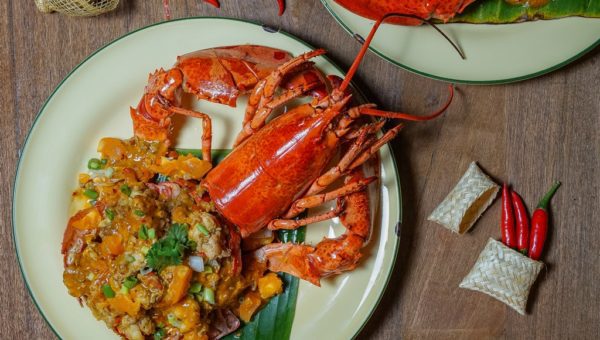 Created for the Singaporean palate, the Stir-Fried Lobster with Salted Egg Sauce (S$78.00) is drenched in a piquant, moreish salted egg sauce. To ensure it's quality of taste, only live lobster is used, hence the meat is fresh and extremely tender when eaten. This is a must-order dish if one is dining with his friends or family. Don't forget that sharing is always caring and the point is driven home harder being that Un-Yang-Kor-Dai is a community restaurant after all.
End off the meal with a sweet note with a choice of their jiggly and sweet Thai Milk Tea Pudding (S$5.50) or a traditional, old-school Sweet Sticky Rice with Mango (S$9.00) dessert. Regardless of which dessert gets picked, it is sure to leave a lasting impression and put out the fire that has been alight in one's mouth for the past hour or so.
Un-Yang-Kor-Dai is located at 57 South Bridge Rd, #01-02, Singapore 058688 (Nearest carpark: The Riverwalk, Great Eastern Building).
Un-Yang-Kor-Dai is open from Tuesday to Sunday, from 11am to 3pm and 6pm to 10pm