Unbox The Best Mooncakes this Mid-Autumn Festival 2018
CONTENT: Luxe Society Asia
It's the month of September, and the time has come for everyone to start the annual process to sift and taste through the countless number of mooncakes from different establishments in order to get their most desired mooncake. This 2018, It's the fifth year of our annual special mooncake feature series, many establishments have upped their game in terms of varieties,flavours and even the boxes that hold the precious cargo within. We are also taking the boxes into account as part of our judging criteria this year.
After spending hours tasting various kinds of mooncakes that were sent to us, we have come up with our list of top brands that made it to our list of mooncakes that you have to try this year. Our panel had rated it based on Taste, variety and overall design of the boxes.
Editor's Top Choice for Overall Taste
Editor's 2nd Top Choice for Best Variety of Flavours
Madame Fan, JW Marriott Singapore South Beach
Celebrate this Mid-Autumn Festival with the meticulously crafted mooncakes from some of the finest ingredients by Executive Chinese Chef Mike Tan and his team. This year, Madame Fan's mooncakes are delicately arranged in a bespoke crimson red latticed box that spots an intricate lace pattern on the outside, topped with a classy gold crane clasp to complete a cultured look.
What we liked most:
The Low Sugar Lotus Paste together with Baked Five Coarse Grains mooncake gives the mooncake lovers a healthier alternative, while the Madame Fan's signature Pu Er Tea Mooncake that adds a flavourful depth and balance making it a perfect mooncake and tea pairing combination this Mid-Autumn.
The Madame Fan's range of snow skin mooncakes reflects Chef Mike Tan pursuit of fusing modern authenticity with tradition and heritage. The delectable range includes original creations such as Matcha Paste, Creamy Durian Paste and Cempedak (Jackfruit). A particular highlight is the Signature Champagne Chocolate, a decadent creation with crusty chocolate shell that harbours dark chocolate ganache – coated with buttery champagne snow skin.
JW Marriott Singapore, Madame Fan's mooncakes are available for sale at JW Marriott Singapore South Beach Festive Counter and Madame Fan from now till 24 September 2018. Please call +65 6818 1908 or e-mail festive@madamefan.sg for mooncake orders or further enquiries. For bulk orders, please contact +65 6818 1898 or e-mail jw.sinjw.sales@marriott.com.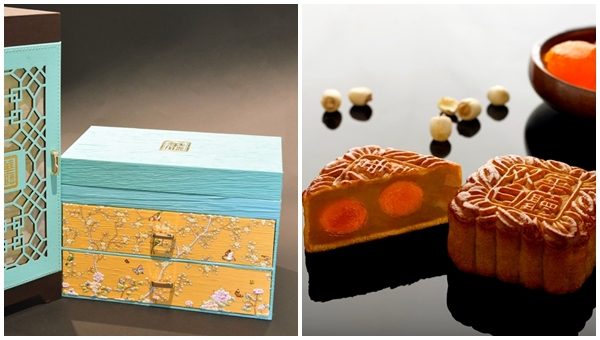 Editor's Top Choice for Best in Packaging Design
Editor's 2nd Top Choice for Overall Taste
Hua Ting, Orchard Hotel
Mooncakes are more than just the cakes themselves – the gift box that they come in also make a huge difference. Orchard Hotel encases their moon cakes in a sturdy two-tiered box that doubles up as a jewelry case so that the box can be reused long after you've finished the mooncakes.
What we liked most:
Hua Ting goes down the traditional route with four classic lotus paste flavors – White Lotus Paste with Single Yolk and Macadamia Nuts, White Lotus Paste with Double Yolk and Macadamia Nuts, Seeds of Harmony (Assorted Nuts) and Red Bean Paste with Melon Seeds. Even though the mooncakes are low in sugar, the smooth lotus paste was not overtly sweetened, and was encased is a crusty baked pastry. If you're looking to impress, you can get the baked mooncakes in a limited edition box that comes with a Bluetooth speaker and flashing LED lights.
Hua Ting's Traditional Treasures Gift Box 精选烘培月饼礼盒 – choice of Deluxe set ($73 per box of 4) or Premium set ($98 per box of 4) – comes with a selection of four baked mooncakes.
Millennium Mooncakes by Hua Ting is available for sampling and purchase from 16 August to 24 September 2018, 12 noon to 8.00pm, at Orchard Hotel Lobby Kiosk. To order, please call 6739 6577, email mooncake.ohs@millenniumhotels.com or visit bit.ly/MillenniumMooncakes2018. All prices quoted are subject to prevailing government taxes.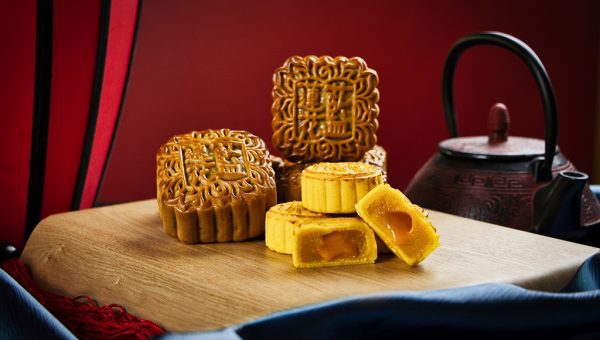 Editor's 2nd Top Choice for Best in Packaging Design
Blue Lotus Chinese
Known for their great chinese dishes that have won the hearts and minds of their customers, Blue Lotus has launched their inaugural mooncake collection that showcases their trademark blend of modern and tradition in their food.
What we liked most:
Their limited edition Mini Golden Lava Mooncake was extremely satisfying as it was simple, delicate and not too overly thick until it overwhelms the throat and palate- its taste is sure to be a hit with people of all ages! The four-tier tingkat tin that comes with the mooncakes will definitely remind older customers of the golden oldie times and the tin can be reused to store cookies, pastries or other forms of food, so long as it is not hot food.
The Blue Lotus Mid-Autumn collection can be purchased online at www.bluelotus.com.sg/blue-lotus-mid-autumn/ from now till 20 September 2018. You can pre-order the mooncakes and have them pre-paid before collection at any Blue Lotus restaurants with selected date and time slot. For corporate sales bulk orders and general enquiries, do reach our support team at blhq@bluelotus.com.sg.
The Blue Lotus Mid-Autumn collection is available for collection from 27 August to 23 September 2018. The limited edition Mini Golden Lava Mooncakes are limited in quantity, therefore, while stocks last.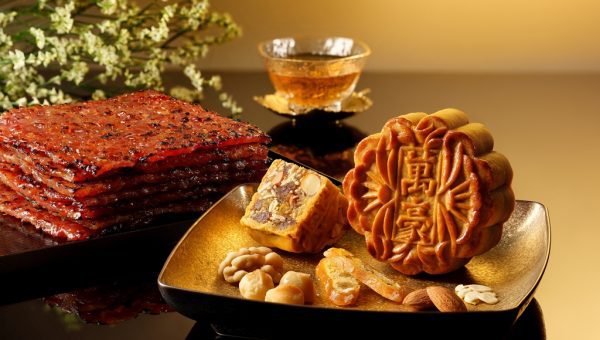 Editor's Top Choice for Best Variety of Flavours
Marriott Singapore Tang Plaza
Elegantly presented, coupled with unique flavours with some new recipe for Baked and new flavours for Snowskin, Marriott Singapore Tang Plaza's offering for this year can't go wrong.
What we liked most:
The Chicken Bak-Kwa Baked Mooncakes with Assorted Nuts is something that our parents and adults would simply love, not so sweet yet the flavour is still intense. We also loved the Mocha snowskin mooncakes with Milk Chocolate Royaltine which is their new flavour this year. If you love chocolate then this is the flavour you shouldn't miss.
Singapore Marriott Tang Plaza Hotel's mooncakes are available for pre-orders online at www.singaporemarriott.com/mooncakes. Alternatively, call: 6831 4708, or drop by at the hotel's Forecourt Stall (by the hotel entrance) and various shopping malls.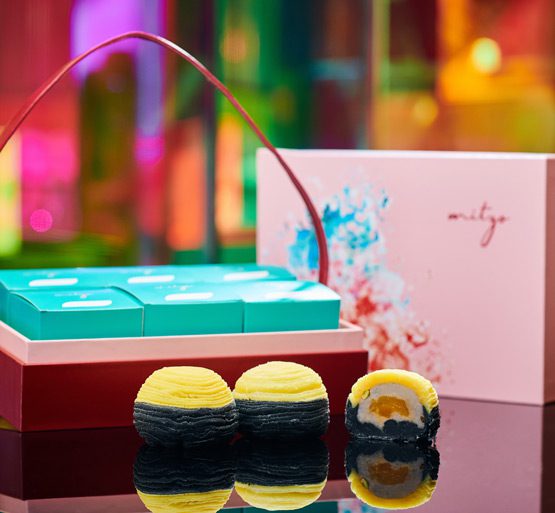 Mitzo, Grand Park Orchard
Instead of opting for the traditional baked or new-fangled snowskin mooncakes, mod-contemporary restaurant Mitzo chooses to go down the traditional Teochew-style mooncakes.
What we liked most:
The yellow and black buttery pastry is filled with yam paste and a salted egg yolk core with some pistachios mixed in for a bit of crunch. The bite-sized mooncakes pair nicely with a cup of tea, and it's so small that it leaves you wanting more. At $128++ for a box of 6 pieces though, Mitzo's mooncakes might be a little steep for some even though they are pretty nice to look at.
This exclusive Housemade Baked Mooncake set of 6 is priced at S$128++ each and is available from 1st September to 24th September. The set also comes in a dainty, autumn inspired gift box, perfect for gifting this festive period.
Visit www.mitzo.sg to make a reservation
Man Fu Yuan, Intercontinental Singapore
Sometimes, the door to happiness isn't necessarily big, nor is it always tall or heavy. Instead, it can just come in small packages of sweet fillings; encased in colourful pre-cooked glutinous rice and delivered in a chilled oriental latticed chest – like the mooncakes from InterContinental Singapore.
What we liked most:
Inspired by the selection of premium tea blends in Man Fu Yuan, you can now indulge in four new selections of black sesame with ambrosial osmanthus tea, green tea and white chocolate, white lotus with mandarin peel tea and earl grey with strawberry chocolate. We recommend trying the Earl grey option first for its delicate contrast of light citrusy flavor against the sweetness of strawberry chocolate.
The classic baked flavours of double yolks with white lotus paste and macadamia nuts with white lotus paste are still available as well, and have been adjusted to low-sugar for a healthier indulgence. So go – happiness is just bite away.
Man Fu Yuan's mooncakes are available for purchase online from 22 July to 21 September 2018 at InterContinentalShoppe.sg; from 3 August to 24 September 2018 at the Man Fu Yuan Shoppe, located at the entrance of InterContinental Singapore from Bugis Junction; and also at eight locations across Singapore. For more information, please visit ManFuYuan.sg from 22 July 2018, email sinhb-festive@ihg.com or call 6825 1131 or 825 1132.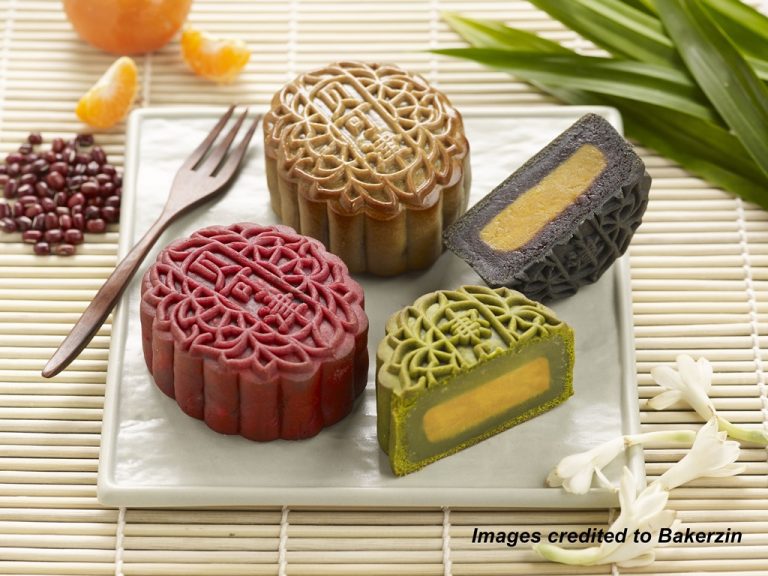 Bakerzin
We would consider Mooncakes to be a traditional pastry that'll never go wrong with the sweet lotus paste and savory egg yolks. But to some, that is a thing in the past as experimentation in food pairings becomes the new hype. If the previous statement speaks to you, then Bakerzin is no doubt the pitstop you need to make for your annual mooncake feast.
What we liked most:
Featuring eccentric flavours like Beetroot Gula Melaka Mooncake and Osmanthus Mooncake, expect a flavourful combustion in your palette that will definitely linger on your tastebuds (or at least it did for us). Completing the set are two other flavours, namely pandan mooncake and charcoal Tangerine Red Bean mooncake. Design wise, the metallic casing were pretty simple and straightforward – a little bland when put together with the others in this list.. Entitled the Royal Collection, the set of 4 will be limited to only 1000 boxes.
Bakerzin also offers a wide selection of mooncakes that are categorised in baked and snowskin options.
Bakerzin mooncakes are available at all Bakerzins outlet and online at www.bakerzin.com until 24 September 2018.