Wah Kee Big Prawn Noodle Introduces It's First Ever Hotpot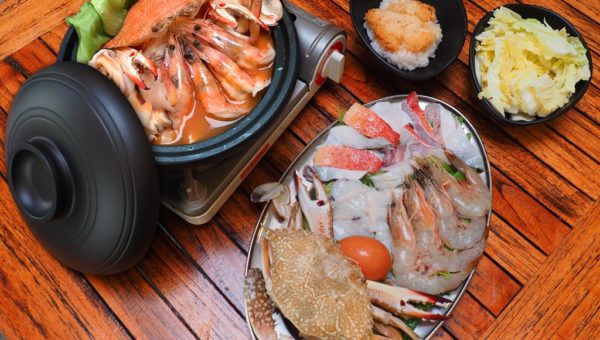 Wah Kee Big Prawn Noodle well known for their prawn noodles has launched a new addition to their menu, The Big Wah! Kee Pot.
Using the exact broth which Wah Kee has been using in its popular prawn noodles the Kee Pot features succulent fresh seafood's which is replenished daily direct from the wet market, this is to ensure that the seafood's you are enjoying are 100% Fresh and not frozen seafood's.
The Big Wah! Kee Pot ($30.00) is good for 1-2 persons to share and includes flower crabs, Slices of Fish, Clams, Prawns, Sotong, Vegetables, Crispy Noodles, Egg and rice and their prawn soup base which is refillable. A la carte add-on options are available should you want to clean your plate. The BIG WAH! Kee Pot is currently only available for dinner service.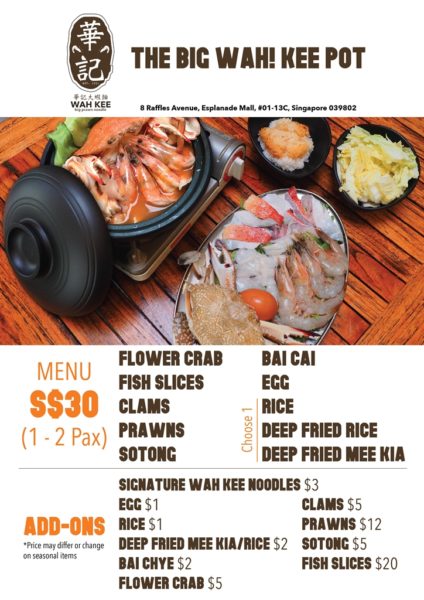 You might have tried this at Wah Kee Beach Road outlet but this is another new addition to Esplanade Outlet's menu – the Wu Xiang Platter ($12.00).
The Wu Xiang Platter contains an array of classic favourites and four items which are prepared exclusively for Wah Kee, The four exclusive mainstays are made with the same type of wild caught sea prawns that Wah Kee uses in its legendary noodle offerings.
The four items are, the Wah Kee Prawn Cracker, The Wah Kee Beacncurd Skin Roll with Prawns – fried to a crisp, the Fried Wanton – made with a blend of fish paste and prawn is prepared handmade daily, lastly is the Chinese Sausage ( Guan Chang) – while the usual sausage is made with meat, Wah Kee's version comprises a mixture of meat and prawns. The platter comes with Wah Kee's special dipping sauce to kick up your dining appetite.
Head to Wah Kee Big Prawn Noodle Restaurant at Esplanade today to enjoy these new additions.
Wah Kee Big Prawn Noodle Esplanade is located at: 8 Raffles Avenue Esplanade Mall #01-13C Singapore, 039802
For more details or enquiries please call: +65 6327 9187