We Bare Bears Take Over Kumoya Café For Their First Pop-up in 2020
CONTENT: Michelle Ng
IMAGE: Luxe Multimedia
Cartoon Networks' favourite boisterous bears are finally part of our human world as their very first pop-up themed café is now open! Grizz, Pan-Pan and Ice Bear are ready to take on the café scene as they take over Kumoya Café, with an adorable themed menu full of beary cute food and drinks and the latest merchandise.
Along with the bear bros, spot other characters like internet sensation and frenemy Nom-Nom, Bigfoot Charlie, and the Korean American prodigy kid Chloe Park! The lil' bear bros also make an appearance as babies, and they probably stole our hearts.
Frolicking around the café as you dine on desserts that taste almost as sweet as they look, the café is full of Instagrammable spots, down to the food. Grab your fav bear plushie for some hugs, and bring one home from the merch stand if you fancy. Outside is a claw machine with even more limited edition merch like Ice Bear neck pillows, and each try goes at $2.
Kumoya's popular curry dish is now an arctic beach paradise in Ice Bear Arctic Cool Seafood Rice With Cream Sauce. The eternal cool Ice Bear is swimming in sea of creamy sauce and food. Kamaboko fish cake is shaped in cute fishes and carrot stars, with tempura ebi prawns, calamari and breaded scallops. While the blue sauce might seem a little off-putting, it's actually warm and comforting, especially on rainy days.
Remember the episode where the Bear bros decided to set up their own food truck? Instead of calzones, the Bear-Bros Food Truck with Special Salmon Roll is a crunchy breaded salmon tucked into a soft brioche bun, topped with seared Japanese tobiko mayo sauce. The roll comes in a kawaii truck box that is a mini replica of the We Bare Bears truck that appears in 'Food Truck', and you can even take it home with you as a souvenir!
The other new entree to enter the menu is the Forever Bros Truffle Carbonara Pasta, with chicken ham and truffle. It also comes in a vegetarian option for those with dietary preferences.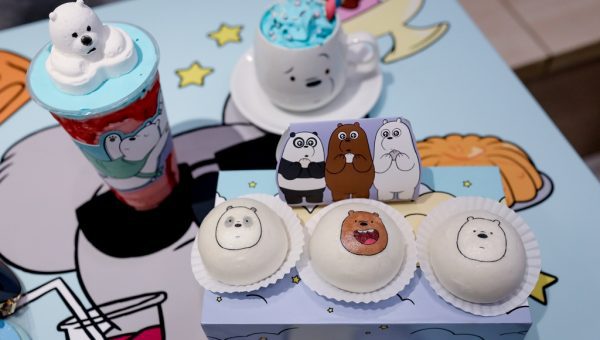 There are also the usual appetizers to choose from, which includes a range of flavoured fries as well as some matcha buns. The Special We Bare Bears Baos with Sweet Matcha is a must-try, as you get a trio of three buns with each of the bear bro's faces on them. New starts include a Crispy Fries with Japanese Takoyaki Sauce, for savoury-sweet fries topped with sweet Takoyaki sauce, mayo, seaweed, and bonito flakes.
Sweet-tooths will love the dessert selection, which includes plenty of delicious soft serve, fresh fruits, and even more cute bear antics. The Bears-in-a-basket Cookies and Cream Lava Cake is a great dessert which is both Instagrammable and satisfies all your sweet cravings. The gooey chocolatey cake pairs well with the refreshingly fresh-churned Hokkaido soft serve and berries.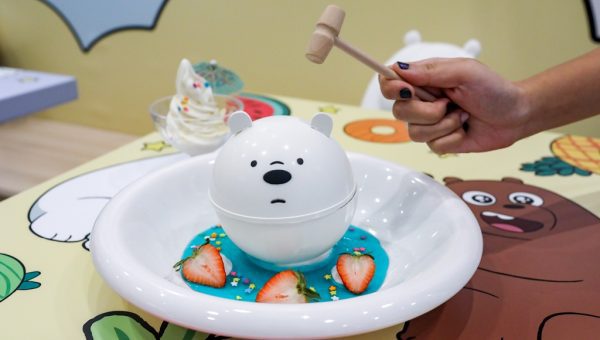 The Knock-Knock Ice Bear Choco Ball Of Fun is probably the most popular dessert for both couples and families with kids. Knock open Ice Bear's unassuming chocolate ball head to reveal a surprise bowl of berries, marshmallows, and brownies. Get all your cameras ready as this will be a ball of fun!
The drinks selection include various frappes and teas, all in cute cups with a limited edition cup sleeves. The Ice Bear Cool Cup of Strawberry Cheesecake Frappe is almost like a dessert in a cup, featuring an icy blend of strawberry and cheesecake. The Too Cool Hot Latte is a hot drink, brewed with Japanese coffee and served in an adorable Ice Bear mug. The mug isn't sold separately, and you have to top-up an additional $11.90 to bring it home. If you're not willing to get a cup, you can bring home a limited edition coaster that comes with every drink instead. There are 4 different exclusive We Bare Bears coasters designs if you want to collect all.
The fun doesn't end here. All diners who spend at least $108 in a single receipt will be entered in a competition to win a giant 90cm Ice Bear plushie! So hold on to that receipt and grab all your bros down before the bears leave after 12 April 2020.
We Bare Bears X Kumoya Café will be open till 12 April 2020 at 8 Jalan Klapa, Singapore 199320. Closed on Mondays.