Welcome the Year of The Rooster at Blue Lotus with their 十全十美 Yu Sheng
Celebrate Chinese New Year at Blue Lotus from 16 January to 11 February 2017 as Singapore's critically acclaimed new age Chinese restaurant has created its own unique and healthy version of the Yu Sheng, filled with up to 20 fresh ingredients and aptly named 十全十美(Shi Quan Shi Mei), which literally translates to "completely perfect".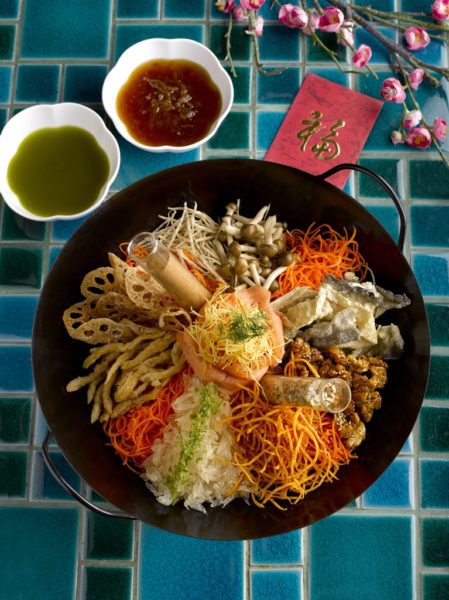 Comprising of 10 herbs and vegetables, two aromatic spices, three types of nuts, Tea-smoked salmon, salmon skin and silver bait, and dressed in spring-onion-infused olive oil and wild honey yuzu dressing, the 十全十美 "Perfect" Yu Sheng is available for dine-in and takeaway ($68 ++ for small and $88 ++ for large).
Specially crafted Chinese New Year, communal-style set menus are also available for company gatherings and family reunions which includes the Harmony ($68++ per person), Prosperity ($88++ per person) and Longevity ($108++ per person). Each set menu starts off with the signature Tea-Smoked Norwegian Salmon Yu Sheng and is followed by exquisite Blue Lotus dishes crafted by the restaurant's highly acclaimed Owner and Chef Ricky Ng.
Some of the dishes from set menus which we loved are: thick creamy and meaty Smoked Pumpkin Crab Meat Soup, Uniqely created Truffle Wonton Lobster Bisque – we simply loved of how juicy the wonton was and retaining the aroma of the truffle. Perfect for all truffle lovers out there, Steamed XL Ireland Oysters with Garlic & Shallots – the oysters are huge and fat, coupled with garlic and shallots, it brings out new oriental flavour and perfect for the whole family. The prawns used in their Claypot Herbal Drunken Prawns is Fresh, and simply delicious Lastly,The Blue Lotus Chilli Pomelo Crab Claw – no frill easy way to eat your crabs without being messy. The Pomelo blends well with the Chilli Crab sauce, not to mention that the crab claw is really meaty and juicy.
Blue Lotus will also be serving its own succulent version of roast Ibérico Suckling Pig ($238++), perfect for a party of up to 8 people and served with in-house mustard and citrus spicy dressing. Additional suckling pig orders will be priced at a discounted $198++ per pig. Orders must be placed at least three days before dining date.
Receive one complimentary Ibérico Suckling Pig for bookings of 20 people and above for the Prosperity menu at $88++ per person.
Quintessential Chinese food with a twist, quality and value are always top priority at Blue Lotus, alongside innovation and creativity, driving the seasonal menu which evolves quarterly.
Blue Lotus is located at 31 Ocean Way, Quayside Isle, #01 -13, Singapore 098375. For reservations please call +65 6339 0880 or email www.bluelotus.com.sg.